Ensuring the qualitative and quantitative standards of imported and exported minerals is crucial in protecting the interests of the consumers and mitigating any risk associated with international trade.
As a member of the TIC Council (formerly IFIA) and as a company with 150 years of expertise, TÜV Rheinland can be your gateway to global trade with more confidence and less risk. Our full range of mineral inspection services ensures risk mitigation and the quality of products matching the given specifications.
Our tailor-made solutions and the highest levels of integrity, independence, impartiality, and accuracy make us your reliable partner. Our staff provides unrivaled experiences and value to help you maximize your potential.
Our Scope of Services
With our extensive experience gained in global supply chain projects, we provide inspection services and audits on a comprehensive level to align your mineral products with the agreed contractual agreement.
Container inspection
Draft survey
Due diligence
Hygiene inspection
Load weight inspection
Moisture determination
Pre-Shipment inspection
Product audit
Tally services
Warehouse inspection
Tailor-made solutions for your mineral commodities
Depending on the minerals you are mining and processing, your business requires of course tailor-made services. We have extensive experience with a wide range of mineral commodities and their underlying legal requirements. With TÜV Rheinland you oversee them all – no matter in which country you are operating.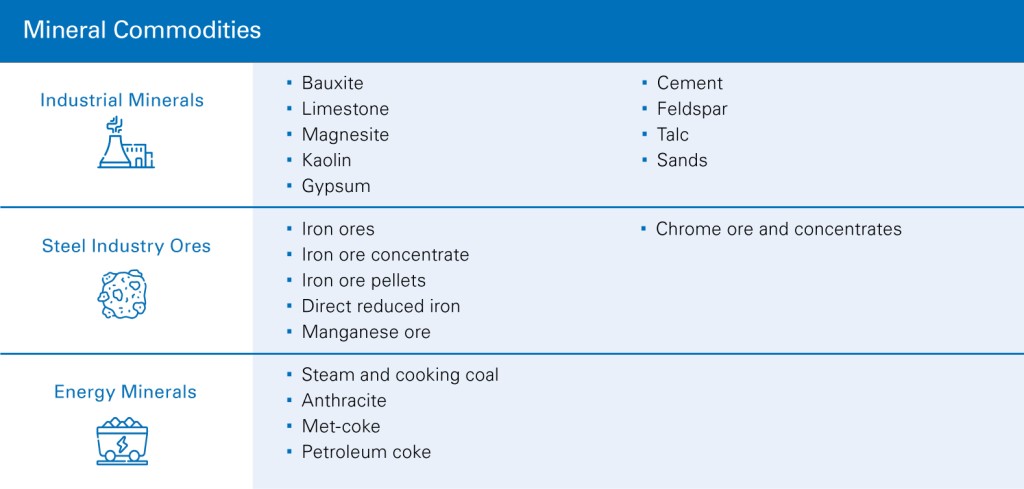 Get to the core of your mineral commodities
Other Commercial Inspections Services
Services for a smooth and reliable trade.