Introduction
In electrical engineering, durability and reliability of components and equipment are critically important products for safety use. Due to their important safety function, special attention must be paid to safety. If they are damaged, a fire hazard, electrical shock, or security of supply can be produced. Our Power Transmission Lab performs electrical endurance tests on different electrical components - from safety to durability, from lifecycle to overloaded and overheating parameters.
Testing Equipment in our Budapest Lab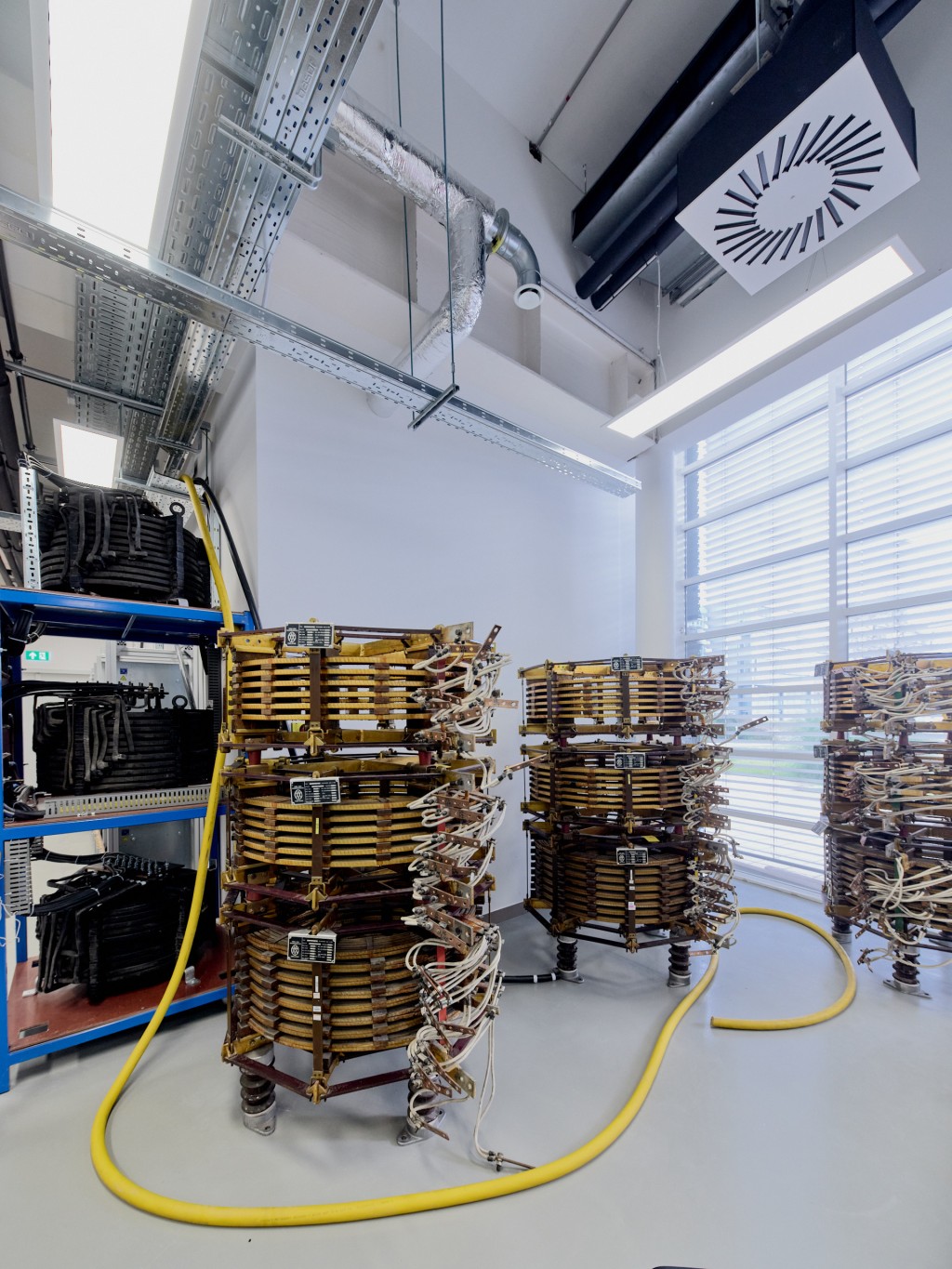 Our brand new, 110m² laboratory area with over 80 testing equipment is ready to serve clients, manufacturers, end users at the highest possible level. In autumn 2020, we moved to our new Power Transmission Lab. The state-of-the-art test lab for the durability and reliability of devices of the Power Transmission Lab meets the high demand for the electrical endurance tests by the industry and consumer products and devices manufacturers. With the laboratory, the TUV Rheinland InterCert Kft. covers wide scale of safety and endurance testing for Power Transmission devices and components. When constructing this lab, TUV Rheinland has installed the highest standards of measurement protocol by Hioki. The key point of the new flexible system is the automated adjustable load bank system, set up to 210kW electric load. This system can provide wide adjustable ranges and high accuracy electric load system, for all ranges of our test scope.
In order to be ready for these devices technological developments TUV Rheinland InterCert Kft.has installed a modern testing environment with 1000V test voltage and 500A impulse current. The Power Transmission Lab has expanded our power supply range testing capacity to cover products until 40kV with 0-1kHz testing capacity.
Why TÜV Rheinland InterCert Kft?
TÜV Rheinland stands for safety and quality in virtually all areas of business and life. Founded almost 150 years ago, and active in 56 countries, the company is one of the largest TIC (Testing, Inspection, Certification) companies which is active in 55 countries and employs more than 21,000 qualified persons worldwide. The company established its Hungarian subsidiary TÜV Rheinland InterCert Kft in 1989.
In 2020 TÜV Rheinland InterCert Kft. relocated its offices and labs from two locations into a new facility. Now, we present a new state of the art laboratory and test facility with over 5000 m².
In the new Location, we maintain laboratories for Mechanical Products, Electrical Safety, Luminaires & Environmental Simulation as well as a special High Current & Short Circuit Lab for components and a Medical Device Laboratory
We are looking forward to deliver the highest quality of service to our local and international customers all across the World.
We are here for you with the following scope:
Comprehensive components testing & certification service portfolio (CB, ENEC, TÜV Mark)
Complex products testing and certification from one location (safety, EMC, Environmental and Endurance Tests among others)
Independent and accreditated third party laboratory
Experienced technical experts on board
Target Markets
Our wide products testing scope allow us to handle power transmission services projects for our clients from all over the World. Our clients are mainly manufacturers and product developers who want to sell their products in the European Union, United States and Canada, as well as in Australia or in the Asian market.
Activate your global business - Digital communication, better transport and infrastructure have multiplied the opportunities for activating business worldwide. However, there are still many national regulations and rules. This often makes access to other markets difficult.
Whether for industry, commerce, ICT or modern mobility and knowledge transfer - our Market Access Services (MAS) experts have comprehensive technical know-how in all areas of technology and business helping to ensure secure, international access to any target markets. As part of our activities, we offer you efficient full-market-access-service for almost all regions of the world – from industrialized countries to emerging markets and developing regions.
Accreditations and appointments
Our Accreditations: 17020, 17025, 17065,
Our Designations: IECEE CB,
Low Voltage Directive (LVD) 2014/35/EU
Electromagnetic Compatibility Directive (EMC) 2014/30/EU
Radio Equipment Directive (RED) 2014/53/EU
Charging systems: IEC 61851 / IEC 62752/ UL 2202
Wireless charging system: IEC 61980
Protective Devices / Personnel Protection Systems: IEC 60755 / UL 2231
Plugs, Socket-outlets, Connectors, Inlets: IEC 62196 / UL 2251
Cables and Liquid cooled cables: IEC 62893 and 2PfGQ 2473
Low-voltage Switchgear and Controlgear Assemblies for Charging Stations: IEC 61439-7
Major Test Activities
Our state-of-the-art laboratories carry out a wide range of full system or component testing:
Electrical Safety testing
EMC / EMF, FCC / ISED testing
Functional safety testing
Durability testing (life cycle test)
Data communication / Protocol testing (CHAdeMO, CharIN)
Climate testing: IP test, UV radiation, corrosion test, etc.
Mechanical and material testing: flammability test, glow wire test, etc.
Field Evaluation Services
Major Product Applications
ELVH chargers
PV inverters
ESS systems
Major testing services
Issuing of test reports
Certificates fitting to your market demand:
Certificate of Conformity (CoC):
States the conformity of the tested sample complies with the specified standards. It does not permit the use of any test mark and it does not prove the conformity of mass- produced products (factory inspection is not part of the certification).
CB Test Certificate:
Verifies that the product complies with the applicable international IEC standards within the IECEE CB Scheme. A CB Test Certificate is valid with the pertaining CB Test Report.
TÜV Bauart (Type Approved) Mark Certificate:
Verifies that a representative production sample complies with the relevant standard requirements and the production is regularly inspected. In general, those certified products are components intended to be built into larger arrays and equipment. The type testing scheme contributes to consumer protection and supports an increasingly safe and standard compliance for products coming into the market.
All-around services for electric vehicle equipment testing
How to find us?
TÜV Rheinland InterCert Kft.
Gizella út 51-57.
H-1143 Budapest, Hungary
Are you interested in our testing and certification services