Introduction
Thanks to our extensive expertise in the field of household appliances testing and a broad network of experts, we are able to provide optimum support, short testing lead times from a single source to manufacturers of wide range of electrical household appliances.
At our Household Appliances Lab we perform the electrical safety tests in accordance with the Low Voltage Directive and the Machinery Directive as well as relevant European and international standards.
Testing Equipment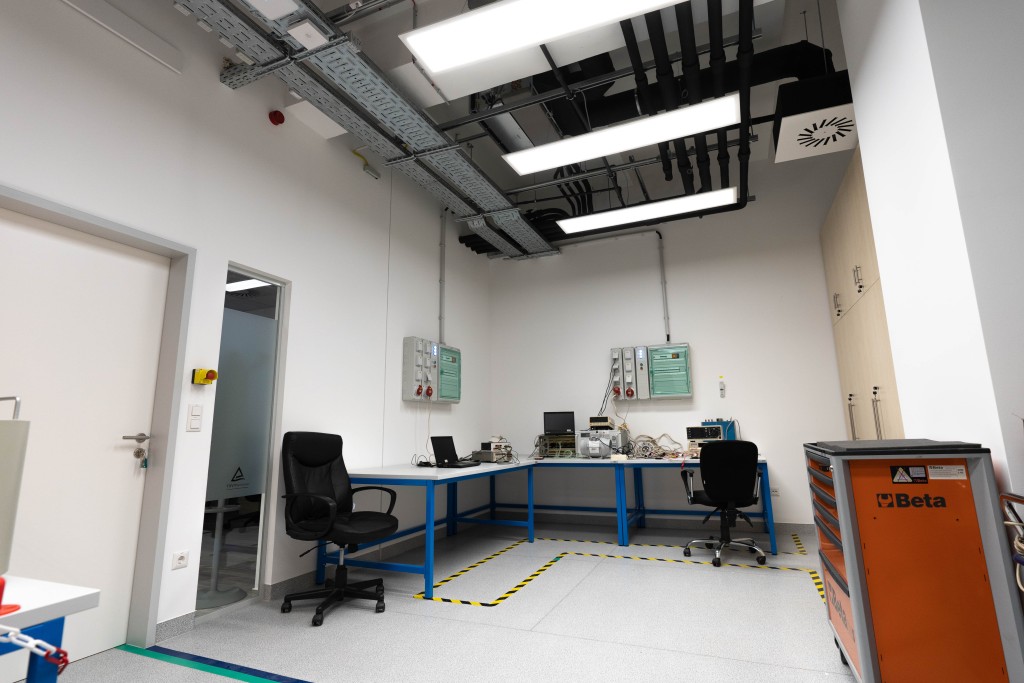 The Household Appliances Lab is one of the most important laboratories at TÜV Rheinland InterCert Kft. where we offer one of the widest scope of testing of household appliances. At our 200 m² sized state-of-the-art, brand new lab with more than 450 test equipment we offer full professional support for our customers and ensure that their products fulfill all relevant safety standards and regulations. We are able to offer noise and EMC testing as well.
Why TÜV Rheinland InterCert Kft?
TÜV Rheinland stands for safety and quality in virtually all areas of business and life. Founded almost 150 years ago, and active in 56 countries, the company is one of the largest TIC (Testing, Inspection, Certification) companies which is active in 55 countries and employs more than 21,000 qualified persons worldwide. The company established its Hungarian subsidiary TÜV Rheinland InterCert Kft in 1989.
In 2020 TÜV Rheinland InterCert Kft. relocated its offices and labs from two locations into a new facility. Now, we present a new state of the art laboratory and test facility with over 5000 m².
In the new Location, we maintain laboratories for Mechanical Products, Electrical Safety, Luminaires & Environmental Simulation as well as a special High Current & Short Circuit Lab for components and a Medical Device Laboratory
We are looking forward to deliver the highest quality of service to our local and international customers all across the World.
We are here for you with the following scope:
Comprehensive components testing & certification service portfolio (CB, ENEC, TÜV Mark)
Complex products testing and certification from one location (safety, EMC, Environmental and Endurance Tests among others)
Independent and accreditated third party laboratory
Experienced technical experts on board
Target Markets
Our wide products testing scope allow us to handle household appliances testing and certificationservices projects for our clients from all over the World. Our clients are mainly manufacturers, product developers and large retailer stores who want to sell their products in the European Union, United States and Canada, as well as in Australia or in the Asian market.
Currently our clients are mainly from Italy, UK, France, Denmark, Sweden, as well as from Ukraine and Romania.
Activate your global business - Digital communication, better transport and infrastructure have multiplied the opportunities for activating business worldwide. However, there are still many national regulations and rules. This often makes access to other markets difficult.
Whether for industry, commerce, ICT or modern mobility and knowledge transfer - our Market Access Services (MAS) experts have comprehensive technical know-how in all areas of technology and business helping to ensure secure, international access to any target market. As part of our activities, we offer you efficient full-market-access-service for almost all regions of the world – from industrialized countries to emerging markets and developing regions.
Accreditations and appointments
We are able to provide tests for almost the full spectrum of standards for household appliances:
IEC/EN 60335, and IEC/EN 61558 for transformers
EN 50342 for vehicle ignition accumulators
EN 62115 for electric toys (full and partial testing, including EMF (electromagnetic field) EN 62233, and IP IEC/EN 60529 testing
Major Test Activities
We provide conformity testing according to various standards within or beyond the EU. Also according to special standards of regions or countries. Based on our testing and investigation we issue Product Certifications, GS Bauart certifications, UL and can certify the manufacturing plants. We also provide testing according to special requirements of our customers.
Major Product Applications
Safety tests of household and similar appliances such as fans, air purification equipment (UV and ozone), cooling cabinets, beauty care products, radiators, vacuum cleaners, electric shavers and hair trimmers, as well as kitchen equipment and large appliances, commercial appliances for restaurant (ovens, fryers, shredders, grinders) transformers (61558), electric toys.
How to find us?
TÜV Rheinland InterCert Kft.
Gizella út 51-57.
H-1143 Budapest, Hungary
Are you interested in our testing and certification services