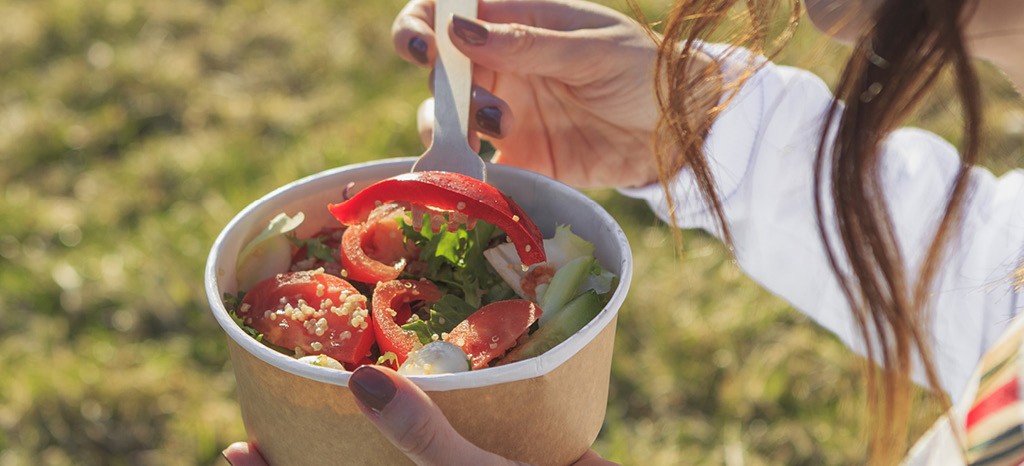 Make sure Your Compostable, Bio-based or Recycled FCMs are compliant and safe for consumption
Let our experts support you with assuring the FCM safety of your complete value chain.
Many companies have adopted sustainable business initiatives and are renewing their complete Food Contact Material product portfolio. These practices have taken place in a variety of industries, ranging from packaging and kitchenware to toys. Companies have heavily invested to use raw materials or products that are bio-based, compostable or originate from recycled materials. But whether you're making the switch or you have already shifted to sustainable FCMs, you need to ensure that your end products are safe for consumers and compliant with current legislations. TÜV Rheinland can support you with full turn-key, comprehensive services!
To ensure the safety of your products and their sustainability requirements, a full skill set to assess the ingredients, audit processes, and test products are at your disposal through TUV Rheinland experts and specialized laboratories along with sustainable certification services provided by DIN CERTCO. The latter encompasses individual components, raw materials, production and recycling processes, packaging, as well as the finished FCM articles.
Ask about our sustainable FCM services services.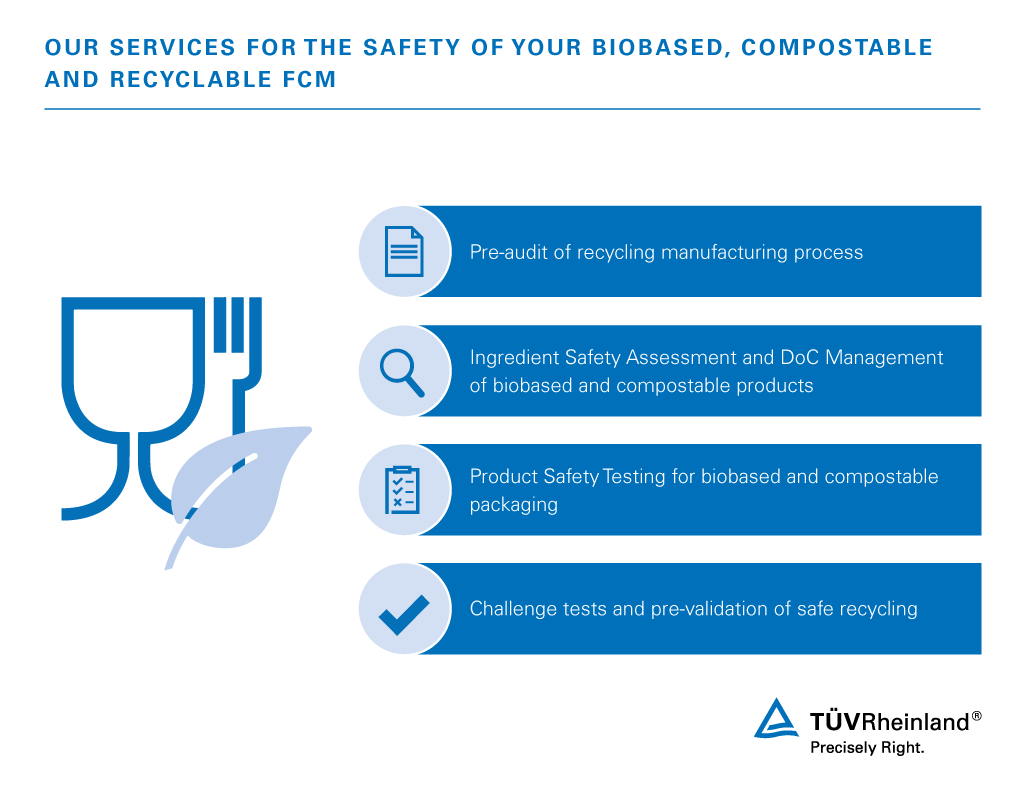 Regardless of your business, size or location – our experts are at your disposal
In addition to the implementation of new sustainable measures by existing companies, numerous start-ups have founded their business models on the development and use of bio-based, compostable or recyclable materials and products containing components originating from recycling processes. However, many of them still struggle when it comes to knowledge of compliance and safety standards on Food Contact Materials. At TÜV Rheinland we assist any business – young or established, large or small – with highly specialized FCM services to assess products and processes regarding sustainability and food contact safety requirements. For example, we can support with pre-validation of the safe recycling of RPET through audits and challenge tests, and pre-assess the completion of technical dossiers before their submission to EFSA or FDA.
Let us facilitate the safety and compliance of your sustainable Food Contact Materials
Our services in the area of bio-based and compostable FCM materials as well as FCM products from recycled materials include:
Ingredient assessment
Raw material and article testing:

Targeted substances

e.g. PFOA, MOHs, MOHAs, etc.

Untargeted NIAS
Sensory tests
Challenge tests for recycling process qualification and application to EFSA and US requirements
Biodegradability and compostability performance testing to obtain

DIN CERTCO SAFCM and Californian certifications, i.e. ecotoxicity, ISO 17088 / EN 13432 / EN 14995, ASTM D6400, ASTM D5338 / ISO 14855, SB-270
Reusable Bags compliant with the California Bag Ban
Biodegradability based on the Association Standards for Take-out Food Service (Internet) Shanghai association of FCM (SAFCM)

Training services on sustainable topics and practices
Customized audit services of :

Manufacturing recycling process
Take advantage of our full range of services, all from one convenient source
With our one-stop, comprehensive range of solutions, you benefit from our expertise with safe and sustainable Food Contact Materials, as well as our certification services. We can support you with ensuring that your FCM raw materials, packaging and products are compliant and safe for the end consumer. Don't take chances – get in touch with us today!
Learn more about our certifications
Our Sustainability Initiatives
Nothing less than the future is at stake. Companies, institutions, public authorities and each and every one of us can play a positive role in shaping the path to tomorrow. We provide you with comprehensive support to ensure that you operate safely, sustainably and efficiently for many years to come.
Discover our comprehensive FCM compliance management services

Legislation as well as consumer demands regarding food contact safety have become increasingly stringent and diverse. You can't afford to let an inadequate interpretation of legislation or a deficit of staffing threaten the market access of your products or the trust in your brand.
This might also interest you
Last Visited Service Pages