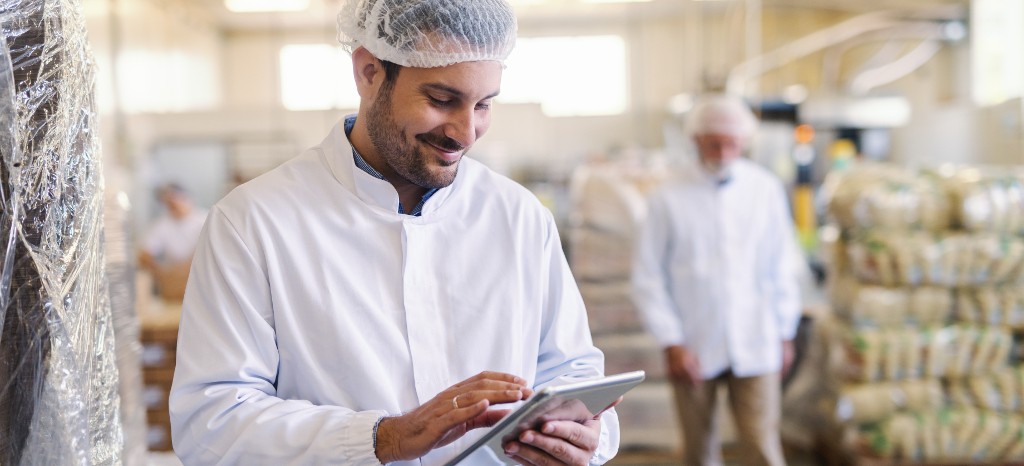 Find out how your GMP manufacturing practices stand up against current legislations.
TÜV Rheinland is an international and independent audit service provider, able to support you with auditing your R&D and manufacturing sites to verify the implementation of GMP, packaging safety requirements and FCM international standards.
As a retailer, manufacturer, distributor, marketplace and/or brand owner of food contact materials, you understand that your entire value chain must adhere to food safety requirements during their manufacturing processes. No matter what position in the value chain – supplier of raw materials, components, assembled articles or finished products – every element must be able to demonstrate safe and hygienic properties.
Our international audit team is available to support you in the qualification and the monitoring of your supply chain, globally. We offer a clear picture of R&D or manufacturing sites by measuring the level of compliance against:
b) your internal packaging safety and / or the regulatory requirements (2023/2006/EC, GB31603, Japanese Food Sanitation Act (UCP) N° 370, etc.)
c) certifiable international standards such as ISO22000, BRCGC Packaging, FSSC 22000, etc.
We are able to support you with pre-assessment, second-party and third-party audits. You receive a comprehensive audit report or a management system certification based on the applicable requirements.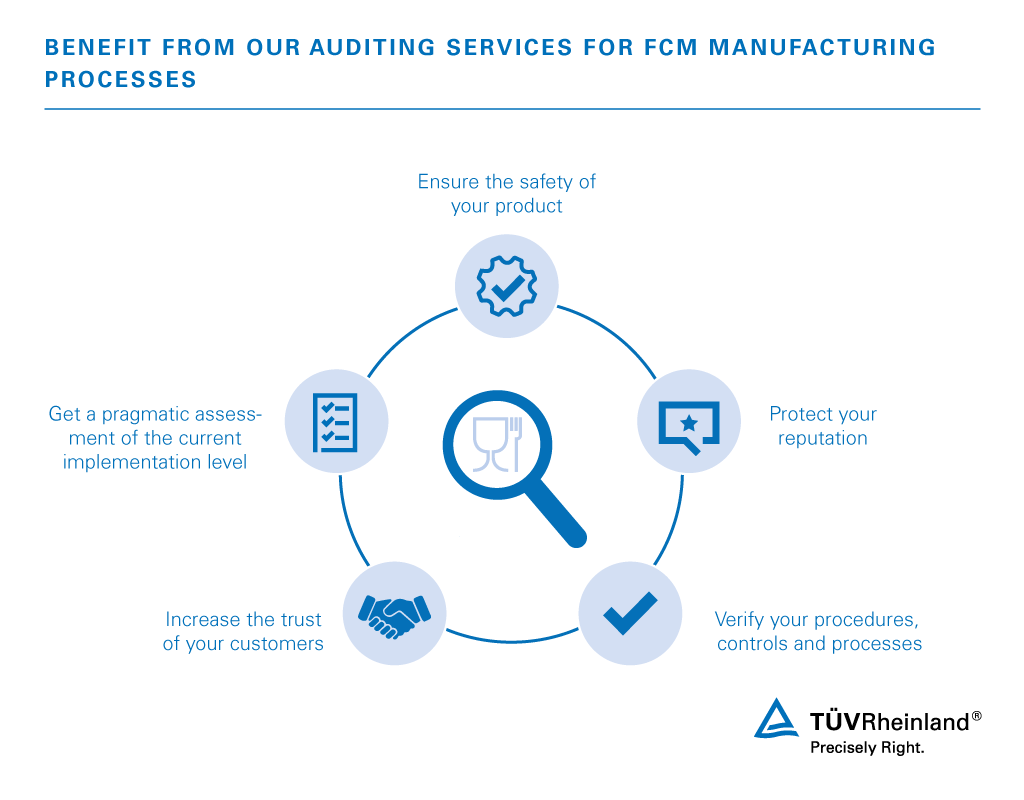 Our Auditing Expertise Ensures Your Products and Processes Comply with GMP and Legal Requirements
For the production of food contact materials, GMP is a mandatory requirement in many countries. This is especially true in Europe, China, Japan as well as in the US. By implementing a management system to qualify and monitor the GMP, packaging safety and compliance of your value chain, you ensure the safety of your finished product and safeguard your brand reputation.
Our international team speaks the language of your factory and has deep industrial and product safety knowledge. This allows us to deliver a pragmatic assessment of the current implementation level of safety requirements.
Demonstrate the safety of your value chain with the support of our auditing teams
Does your supply chain, R&D site or factory need to attain a satisfactory regulatory, safety and compliance level? TÜV Rheinland auditors are strictly trained and qualified to carry out international audits using accredited methods.
They verify that you have procedures, controls and qualified processes in place to ensure that any chemical, microbiological, physical, allergic hazards are correctly managed, controlled and mitigated during production.
We provide the very best global, independent auditing services
The best product formulation does not ensure a compliant product if processes are not controlled. And the best manufacturing processes do not ensure a risk-free product if the formulation is not qualified. The correct implementation of management systems, procedures, quality control plans, records and documentation is of primary importance to manufacture a safe product. Assessment through a qualified worldwide team of auditors, supported by product expertise and industrial knowledge, is key to demonstrating compliance.
Our Sustainability Initiatives
Nothing less than the future is at stake. Companies, institutions, public authorities and each and every one of us can play a positive role in shaping the path to tomorrow. We provide you with comprehensive support to ensure that you operate safely, sustainably and efficiently for many years to come.
Discover our comprehensive FCM compliance management services

Legislation as well as consumer demands regarding food contact safety have become increasingly stringent and diverse. You can't afford to let an inadequate interpretation of legislation or a deficit of staffing threaten the market access of your products or the trust in your brand.
This might also interest you
Last Visited Service Pages