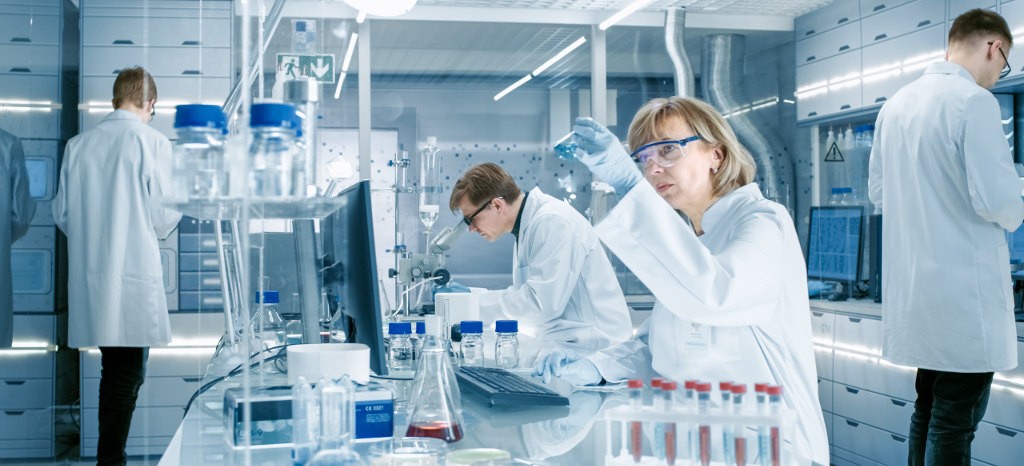 Leave your testing needs to us, so you can focus on your core business
Legislations for the testing of Food Contact Material products vary from country to country, and they keep changing as standards and materials evolve. With our technical skills, knowledge of different country requirements, global expert network and deep industry experience, we are the premier choice for all testing and test management services.
At TÜV Rheinland, we offer one single interface for the testing of your entire Food Contact Material portfolio, just about anywhere in the world. It's not necessary for you to keep track of ever-changing legislations or speak the language of the different country regulators. We completely handle the migration testing program in our own labs or within our external lab network. Our services range from simple chemical content or migration testing, to a variety of testing management services. Those include customer portfolio and supply chain data gathering, smart clustering and definition of risk-based profile test plans, sample management across lab networks, selection of customer test parameters, delivery testing and knowledge-building programs.
Get in touch with us today!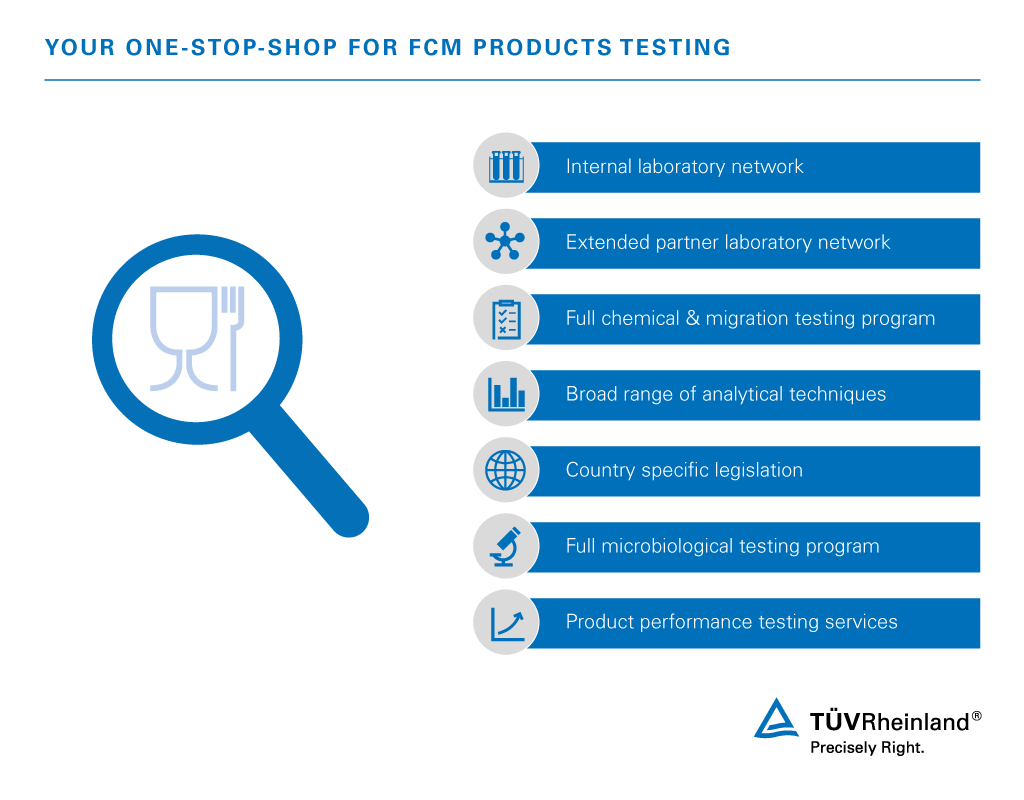 One stop source for all your testing needs.
Hazardous chemical substances can migrate into the final food consumed by consumers through packaging, kitchenware, electrical appliances and food processing lines. It is the duty of manufacturers and distributors to test and validate their FCM products and to monitor production through testing.
TÜV Rheinland's laboratory experience supports you with identifying dangerous chemicals. We test to satisfy local compliance. Our global laboratory network allows you to test your product at a convenient location, to enable the positive release of your prototype or mass production.
In countries where testing must be done within its borders by locally accredited laboratories, our wide market know-how is able to identify the lab that will be best suited to accelerate testing of your specific product and ensure final compliance.
We work closely with our network partners, using our experience to provide recommendations and guidance on the application of test conditions. As a neutral third party, our expertise assures all parties that the most appropriate methods to receive the best possible results will be conducted.
If a test method does not yet exist, our central lab facilities are able to support you with the definition of new test methods.
We go beyond the usual to serve you best.
Decades of experience in supporting you, through dedicated testing services:
Internal laboratory network of 11 FCM testing laboratories worldwide: Europe, USA, India, China, HK, Vietnam and Thailand.
Extended partner network including local and governmental laboratories
Full testing program to validate safety and compliance of
Extended range of analytical techniques such as:

Gas chromatography
Liquid chromatography
Mass spectrometry
Elemental analyses
Sensory analysis - very low level of detection and quantification
Migration and content test for targeted substances (BPA, Ortho-phthalates, Mineral Oils )
Full NIAS (non-intentionally added substances) testing services : Content and migration untargeted screening
Several other tests as: Evaporation tests, color transfer & migration, TOC (total organic carbon), Sensory tests (following several standards), etc.
In absence of a specific test method we develop it for you
Country specific legislation
Europe: Generic EU, Germany, France, Italy, Switzerland, Netherlands, Belgium, Norway, Luxembourg, Denmark, Spain, Croatia, Portugal, Finland, Poland, Czech Republic, Sweden, Austria, Cyprus, Slovenia, Greece, Russia (Subcontract to official approved lab), Hungary, Slovakia
Asia: Japan, South Korea (Subcontract to official Korean approved lab), China, Taiwan, Singapore, Thailand, Malaysia, Indonesia, India, Turkey, Vietnam, Philippines, UAE,Saudi Arabia
The Americas: USA, Mercosur, Columbia, Argentina, Brazil, Chile
Experience in the testing and inspection field since 1872
We are your single point of contact for all your testing needs. Whether with the testing process itself or with complete management of testing. That includes the implementation of an effective, risk and cost-based monitoring program; for example, with a smarter, more flexible testing plan (premium or economy). We support you with:
a) decisions on how many of a family of products you should test, under which parameters
b) managing your monitoring testing plan by balancing product risk against your budget.
With our industrial knowledge of production processes and applications, we have the needed risk-based competence that, combined with our understanding of local standards or legislations in different countries, make us an ideal partner for all your testing requirements.
From simple to complex, TÜV Rheinland is always able to find the best solution for your specific business needs, with our cost-effective, customized testing approach.
We're looking forward to hearing from you!
Download
Get all important information about FCM Product Testing at a glance:
| | | | |
| --- | --- | --- | --- |
| pdf | Leaflet: Products with food contact: | 2 MB | Download |
Our Sustainability Initiatives
Nothing less than the future is at stake. Companies, institutions, public authorities and each and every one of us can play a positive role in shaping the path to tomorrow. We provide you with comprehensive support to ensure that you operate safely, sustainably and efficiently for many years to come.
Discover our comprehensive FCM compliance management services

Legislation as well as consumer demands regarding food contact safety have become increasingly stringent and diverse. You can't afford to let an inadequate interpretation of legislation or a deficit of staffing threaten the market access of your products or the trust in your brand.
This might also interest you
Last Visited Service Pages