Even as the energy markets transition to a net zero-carbon future, oil and gas will continue to remain an important part of the energy mix to meet the demands of the coming decades. New and improved exploration technologies provide access to new reserves. These new reserves are harder to reach, and projects and their supply chains are becoming larger, more technical and increasingly complex. In an industry characterized by large investments, intense competition, new technologies and tight project schedules, it is crucial to have assistance that ensures compliance with increased legal, commercial and environmental requirements. Above all, ensuring that quality remains at a high level.
We collaborate with owners, insurers, investors, EPC contractors and operators of production facilities, pipelines, terminals and refineries to ensure safety and success in all aspects and at every phase of oil and gas-based projects.
EPC Services for projects in the oil, gas and chemical industry
For a successful project we support you with a range of services: construction supervision, scheduling, control of changes, cost, quality control for service delivery, HSE, communications, risk management and procurement service support that is offered as a holistic package or as single services.
Expertise in detail to master the entirety. Discover our EPC project portfolio* regarding to the phase your project is in!
Concept Phase
Engineering & Design Phase
Procurement Phase
Construction & Installation Phase
Commissioning Phase
Manage your project smoothly - together with a Project Management Consultant (PMC)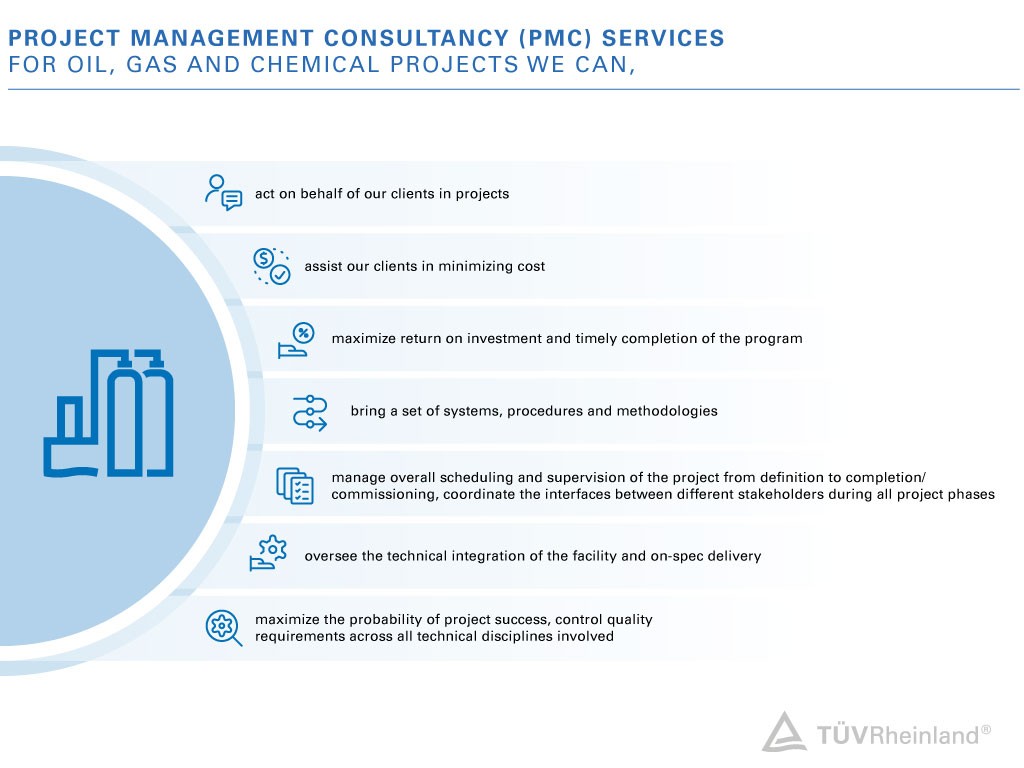 There are various options for owners and investors for defining a contracting and execution model for the project. Often EPC Companies are involved and overtake financial and contractual risks from the owner. To minimize the risks for both contractual parties, we jump in as an experienced PMC (Project Management Consultant) with our local ressources in your project location.
Over the last 150 years we have built up a large network of experts. This enables us to support our customers technically as well as geographically in every stage of their project.
Proven track record
We work in multidisciplinary and multinational teams to find solutions for you and your project. You profit from the diverse professional backgrounds and extensive experience of our experts. We have a substantial track record of working with leading internationally and nationally operating companies, design engineering companies, manufacturers and suppliers, insurers and service providers, as well as industry associations and regulators. Our experts have extensive international experience and our multi-industry expertise facilitates the sharing of good practice.
Let us provide you with a non-binding offer.
* In TÜV Rheinland, the neutrality, objectivity, independency and impartiality of our activities are of utmost importance. Our conformity assessment activities follow these values in compliance with the applicable accreditation requirements. All the necessary structural, organizational and processual measures are in place in all levels of the organization in order to avoid conflicts of interest (e.g. rigorous separation of consultancy and certification) and to ensure impartiality.