The harvesting, transformation and efficient use of energy are important topics today and for the foreseeable future. Looking at the changing energy markets, we can see that it is becoming increasingly important for conventional power plants to optimize operation by maximizing safety, reliability and availability. Inefficiency and unplanned downtime need to be minimized. We support you with testing, inspection, certification and consulting services along the entire lifecycle of your industrial plants, minimizing the need for shutdowns. Whether fossil fuel, renewables or hydrogen, we have the expertise and accreditations to support you in solving your technical issues, ensuring safety and meeting regulatory compliance.
Project planning and construction of renewable energy generation assets entails management of risks, which if realized, can jeopardize performance or reliability during operation. Comprehensive quality assurance, from the planning phase of a project, through site assessment and type approval, to final inspection and monitoring during operation, can reliably minimize such risks. We offer extensive experience in the renewable energy sector, whether with wind power, solar thermal or photovoltaic, and support you at every phase of your project.
EPC Services for power and energy projects
For a successful project we support you with a range of services: construction supervision, scheduling, control of changes, cost, quality control for service delivery, HSE, communications, risk management and procurement service support that is offered as a holistic package or as single services.
Expertise in detail to master the entirety. Discover our EPC project portfolio* regarding to the phase your project is in!
Concept Phase
Engineering & Design Phase
Procurement Phase
Construction & Installation Phase
Commissioning Phase
If you are seeking independent, highly qualified and reliable experts for your projects, our engineers are delighted to support you. You can rely on our global energy market capabilities to comply with country-specific regulations and requirements – we are your reliable technical, independent partner around the globe for your energy EPC projects.
Project development optimized with a Project Management Consultant (PMC) at your side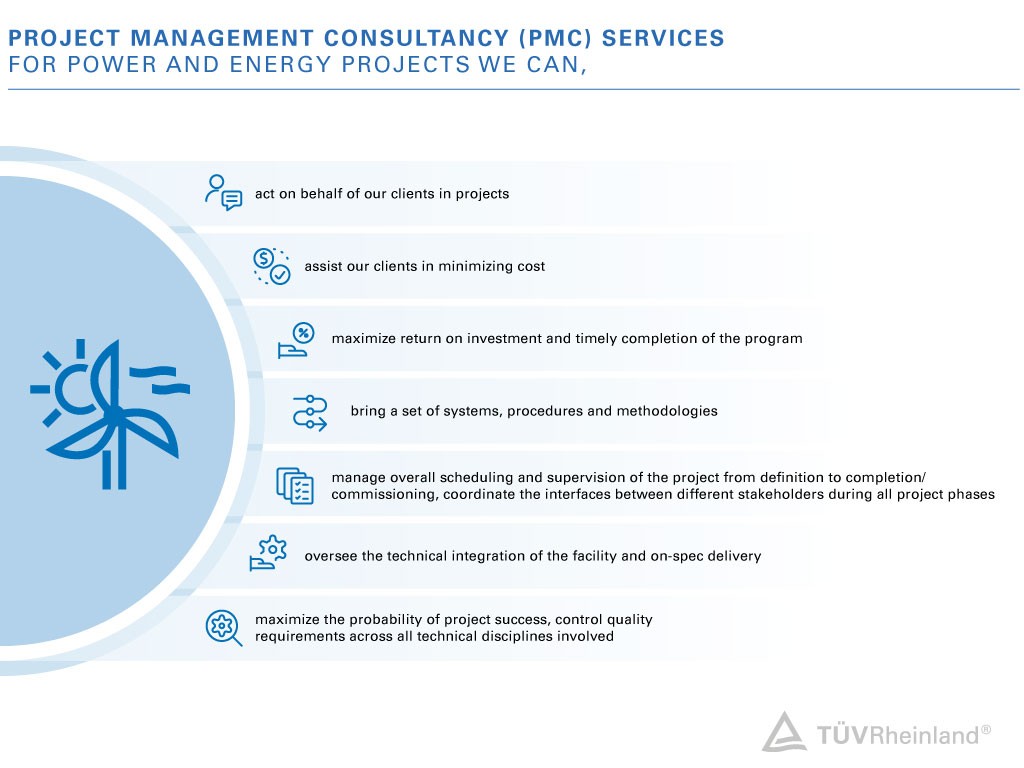 There are various options for owners and investors for defining a contracting and execution model for the project. Often EPC companies are involved and overtake financial and contractual risks from the owner. To minimize the risks for both contractual parties, we jump in as an experienced PMC (Project Management Consultant) with our local ressources in your project location.
Over the last 150 years we have built up a large network of experts. This enables us to support our customers technically as well as geographically in every stage of their project.
Proven track record of accomplishment
With many years of experience in the field of power generation and renewable energy, we have become a well-respected partner for industry leaders across the globe. The following reference cases demonstrate our expertise and illustrate how we have supported owners, investors, manufacturers, operators and EPC contractors through the whole lifecycle of their energy projects.
* In TÜV Rheinland, the neutrality, objectivity, independency and impartiality of our activities are of utmost importance. Our conformity assessment activities follow these values in compliance with the applicable accreditation requirements. All the necessary structural, organizational and processual measures are in place in all levels of the organization in order to avoid conflicts of interest (e.g. rigorous separation of consultancy and certification) and to ensure impartiality.