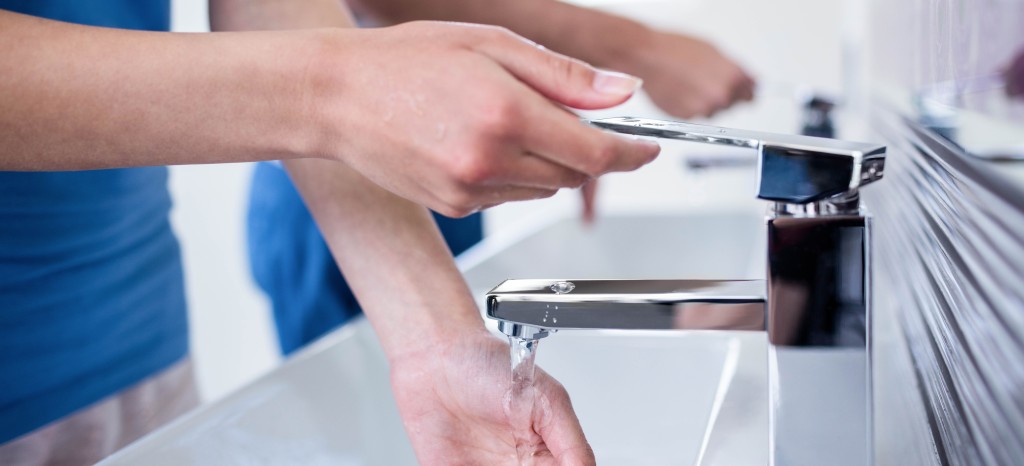 Certified safety and quality with our sanitary equipment testing
From the kitchen to the bathroom, consumers seek durable and safe sanitary fixtures to ensure a pleasant home. A corresponding test mark certifying the proven quality and safety of a product often serves as a decision-making aid when purchasing.
Our experts carry out testing and certification services for sanitary articles of all kinds. We can perform type testing for washbasin faucets, material testing for kitchen sinks, or safety assessments of shower partition walls. We also examine the effectiveness of drainage products (e.g. roof and floor drains), lifting systems (pumps), filter systems (e.g. for waste water containing mineral oil) and separators within the framework of drainage and separation technology.
When testing your sanitary and separation technology, you can rely on our many years of experience and extensive specialist knowledge. As a testing laboratory recognized by the German Technical and Scientific Association for Gas and Water (DVGW), we have the necessary know-how and accreditation to provide you with optimum support.
Would you like to document the safety of your sanitary technology or separation technology?
Documented quality of your sanitary and separation technology
Our comprehensive testing services in accredited laboratories help you to actively avoid accidents and minimize health risks. Demonstrate your sense of responsibility towards those relying on and using your products.
With the help of our globally recognized test marks, you can credibly prove that you comply with the normative quality and safety requirements to increase customer confidence when selecting your products for purchase.
At a glance: Safety and quality tests
Our experts provide comprehensive services for your sanitary and separation technology including load tests, functional tests, and microbiological tests.
Our services
Load tests
Pressure, strength and leakage tests
Measurement of pressure loss
Flow and discharge measurements
Ergonomic and functional tests, evaluation
Functional and hygiene tests of whirlpools
Noise tests on fittings
Hygiene tests and assessments, e.g. on kitchen sinks
Dimensional checks, thread dimensions, deformations
Material and surface testing
Microbiological tests and assessments, e.g. material resistance to bacteria and fungi
Checking installation instructions, instructions for use and product information
Testing of separation effectiveness, determination of hydrocarbons content, pH value, conductivity
Checking the flushing function
Testing of the wear behavior of valves, endurance tests
Testing of chrome-plated surfaces
Pump performance
Back suction behavior, negative pressure tests
Sensory tests
Temperature cycling tests
Our test marks
DIN CERTCO
Preparation of General Building Inspectorate Test Certificates (AbP)
Tested sanitary and separation technology with our experience and know-how
We are your experienced and reliable partner with testing laboratory status accredited by DAkkS (Deutsche Akkreditierungsstelle GmbH) and recognized by the DVGW (Deutscher Verein des Gas- und Wasserfaches e.V.), DIBt (Deutsches Institut für Bautechnik), GET (Gütegemeinschaft Entwässerungstechnik) and others. Our experts stand at your side, supporting you with comprehensive know-how and extensive experience in the field of sanitary engineering and separation technology. Thanks to our test mark and the seals of our aforementioned partners, you can prove the reliability of your products and thus strengthen your position on the market.
Our experts are pleased to inform you about our comprehensive testing services for your sanitary and separation technology in a personal conversation!
Our Sustainability Initiatives
Nothing less than the future is at stake. Companies, institutions, public authorities and each and every one of us can play a positive role in shaping the path to tomorrow. We provide you with comprehensive support to ensure that you operate safely, sustainably and efficiently for many years to come.
This might also interest you
Last Visited Service Pages