Digital vehicle evaluation using OKAPI: Innovative damage assessment via tablet or smartphone
Online platform for car dealerships, workshops, and fleets
Our online system for digital vehicle evaluation is as striking and unique as the forest giraffe of the same name. OKAPI gives car dealerships, workshops, and fleets a completely new digital option for highly efficient documenting of vehicle damage. Your vehicle personnel can use it to quickly and simply compile all data and images required by our experts to cost damage and create individualized tele-estimates for vehicle repairs. Attractive added value for car dealerships trading in used vehicles: OKAPI is also ideal for digital vehicle evaluations and internal reports on the condition of used vehicles.
Find out more about digital damage assessment and tele-estimates
How contactless digital damage assessment and tele-estimates work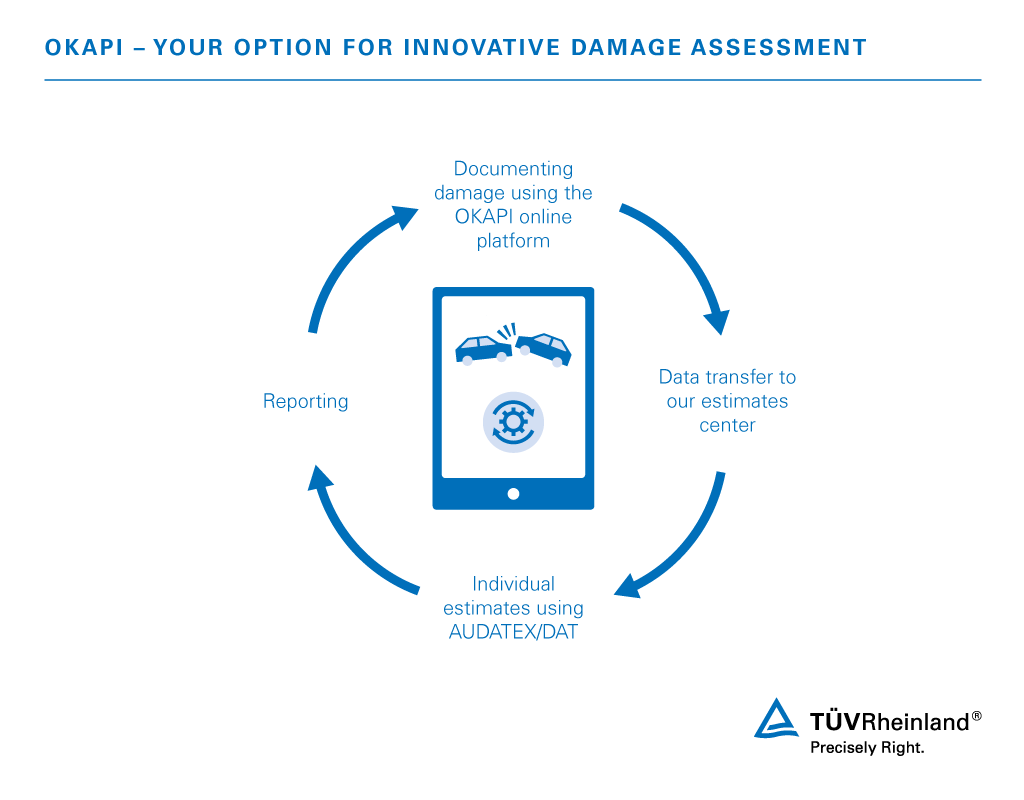 Damage assessment and documenting vehicle damage can be performed by your own personnel – with no need to outsource – while our backoffice experts remain available with telephone and chat support. This then ensures that any digital damage assessment is valid for evaluations and estimates.
Your personnel use OKAPI to document the damage with images, video, and text. The data are transferred to our central estimates center where we create costs, estimates, and status reports on your behalf. We use the industry standard AUDATEX/DAT based on your costs (hourly rates, replacement-part surcharges etc.). Notifications and document transfers take place automatically.
OKAPI also helps to retain customers who will be impressed by the professionalism of digital damage assessment, and who your personnel will have more time for.
Benefits to you of tele-repair estimates/vehicle condition assessments
Simple, digital damage assessment by your own workshop personnel
Quick turnaround times and fast processing
Easy to allocate tasks and present and process them
Saves time and costs: you do not need to estimate the damage costs
Professional and risk-free estimates – we take on the risk
Can be used nationwide
All data securely archived with individualized customer access
Digital damage file including processing status
This might also interest you
Last Visited Service Pages