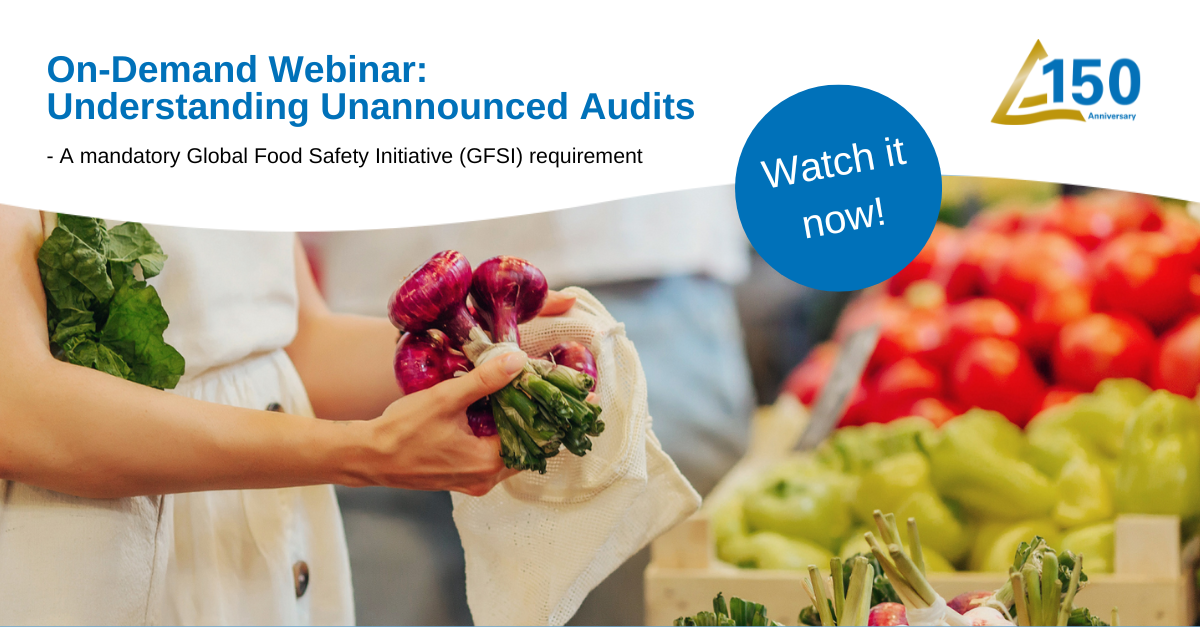 Establish transparency, trust and responsibility with us
IFS Food is a standard recognized by the Global Food Safety Initiative (GFSI) for auditing food manufacturers.
Food production and processing today is facing far higher demands than ever before. On the one hand, consumers want maximum transparency. They want to know where their food comes from, how it was produced and processed and how safety, quality, sustainability, and ethics have been ensured. On the other hand, the food industry has the responsibility of proving to retailers, brokers, and other business partners that it has taken the necessary measures to fulfill its duty of care. It also shares responsibility for the reputation of major brands.
The food sector also has complex and diversified supply chains with large numbers of participants who possess different levels of knowledge. For example, while the major branded companies are very familiar with their Tier 1 suppliers, it remains difficult for them to assess Tier 2 suppliers. From level 3 onwards, the number and quality of suppliers becomes practically unmanageable.
IFS Food safety certifications are your ticket-to-trade
As a producer and processor of food, you therefore need to meet extremely high standards. At the same time, these standards offer great opportunities. A prerequisite is for you to prove the food safety and other characteristics of your processes according to internationally recognized standards. Such certifications are first and foremost a ticket-to-trade, i.e. without this proof it will be practically impossible to establish new business relationships in the food sector. Certifications will also strengthen existing business relationships and give you opportunities of achieving higher revenues through proven safety and quality.
IFS Food is one of such internationally recognized standard. It is indispensable for any business that produces or processes food, especially for manufacturers of branded goods.
We are your competent partner in obtaining certification according to IFS Food. As an accredited and approved certification body, we guide you through the certification process for your processes and systems.
IFS provides the option of unannounced audits, which increase credibility and value. Unannounced audits demonstrate compliance and assure stakeholders that manufacturing sites always operate at a consistent safety level and comply with IFS requirements.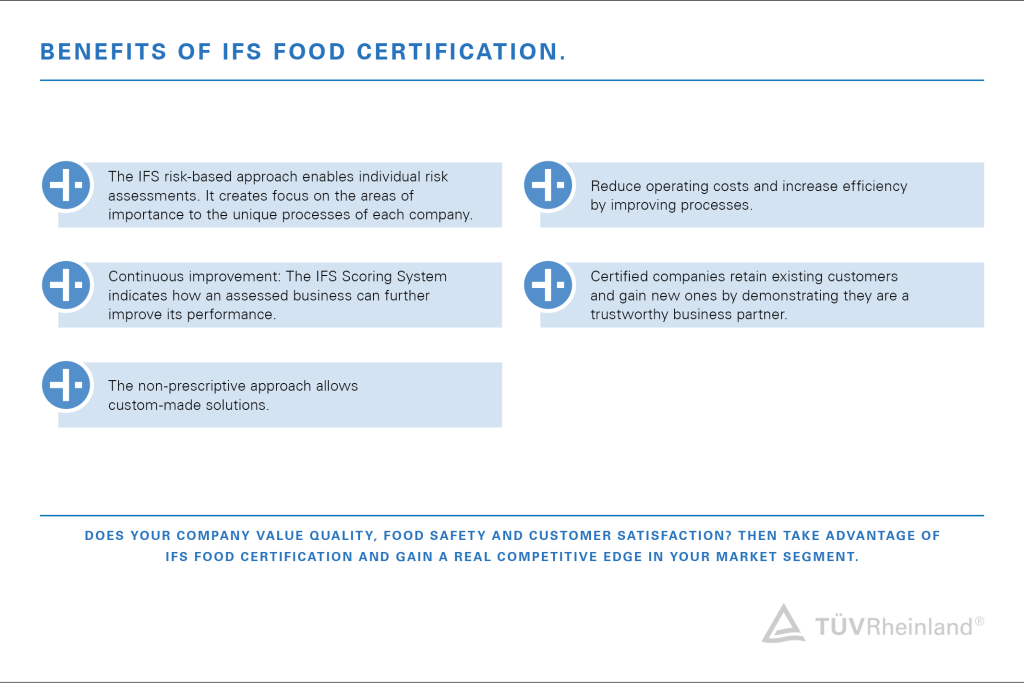 IFS Food – An internationally reputable and valid standard
International Featured Standards (IFS) is a set of food, product and service standards designed to ensure that products and services meet the specifications agreed with customers. In addition to IFS Food, these include the standards IFS Logistics and IFS Broker. IFS Food is used to audit food processing companies and companies packaging loose food products. The standard can be applied when products are processed or handled or when there is a risk of product contamination during the initial packaging.
IFS meets the stringent requirements of, and is recognized by, the Global Food Safety Initiative (GFSI). GFSI does not define its own standards, but does recognize specific international standards on food safety and associated processes and management systems. In addition to the IFS, FSSC 22000 and BRCGS Global Standards are also GFSI-recognised. Manufacturers, retailers, brokers and other actors in the food sector around the world trust the benchmark requirements of GFSI. Consequently, IFS Food certification is a global ticket to trade in every sector of the world's food market.
Create transparency, safety, and trust in an end-to-end, globalized food supply chain. We support you by auditing and certifying your processes and management systems.
Globally positioned, internationally experienced, and with extensive industry knowledge
We are a partner who knows every relevant food safety standard worldwide and can certify your business professionally and efficiently. Your relations to customers will then be secure for the long term. Benefit from our more than two decades of experience in the food sector and from top experts who know your industry. To enable you to fully focus on your core business, we continuously monitor the development of new standards for the global food sector.
We support you as a competent and reliable partner, starting with the question which standard is best suited to your company and your business model, through to preparation for the audit required for certification.
An additional benefit for you is entry in our certification Certipedia database that documents your transparency and high standards of safety and quality. This represents one further building block for gaining the trust of customers and business partners.
One partner for all certifications essential for success
As a globally active and experienced testing and certification organization, we are familiar with many other standards beyond food safety that play a role in the food industry. This gives you important added value. These standards include common audits according to ISO 9001, ISO 14001, ISO 45001, ISO 50001 as well as information security (ISO 27001, ISO 22301, ISO 20000), supply chain and CSR audits such as SMETA and SA 8000 and the palm oil certification RSPO. We are your partner for efficient certification also in areas such as environmental protection, occupational health and safety, energy management, and more.
In other words, we are a real one-stop shop for you to meet competent experts who possess profound knowledge of the industry and who speak your language.
This might also interest you
Last Visited Service Pages