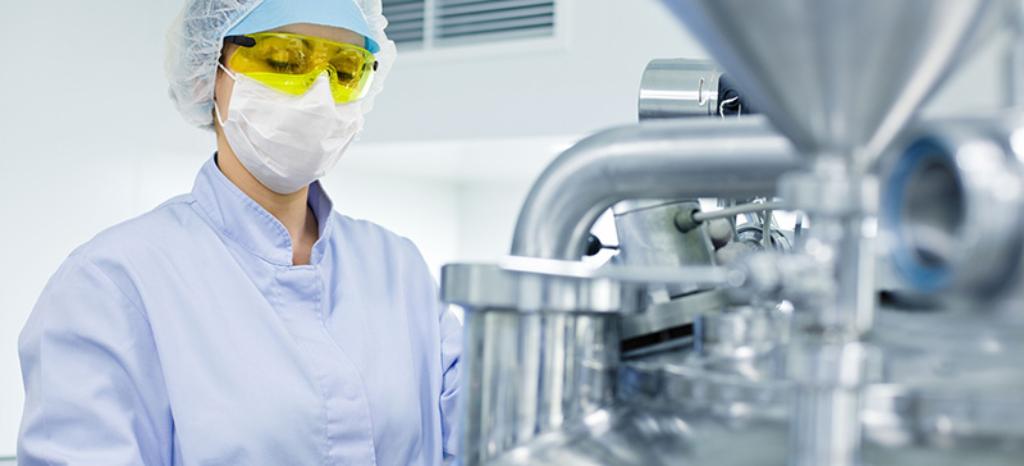 The HACCP certification: hygienic safety for your food products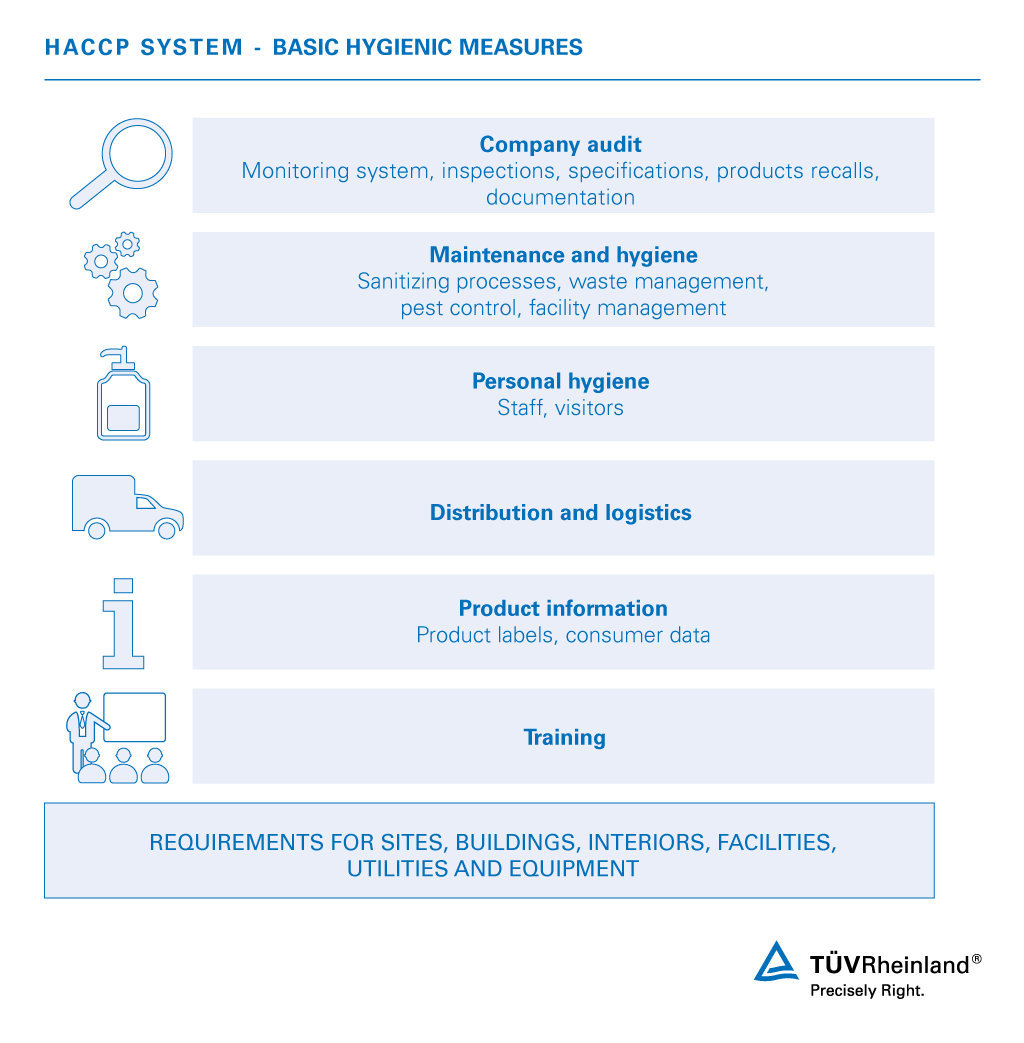 For companies involved in the manufacture, processing or transportation of food products, high hygienic standards are of paramount importance. The concept of Hazard Analysis and Critical Control Points (HACCP) is guided by established regulatory requirements for the food industry.
HACCP certifications aim to systematically identify any factors that might present a potential health risk to consumers, allowing you to avoid hygienic hazards or lower their risk to acceptable levels. The certification is based on the Codex Alimentarius, an international code of conduct for the industry. Our experts are here to help you continuously implement the requirements for an HACCP mark.
The certification is relevant to all fields within the food industry, including suppliers such as detergent manufacturers, packaging producers, machine-building firms or chemical plants. Not only does the HACCP mark minimize potential hazards, it signals to your customers that your company is vested in the highest food-safety standards.
Our specialists are available to support you at every stage of the process. Take advantage of our longstanding experience certifying the food industry.
Contact our experts to make your appointment today!
Gain a decisive competitive advantage with our internationally accredited HACCP certification. Customers and partners around the world will recognize your documented commitment to uphold the highest regulatory standards of hygiene and food safety. This lasting improvement to your food safety strengthens the trust consumers place in your company. Our experts help you identify, assess and avoid risks early on by optimizing your production processes and reducing liabilities as well as unnecessary costs. Not least, we give you the confidence of meeting your statutory obligations as a food-processing company.
More food safety in just a few steps
Our specialists are here to support you in the adoption and implementation of an effective HACCP framework. The certification follows these five steps:
Pre-audit (optional)
Certification audit
Issuing the certificate and an entry in the Certipedia online database
Annual surveillance audit
Re-certification within three years
Gain trust and optimize your processes with the HACCP certification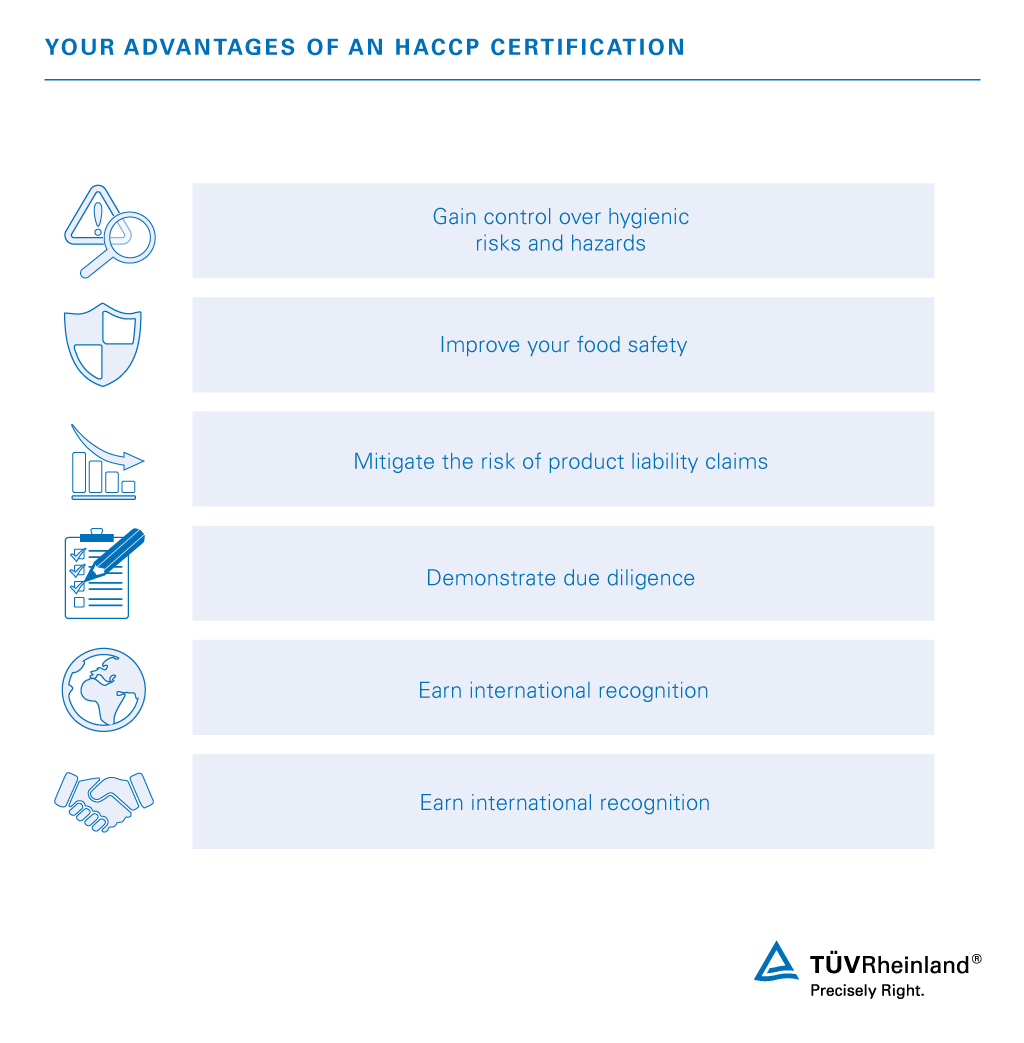 HACCP certification procedure – TÜV Rheinland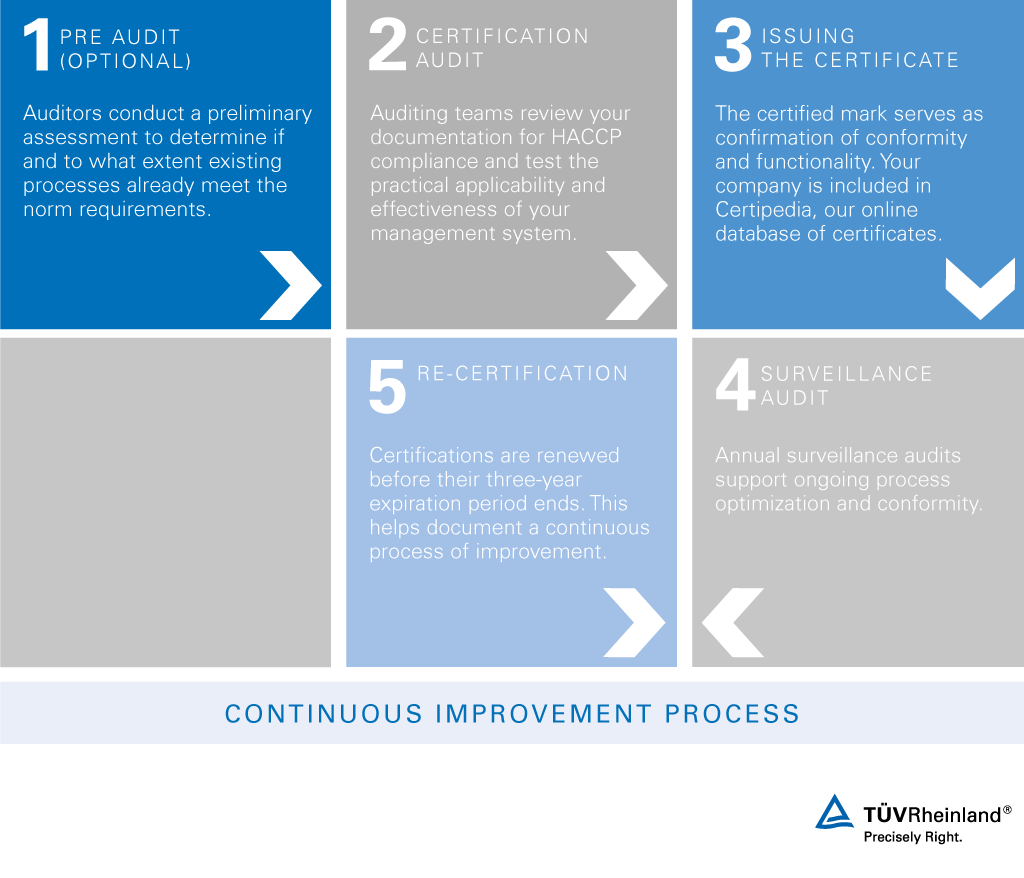 Your experienced partner for HACCP-certified food safety
Our impartial experts offer you their longstanding experience and competent support in certifying your food safety by HACCP standards. The internationally accredited certificate assures customers and partners that you are committed to high quality standards. Newly certified providers are updated daily on Certipedia, our online database of certificates. These are just some of the benefits that come with our globally recognized test mark.
If you have any unanswered questions about the HACCP certification, don't hesitate to contact our specialists!
Our experts answer the most important questions about HACCP
| | | | |
| --- | --- | --- | --- |
| pdf | FAQ "HACCP Food Safety Certification" | 236 KB | Download |
This might also interest you
Last Visited Service Pages