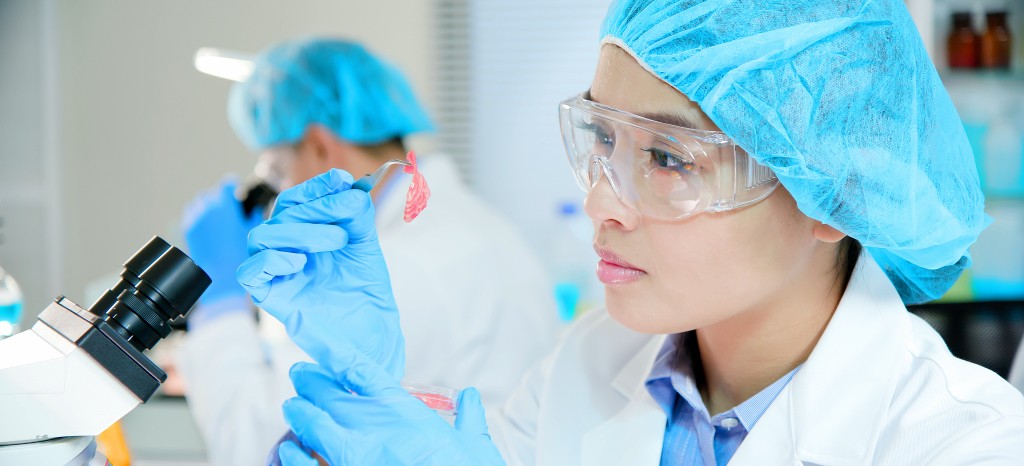 We support you with managing and mitigating the food safety risks of your FCM products – during the design, manufacturing and post-manufacturing stages.
At TÜV Rheinland, we support you with identifying and effectively controlling food safety hazards in your product design, production processes and at your manufacturing site.
To properly manage the food safety of an FCM product, manufacturers need to:
have an established hygienic product design supported by an HACCP (Hazard Analysis Critical Control Point) study,
implement GMP (Good Manufacturing Practices) in production processes and support it through a food safety risk assessment analysis (HACCP study of manufacturing processes),
qualify, validate and monitor the product through dedicated microbiological testing.
Our three cutting-edge microbiological laboratories – based in Germany, Vietnam and China – can support you with your microbiological product testing.
To assist you with training, document assessment of your HACCP studies, and auditing of your production site's GMP implementation, we offer an international network of qualified food safety experts. In addition, we provide product certification, so that your goods are clearly labelled with our "Hygienic Properties" proof mark or the EHEDG logo, thus guaranteeing compliance and safety.
Get in touch with us today!
Our microbiological testing services will determine any gaps in the safety of your FCM products and processes.
To identify and mitigate product risks, there are many factors to examine. That's why a hygienic design and HACCP study is needed, which will also help to identify the presence of Critical Control Points (CCP). It will enable you to review the design of your product and consider issues such as CIP (Cleaning in Place), temperature controls, warnings and instructions included in the user manual, or product labelling.
Allowing our expert teams to assess the design of your products during the development stage will eliminate difficulties moving forward. It will help you to improve your "Compliance by Design" approach, reduce overall R&D processes, avoid the launch of an unsafe product, and mitigate the risk of product recalls.
Microbiological, allergic, physical and chemical hazards can also be transferred into the final product during the manufacturing stages. Our training, document assessment and customized audit services – including GMP Visual Standards and HACCP manufacturing process studies – help to identify, set up and implement measures to regulate or mitigate those risks.
The key to winning out over competition at the point of sale is by increasing the trust of the customer and final consumer regarding the safety of your product. Our international audit services and product certifications are widely recognized and provide assurance of compliant safety standards.
Add value to your FCM products and your brand – take advantage of our comprehensive testing solutions.
Find here our full catalogue of food contact material safety services, provided globally:
Microbiological testing through our international laboratory network
Hygienic design review
Product design HACCP assessment
Good Manufacturing Practices (GMP) services

Visual standard document assessment
Manufacturing plant audit
Training

Manufacturing process HACCP assessment
"Hygienic properties" Proof Certificates for electrical appliances, kitchenware and hollowware such as:

Electrical appliances (coffee makers, etc.)
Surfaces in kitchens and bathrooms
Other kitchenware and food utensils

EHEDG certification: European Hygienic Design Guidelines for food processing lines

Component testing
Hygienic design review

Second party audit – TÜV Rheinland GMP
Third party audit – international standards as per our system catalogue
A good brand image is crucial – we support yours with FCM microbiological testing
Food safety hazards in your FCM products or food processing lines can lead to severe injury or even the death of a consumer. That is why the industry has a legal and moral responsibility to manage and reduce FCM risks. By using our proven FCM microbiological testing services during design validation or manufacturing, you can avoid inadvertently allowing unsafe products to reach the final market.
With our internal network of microbiological laboratories in Europe, Asia and China, plus our international external lab and expert network, we are able to support you with microbiological testing wherever you are located.
With our support, you're able to provide due diligence through product certification as well as assessment of design and manufacturing processes. Thanks to our brand recognition, you also receive a tangible sales advantage.
Don't take unnecessary risks – contact us now!
Our Sustainability Initiatives
Nothing less than the future is at stake. Companies, institutions, public authorities and each and every one of us can play a positive role in shaping the path to tomorrow. We provide you with comprehensive support to ensure that you operate safely, sustainably and efficiently for many years to come.
Discover our comprehensive FCM compliance management services

Legislation as well as consumer demands regarding food contact safety have become increasingly stringent and diverse. You can't afford to let an inadequate interpretation of legislation or a deficit of staffing threaten the market access of your products or the trust in your brand.
This might also interest you
Last Visited Service Pages