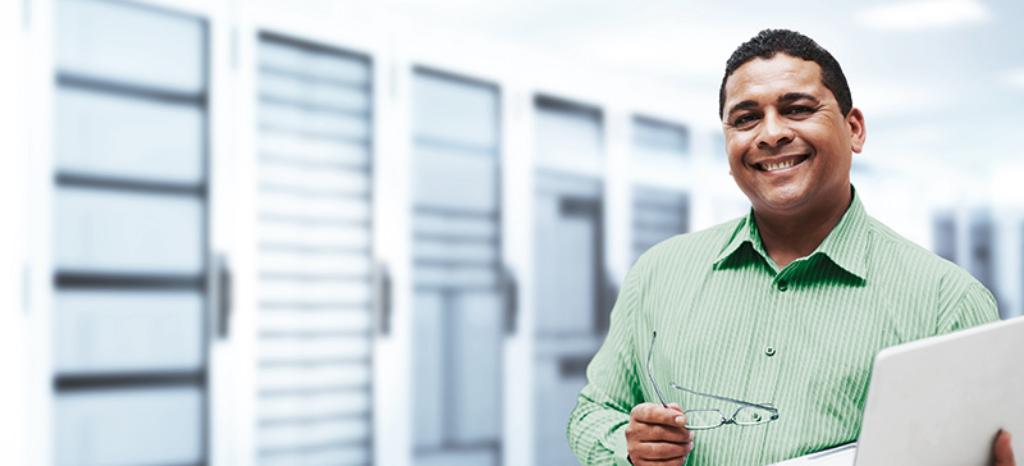 Optimize your service management with our ISO 20000 certification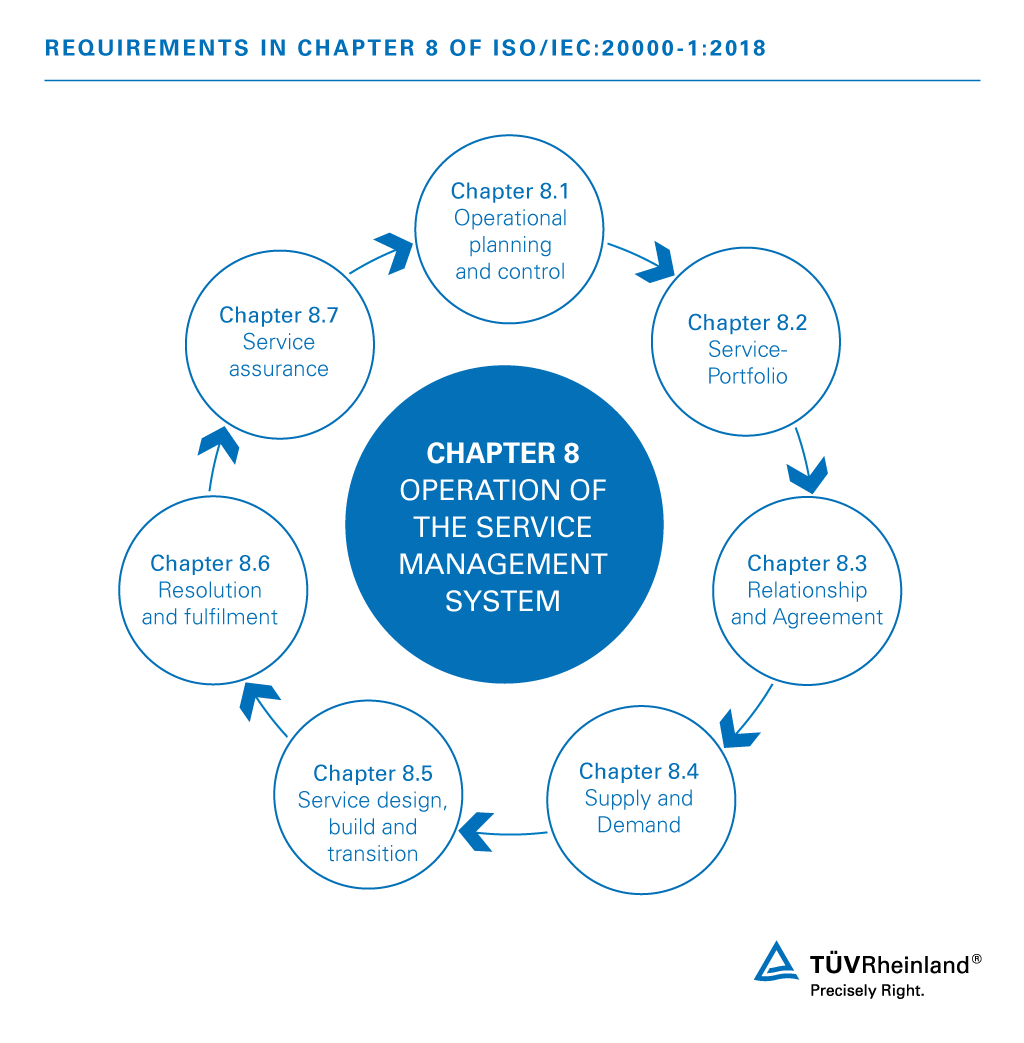 Areas visible to the customer require special attention. Efficient management of your management systems must be ensured and monitored. With our certification of your service management system (SMS) according to ISO 20000, you can ensure your customers excellent and reliable service.
Our experts audit your management system according to ISO/IEC 20000-1:2018, the international standard for service management. As a management system, the SMS follows the plan-do-check-act cycle (PDCA) as well as the concept of continuous improvement. With the aid of standardized procedures, you build service processes that provide optimal support to your organization and meet your business needs. All necessary measures and methods for developing these service processes are referred to as service management.
With an ISO 20000 certification you can improve your service management system and create customer confidence in the services you offer. Learn more about optimizing your SMS with certification as per ISO 20000.
The ISO 20000 revision: Our experts will answer important questions about ISO 20000:2018.
| | | | |
| --- | --- | --- | --- |
| pdf | FAQs on the revision of ISO 20000 | 267 KB | Download |
Continual improvement of your service management system with ISO/IEC 20000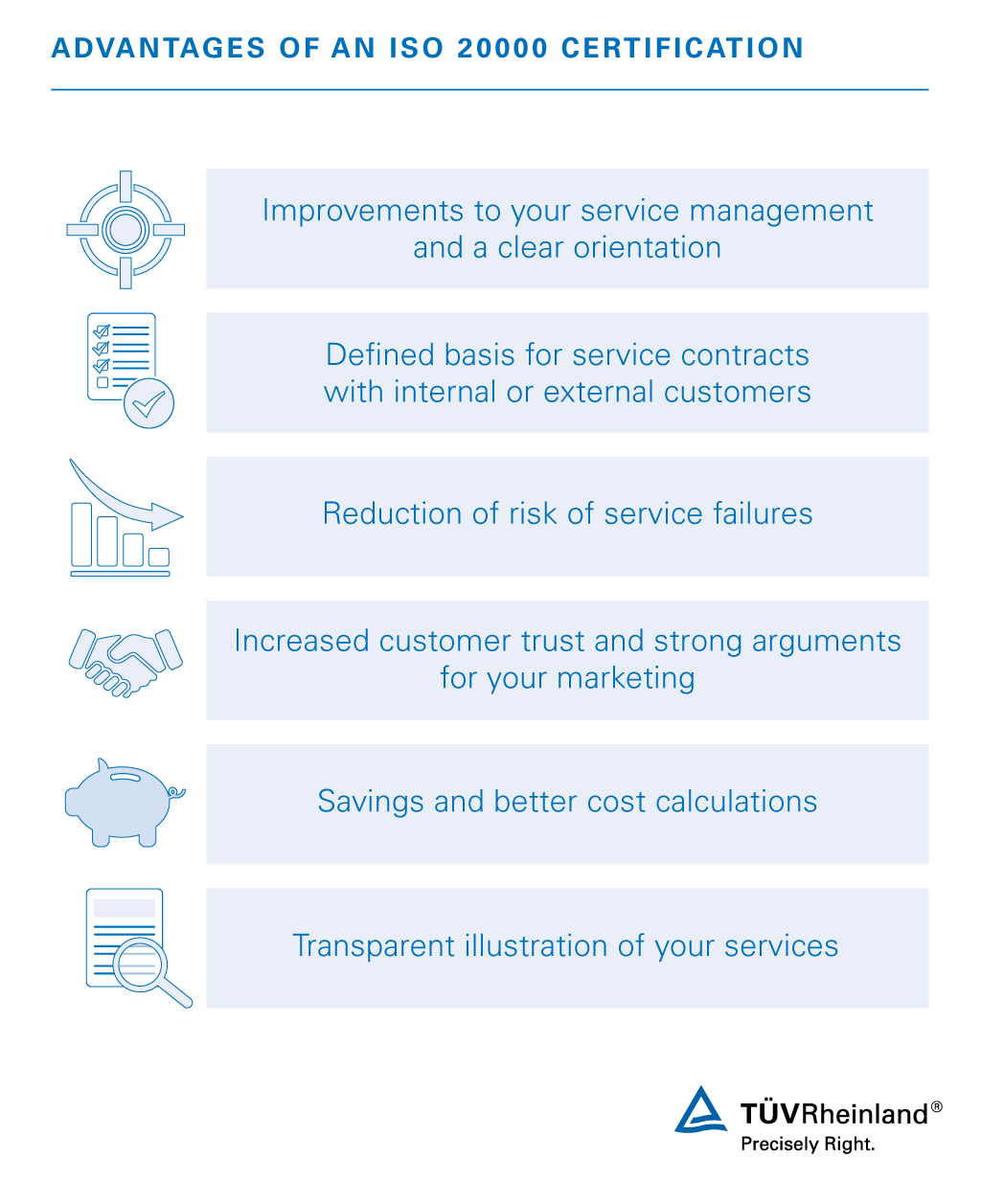 Manage the continual improvement of your service management with certification according to the international standard ISO/IEC 20000. By improving the efficiency and reliability of your organization you will reduce costs and lower the risks of service errors. Additionally, your company will benefit from reduced customer audits, increased efficiency, and ultimately increased productivity.
You can also benefit from the valuable advantage with our certification offers. Our certification to ISO 2000 will offer your customers confidence in your service and allow you to better manage your infrastructure.
Get your certification according to ISO 20000 in just a few steps
Our experts help you lastingly optimize your service management. On the basis of defined performance indicators, you can check its status at any time and initiate possible improvements and changes. Certification involves the following steps
Pre-audit
Documentation review
Certification audit: Effectiveness check for your service management system (SMS)
Certificate issue and entry in our online certificate database Certipedia
Annual surveillance audits
Recertification after three years and documentation of the continual improvement process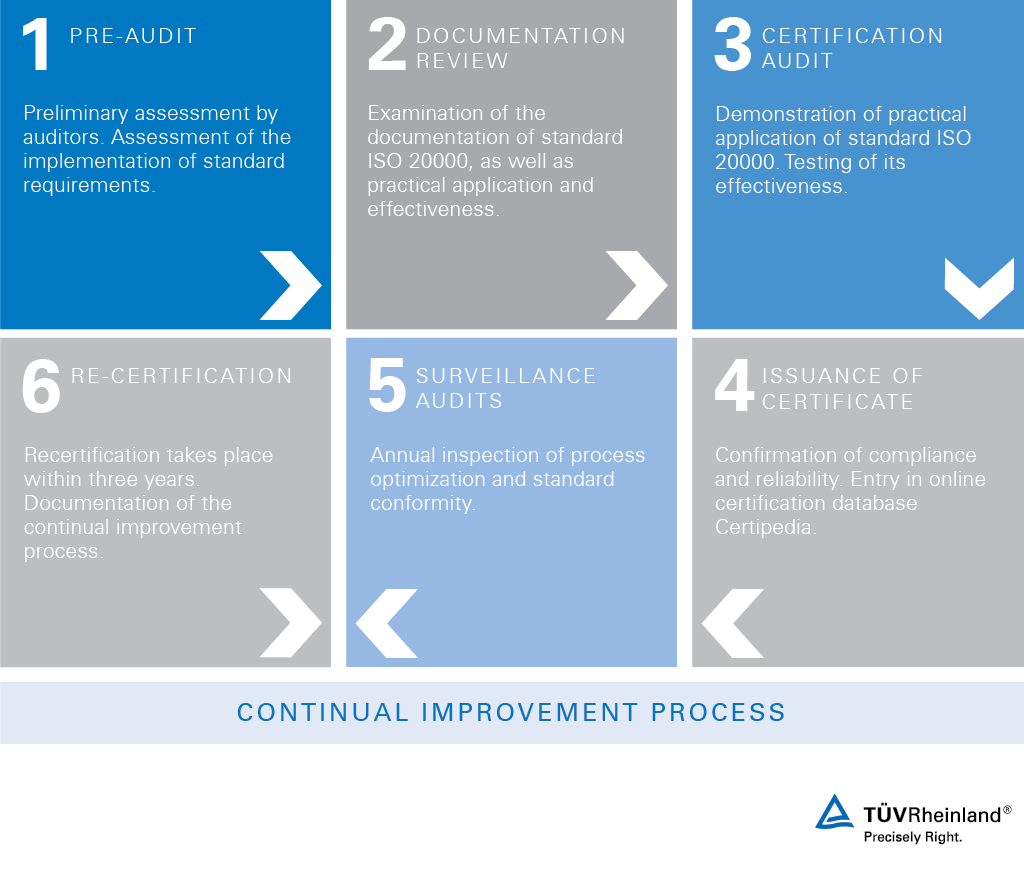 Your competent partner for certification of your service management system according to ISO 20000
We are your partner for your certification of your SMS as per standard ISO 20000. Our experts have extensive experience and provide you with support.
Our internationally recognized certification can assist you in market access and it is entered in Certipedia , our certificate database that is updated daily.
Any more questions about certification as per ISO 20000?
Our Sustainability Initiatives
Nothing less than the future is at stake. Companies, institutions, public authorities and each and every one of us can play a positive role in shaping the path to tomorrow. We provide you with comprehensive support to ensure that you operate safely, sustainably and efficiently for many years to come.
This might also interest you
Last Visited Service Pages