Proof of quality paints and lacquers thanks to our demanding testing and certification
Paints, lacquers and glazes often contain solvents and other potentially hazardous substances. Allergy sufferers and health-conscious consumers in particular pay close attention to product ingredients and make purchasing decisions dependent on warnings and content information. With our independent and globally recognized test marks, you can create a real competitive advantage and make it easier for customers to choose your product.
We test and certify your products with regard to health and environmental aspects on the basis of our specially developed criteria catalogues. Our services are conducted in accordance with legal requirements, including the German Hazardous Substances Regulation (Gefahrstoffverordnung, GefStoffV), the European CLP Regulation (EU Regulation 1272/2008), and the European Directive on the limitation of emissions of volatile organic solvents from paints and lacquers. Our experts examine the ingredients of your products for potential pollutants, such as heavy metals, plasticizers and preservatives. We measure emissions to ensure that the effects of chemicals used in your products are harmless and in compliance with regulatory statutes.
With our various test marks, you can prove the high quality of your paints and lacquers as well as prove specific product aspects, such as the absence of preservatives. Our testing and certification give you a clear competitive advantage in the markets of your choice.
Find out more about the testing and certification of paints and lacquers!
Competitive advantage with our independent paint and lacquer testing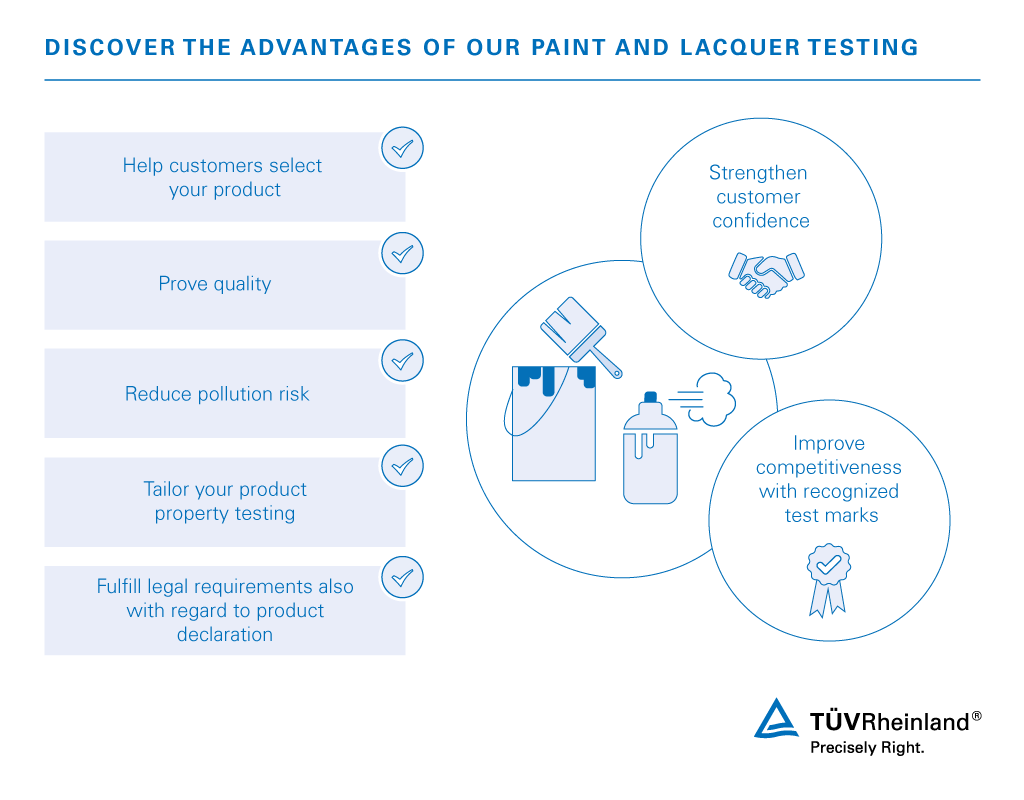 Our testing and certification of paints and lacquers ensure that your product meets relevant legal requirements to protect consumer health. In addition, you minimize possible risks in the use of your products and thereby reduce potential hazards to people and the environment. With the proof provided by our neutral and recognized test mark, you strengthen confidence among your customers and business partners alike. You provide a clear orientation guide and positively influence customers who place value on low-risk paints and lacquers when making their purchase decision.
Our tests and certifications for paints and lacquers
Our experts examine your products in independent and modern laboratories at locations around the world for possible health hazards arising from the presence or release of chemical substances. We provide the certifications you need to prove the quality and safety of your paints and lacquers.
Services offered as part of our paint and lacquer testing include:
Determination of the preservative content
Harmful ingredients check
Selected product properties testing
Certification with corresponding test marks
Review of labeling in accordance with biocide and hazardous substances legislation
Expert paint and lacquers testing
Our experts provide reliable support in all areas relating to the testing and certification of paints and lacquers. Benefit from our globally recognized test marks and show your customers that your products comply with legal requirements and market expectations.
Questions and answers on paints and lacquers
Frequently asked questions about correct labeling, purchase criteria and safe handling of paints and lacquers.
This might also interest you
Last Visited Service Pages