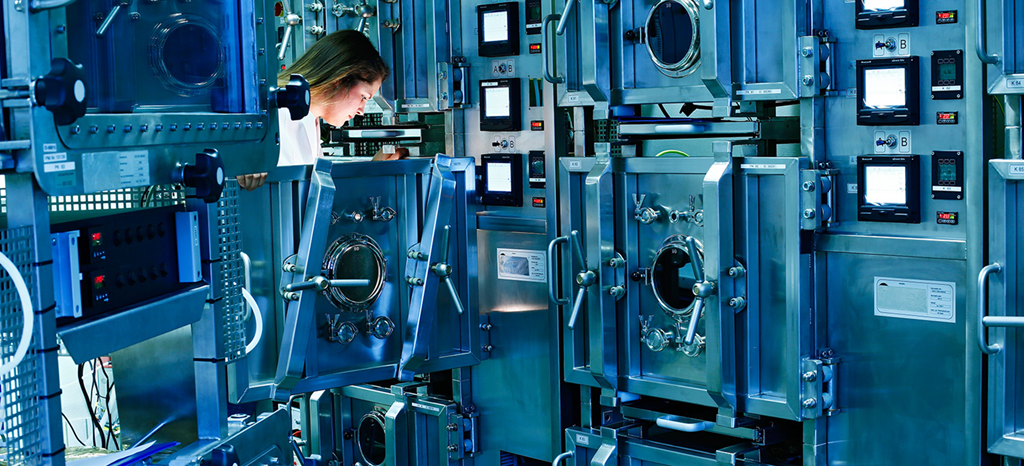 Evaluation of contaminants and VOC emissions with regard to construction materials testing
People around the world spend a considerable amount of time each day indoors. Especially, in Germany the mean indoor residence time is around 20 hours a day. Construction products and materials are often the main source of poor ambient air quality in closed spaces. Because not every volatile substance is odorous, many emissions may go unnoticed at first. Longer-term indoor air pollution, however, can lead to health problems and even disease.
Legislatures establish regulatory requirements for buildings in terms of preventive health protection. To ensure your compliance, we offer you a wide range of different tests for your construction products from point of a single service provider. Our experts reliably test your products for pollutants, emissions of volatile organic compounds (VOC), and normatively defined quality characteristics.
As a notified and accredited test lab, we support you in providing evidence of compliance with the statutory product requirements. Our testing services are established to ensure the consistent quality of your product. With our voluntary test certificates, you can bridge gaps in normative health protection requirements to provide health- and environmentally-conscious construction workers a valuable orientation tool when choosing products for building or renovation.
Would you like to learn more about our comprehensive one-stop-shop tests for construction products?
Strengthen confidence in your construction products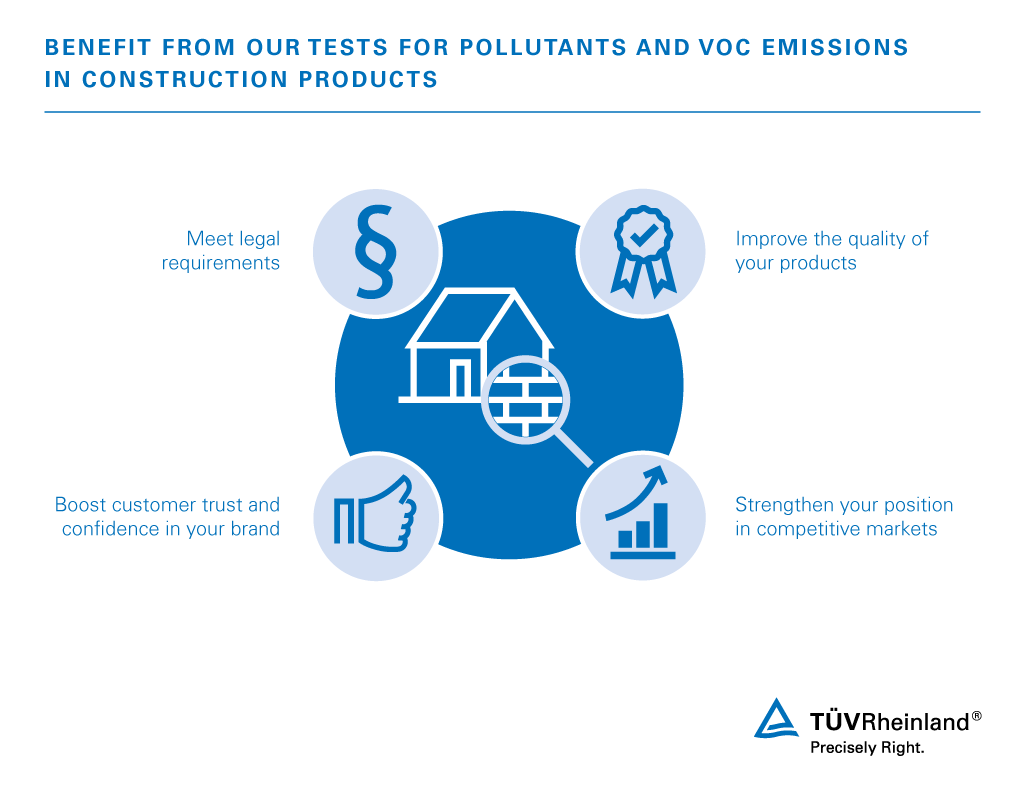 With our independent testing services, you can provide proof of compliance with the national and European requirements applicable to your construction products with regard to pollutants and emissions of volatile compounds. Strengthen the confidence of both customers and partners in the quality, legal conformity and safety of your construction products.
You can also gain significant competitive advantages through our neutral test mark offering your customers an important decision-making tool in their product selection.
Our tests for construction products at a glance
Our experts test your construction products from the perspective of product-specific chemical exposure. The focus is on compliance and conformity of product characteristics with the requirements of construction product law at national (MVVTB, Model Administrative Construction Regulations on Technical Rules) and European (Construction Products Regulation, CPR) levels with regard to health protection. Requirements specific to construction products – including permissible threshold concentration limits of pollutants and emissions – are defined in European harmonized standards (hEN). If required, your construction product will also be evaluated according to legal regulations of the chemicals law (REACH, CLP, Chemicals Prohibition Ordinance, POP, Biocide Regulation).
Construction products that are manufactured using chemicals and/or materials relevant to emissions must be examined for the release of volatile organic compounds (VOC) and their material loads must be precisely assessed.
We carry out the following tests for you:
Our one-stop testing strategy – from construction product testing to building certification systems
If required and requested, we can carry out specific assessments of different evaluation schemes on basis of a performed emission test. Our "one-stop testing strategy" approach saves time and money. VOC emission evaluations of construction products can also be used to bridge the requirements set within the framework of building certification systems:
BREEAM (Building Research Establishment Environmental Assessment Methodology)
WELL Building Standard
DGNB (German Sustainable Building Council)
LEED (Leadership in Energy and Environmental Design, Interior Architecture + Construction)
Furthermore, we can offer the following services for construction products:
Appraisal of the surface condition of floor coverings (abrasion resistance, electrical conductivity)
Assessment of sustainability aspects (CO2 carbon footprint, life cycle assessment)
Evaluation of hygiene properties (e.g. mold infestation)
Determination of the radioactivity index of construction products in relation to ionizing radiation
Safe construction products – tested by experts
With our independent tests for construction products and materials, you will receive comprehensive support based on the extensive knowledge of a notified and accredited testing institute. Our test mark is a globally recognized label of safety and quality. You can rely on us as an experienced partner at your side and set yourself apart from the competition in the markets of your choice.
Learn more about our tests for construction products from a single source. Speak with a representative today!
Our Sustainability Initiatives
Nothing less than the future is at stake. Companies, institutions, public authorities and each and every one of us can play a positive role in shaping the path to tomorrow. We provide you with comprehensive support to ensure that you operate safely, sustainably and efficiently for many years to come.
This might also interest you
Last Visited Service Pages