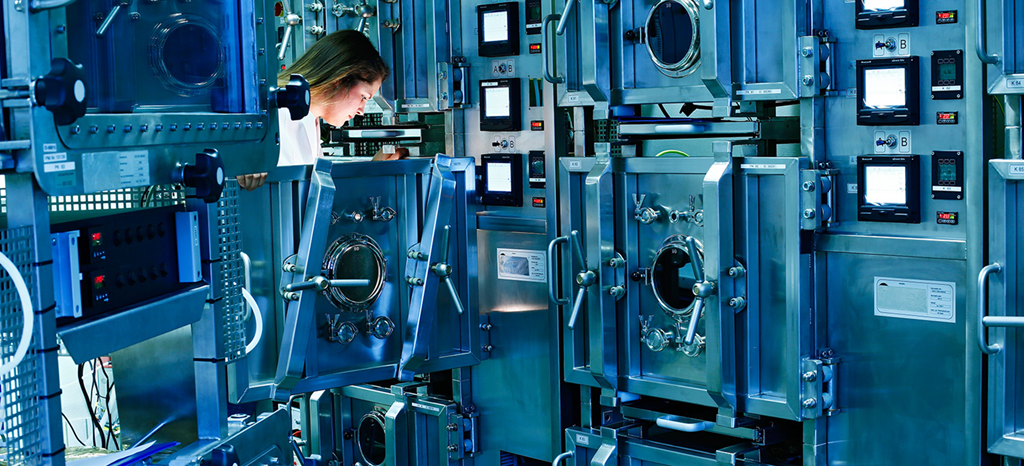 Proven safety related to comprehensive emission testing
Furniture and construction materials can release various types of Volatile Organic Compounds (VOCs) that affect indoor air quality and may harm human health. Emission tests are consequently an essential aspect of chemical safety assessments. Many countries have established mandatory or voluntary assessment programs regarding the release of VOCs, formaldehyde and other hazardous substances from construction materials and furnishing.
Our experts manage impartial tests to ensure compliance with all relevant regulations and standards, e.g. EN 717-1, EN 16516, ASTM D-6007-02, DIN 16000-3,6,9,11,28, BIFMA X7.1, GEV, EMICODE, M1, AFFSET, French Regulation, AgBB, BREEAM, Nordic Swan, Blue Angel, etc.
Our experienced team provides reliable information decisive for gaining access to international markets. With our support, you can credibly prove that your construction materials comply with legal safety regulations and state-of-the-art standards.
Our emission tests boost confidence.
Our VOC testing services encourage confidence in safety
Our experts keep you on the safe side with VOC and formaldehyde emission testing. Our comprehensive services allow you to document the safety of your construction and furnishing materials, which in turn builds trust with customers and partners. Your commitment to environmental and social responsibility is reflected on our platform and is accessible to external parties. Internally, our services help raise awareness about product sustainability.
At a glance: our services in the field of emission testing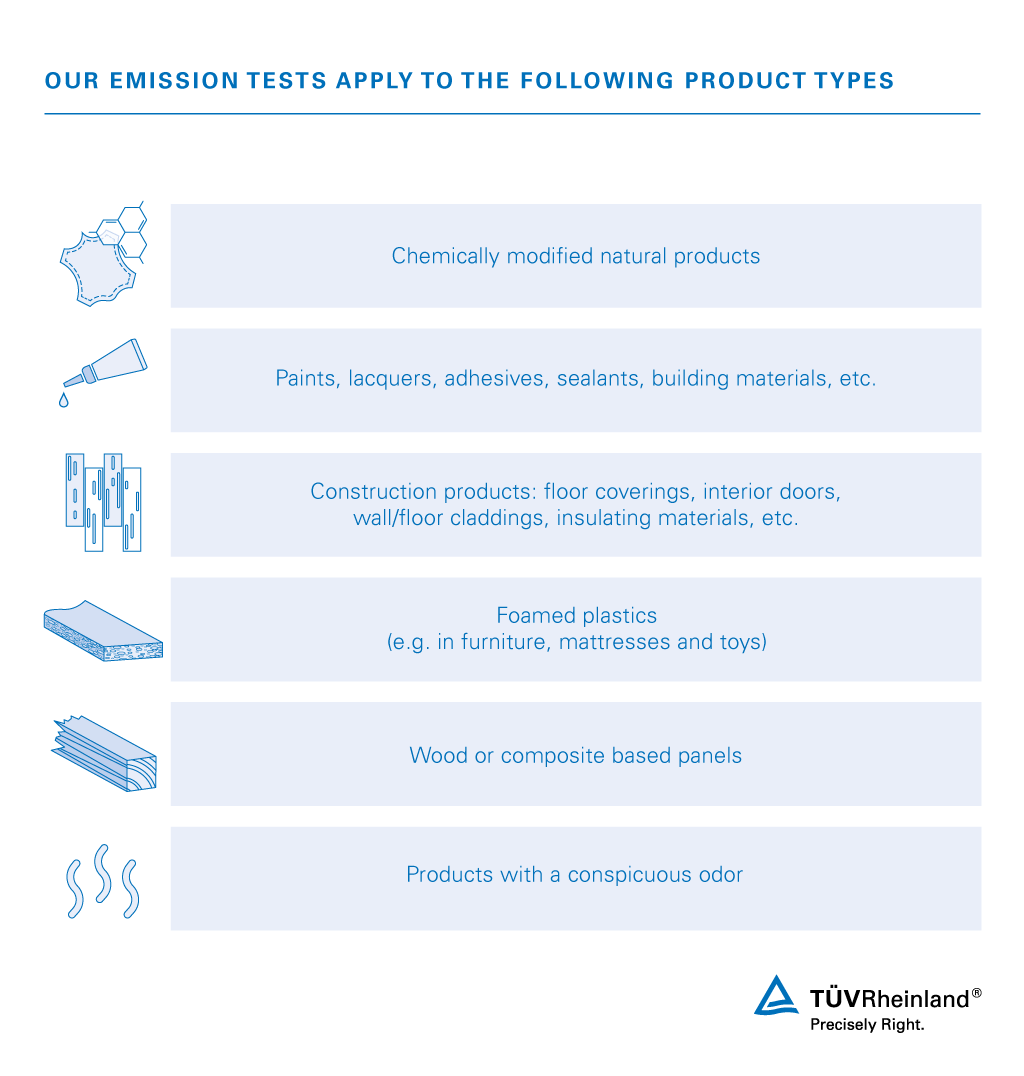 Our experts conduct test chamber analyses on consumer goods to quantify concentrations of released potentially harmful substances and evaluate the effects on indoor air hygiene.
Our services include the following assessments:
Formaldehyde emission testing of products such as wooden furniture and wood-based materials
VOC emission testing of


Furniture and furnishings (such as office and home furniture, kitchens, children's and baby furniture),
Building / construction materials,
Electrical household appliances (such as coffee machines, irons or vacuum cleaners),
IT electronics (such as monitors, PCs, laptops, printing and print systems, etc.)

Particulate matter emissions and ozone determination
Odor tests according to VDA, RAL-GZ 430 and DIN ISO 16000-28 and other standards
Tests tailored to your specifications, standards and requirements.
We carry out formaldehyde and VOC emission tests in accordance with the following international test marks, quality seals, environmental labels and certification systems:
EU Ecolabel (Europe)
AgBB / DIBt, Ü-mark (Germany)
Blue Angel (furniture, building products, leather, printers, toner modules / Germany)
Austrian Ecolabel
Golden M (German Furniture Quality Association / Germany)
AFSSET protocol (Construction Products / France)
M1 Emission Classification of Building Materials (Finland)
LEED / BIFMA / California Specification (CDPH 01350 / USA)
CertiPUR-EU / US (Polyurethane foams, Europur / Europe, AFPF / USA)
EMICODE (GEV, Germany)
Nordic Swan Ecolabel (printer systems, building products, furniture / Northern Europe)
BREEAM (Construction Products / Europe)
Our testing procedure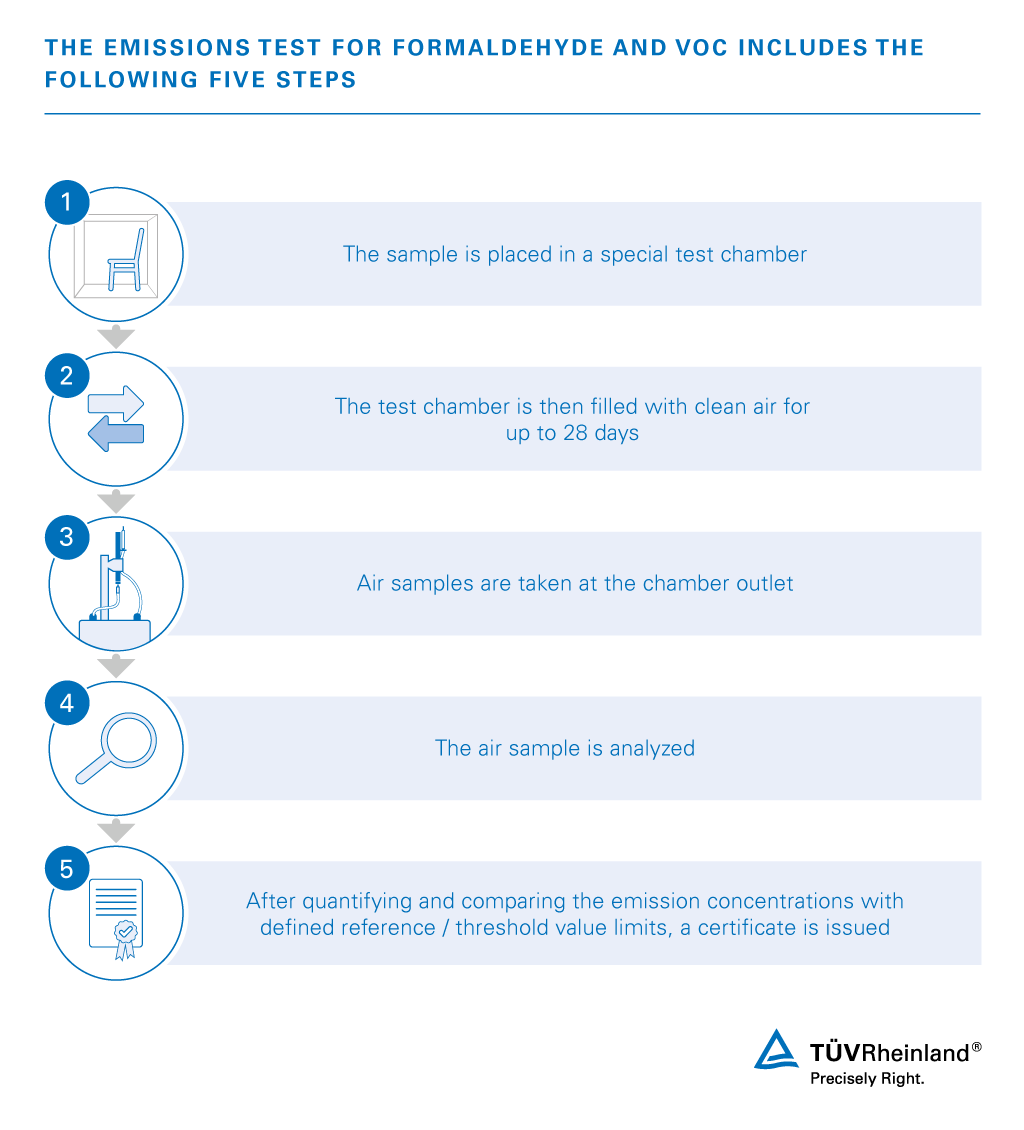 The emission test for formaldehyde and VOC comprises the following five steps:
The sample is placed in a special test chamber.
The test chamber is then filled with clean and purified air for up to 28 days.
Air samples on adsorption media are taken at the chamber outlet.
The air sample is analyzed by gas chromatography (thermodesorption / GC-/MS).
After the evaluation, a test report is issued and, if appropriate, certification is granted.
Professional emission testing based on comprehensive expertise

You can rely on the expertise of our highly qualified team of experts and scientists and our excellent track record of more than 20 years in the field of emission testing.
Our laboratories in Nuremberg, Cologne, Heerenveen, Hong Kong, Shanghai, Shenzhen and Guangzhou are all quality accredited to ISO 17025, and our testing procedures follow the product standards covered by accreditation. The main laboratory in Nuremberg boasts an impressive testing capacity with more than 80 test chambers in various dimensions, including 26 x 1 m³ test chambers, 6 m³ and 25 m³ temperature-controlled test chambers. This lab is an LBO-approved testing, surveillance and certification body (PÜZ-Center, DIBt); a notified testing laboratory for construction products under EU law [Regulation (EC) No. 305/2011]; and a testing laboratory notified under CARB and TSCA TITLE VI (Formaldehyde USA). The Shenzhen facility is notified as a Third Party Certifier (TPC) under CARB and TSCA TITLE VI.
Our experts are pleased to answer your questions about our comprehensive emission tests .
Our Sustainability Initiatives
Nothing less than the future is at stake. Companies, institutions, public authorities and each and every one of us can play a positive role in shaping the path to tomorrow. We provide you with comprehensive support to ensure that you operate safely, sustainably and efficiently for many years to come.
This might also interest you
Last Visited Service Pages