The Best Evidence of Sustainability Measures: Integrated Sustainability Management Systems
Benefit from combined certification of three definitive standards: ISO 14001, ISO 45001 and ISO 50001
We live in a time in which society, regulatory authorities and the global economic situation place ever greater demands on business. To ensure a secure future, these profound changes demand sustainable positioning – not only with energy and environmental issues, but also regarding financial, technological and personnel issues. That is why it's more important than ever to strengthen your company's ESG (environmental, social, governance) processes – and to demonstrate their effectiveness to customers, business partners, and society. Act now – with efficient integrated certification from a globally-renowned organization: TÜV Rheinland.
Managing costs and risks has never been so crucial. At the same time, you need to ensure you're at the front of the starting line in the race for innovation and competitive advantage. This is no easy task given rising energy costs and global supply chain bottlenecks. To help with these challenges, we support you with a wide range of certifications. They ensure the impact of all your activities is sustainable and steer your company toward a bright and secure future.
A key starting point is our Integrated Sustainability Management System. It combines several management systems within one common framework. Such certification is extremely productive for your business, and highly positive for the reputation of your company. Above all, it demonstrates that your sustainability measures are cohesive, correlated and reciprocal, both internally and externally. This in turn is an essential prerequisite for lasting economic success. With the help of our system, you are able to make optimal use of synergies, streamline documentation, create more transparency, and save time and effort. Take advantage of this opportunity to create lean and efficient processes, increase your competitiveness and reduce costs!
Our Integrated Sustainability Management System provides advantages on several levels. First, it provides an effective instrument that supports your company's compliance with legal requirements. In addition, it decidedly improves your company's performance and will help to even exceed business targets.
The Integrated Sustainability Management System includes integrated certification in compliance with three key standards: ISO 14001, ISO 45001 and ISO 50001. One certification – from one source – with one point of contact. With this approach, you save time and money and benefit from the know-how of internationally experienced certification professionals with excellent reputations.
Advantages of the combined ISO certifications
Benefit from combined certification of three definitive standards: ISO 14001, ISO 45001 and ISO 50001
By obtaining ISO 14001 certification for sustainable environmental management, you demonstrate your commitment to minimizing your company's environmental footprint to both internal and external stakeholders. The certification process also identifies possibilities for improvement and risks, so that negative effects for your company can be reliably avoided.
ISO 45001 outlines requirements for an occupational health and safety (OHS) management system and provides a framework for implementation. Certification shows that your company protects and promotes the physical and mental health of all employees. Through the resulting measures, you also reduce the number of sick days, workplace accidents and resulting absences.
With the help of ISO 50001 and the establishment of a systematic energy management system, your company is able, for example, to monitor and thus reduce energy consumption. This in turn lowers the risks of rising energy costs, more stringent emission requirements, as well as energy taxes and levies. Through professional energy management, you are also able to identify the most important sources of energy consumption and implement energy-saving opportunities
The experience and cooperative support of our experts allows you to achieve seamless and successful certification through the following steps: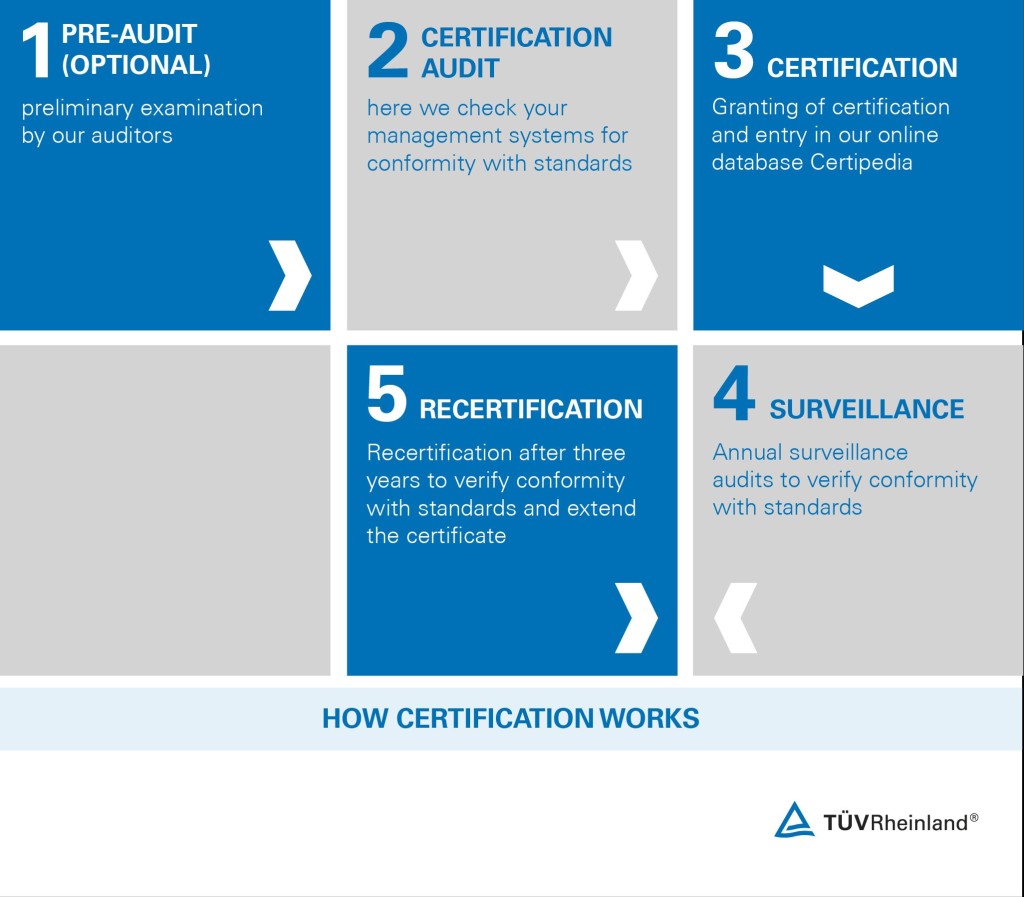 Act now and manage unavoidable risks with our Integrated Sustainability Management System! Profit from lower energy usage and sick days. Communicate to business partners and authorities your compliance with environmental, safety and energy standards and use the certification process to future-proof your business.
Our Certification Solutions for
Contact us for more information on innovative certification solutions.
This might also interest you