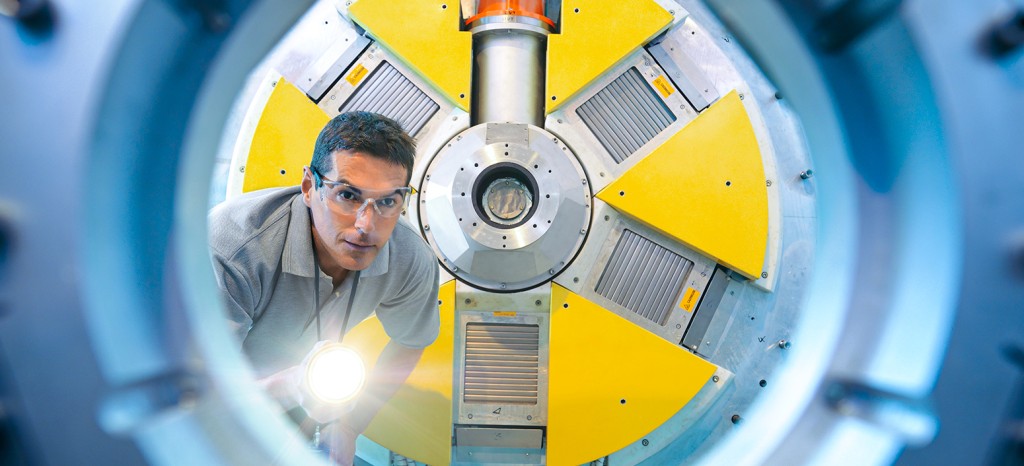 Serving the Global Market Quickly and Safely with a Certification for Manufacturers of Nuclear Components
Manufacturers of components for nuclear plants and service providers for plant operators are facing a wide variety of quality standards and requirements in different countries.
With the introduction of ISO 19443, a new global standard for high safety and quality along nuclear supply chains is available. As a nuclear industry-specific supplement to DIN EN ISO 9001, the standard provides important guidelines for quality management systems in the nuclear industry.
Gain competitive advantages internationally with the globally recognized certification based on ISO 19443. Our experts have many years of experience in the field of quality management and in the nuclear industry, and they will use their comprehensive expertise to assist you throughout the entire certification process.
Globally Recognized Quality Standard for the Nuclear Industry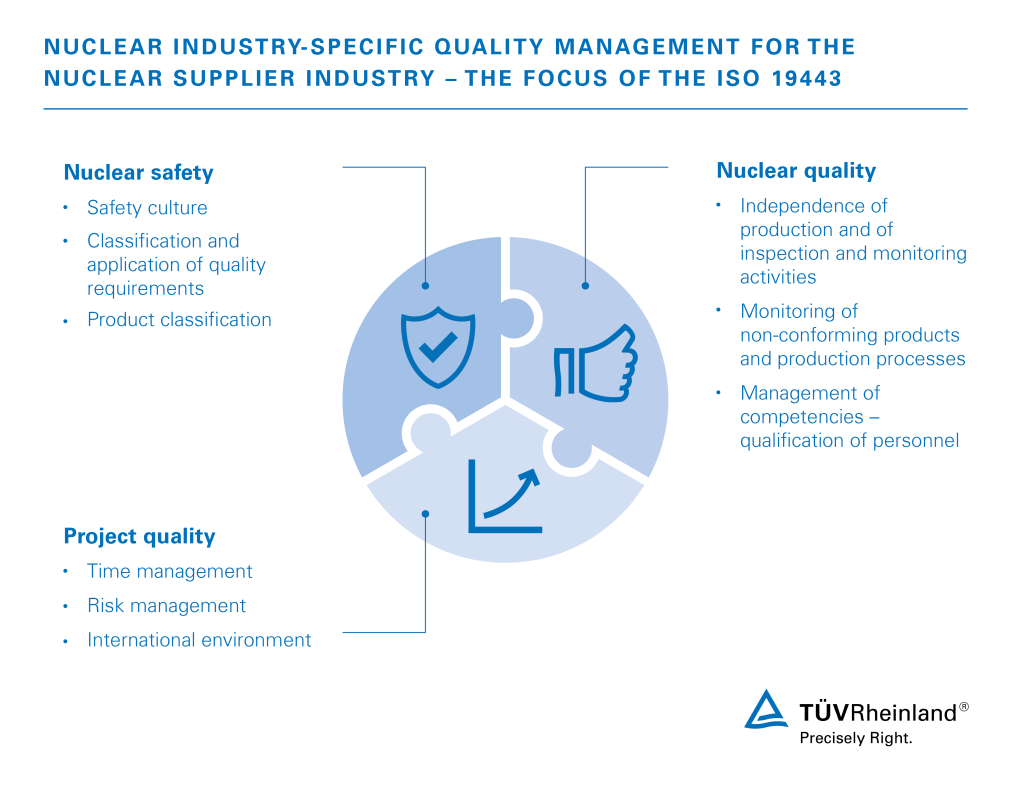 Conserving Resources Sustainably
ISO 19443 is a supplement to the internationally recognized ISO 9001 quality management system standard. A certification to ISO 19443 makes it easier for component manufacturers who already supply nuclear plants, as well as for service providers for nuclear facility operators to market their services also internationally.
This is of importance in all areas of the life cycle of a nuclear plant, from new build to decommissioning, as nuclear plant operators are increasingly demanding a certification. The great advantages of a nuclear industry-specific certified quality management system require little effort in comparison. If you have an existing ISO 9001 certification, you can save resources by expanding your quality management to include nuclear facilities.
Nuclear industry-specific quality management for nuclear facilities
As an extension to ISO 9001, in addition to general guidelines for quality management systems, the standard focuses on nuclear industry-specific standards with regard to quality and safety.
The standard is structured in such a way that it can be applied in all organizations along the nuclear supply chain that manufacture equipment or market services relevant to nuclear safety.
The ISO 19443 Certification in Detail
Our experts follow a similar approach as the one for the certification according to ISO 9001. The criteria of a certification for quality management systems are being supplemented by nuclear industry-specific services:
Risk-Based Thinking
Our experts perform an extended risk analysis, taking into account worst-case scenarios, such as component failure.
Non-Conformity Process
A key component here is the involvement of the customer in the event of non-conformities with regard to legal and customer-specific requirements.
Nuclear Safety Culture
When looking at the corporate culture, our experts pay particular attention to the awareness of the workforce to working with highly sensitive issues.
CFS Item (counterfeit, fraudulent and suspect item)
It has become apparent that in some cases there have been concerning irregularities with regard to qualifications and certifications in the nuclear industry. An accurate documentation is actively counteracting this development.
Experienced Partner in the Certification of Quality Management Systems
You can place trust in our many years of experience in the field of nuclear energy and reviewing quality management systems. Thanks to their extensive industry-wide expertise and their high awareness of safety, our experts will perform your certification with the greatest competence. In the process, they will draw on established procedures so that your certification is carried out quickly and efficiently.
Do you have questions about your ISO 19443 certification? Please contact us!
Do you have any questions? Contact us!
This might also interest you
Last Visited Service Pages