Nuclear power is an important source of energy across the globe.
The first commercial nuclear power plant was commissioned in the 1950s. Today, around 10% of the world's electricity and energy requirements are met by nuclear power. However, attitudes and approaches to nuclear power vary significantly around the world. Some countries are committed to fully phasing out nuclear power and are shutting down existing plants. While other countries are increasing the share of nuclear power in their energy mix as a way to reduce their carbon emissions and combat climate change.
But, however the situation develops, one thing is clear: nuclear energy needs to meet the very highest safety standards.
Our experts support civil nuclear energy projects from the outset, drawing on their extensive expertise in all aspects of nuclear engineering.
Secure your nuclear facility for its entire lifespan.
The risks inherent in nuclear fission and the resulting radioactivity make the building, operating, and decommissioning of nuclear facilities extremely sensitive and complex projects. Facility owners and operators, as well as technology providers, manufacturers and service providers in the nuclear field, face multiple challenges. In addition, the nuclear sector is subject to strict local and international regulations in order to achieve the highest possible standards of nuclear safety.
As a result:
projects involve long lead times and require a lots of preparation
it is critical to ensure the quality, safety, and reliability of all components and systems
there is a huge demand for specialists and experts
appropriate safety, security and environmental cases and supporting arrangements must be in place, covering operational, maintenance and plant testing requirements. These safety, security and environmental cases and arrangements, which are often complex, are subject to regular review and update.
We know that the challenges and needs of nuclear market participants are different. However, with our broad service portfolio we are able to meet your needs.
Plant operator/
Plant owner
Regulatory and approval authorities
Technology and Service Providers
Your challenges are
Maintaining and expanding in-house expertise
Qualified personnel to implement country-specific regulations
Competencies in the area of quality assurance
International supply chains
Partly decreasing or newly established suppliers
Technically complex issues for safety or quality assessment
Your needs are
Training and education (online and offline) to build and maintain competence
Qualification of the supply chain, locally and internationally
Monitoring of suppliers to ensure own requirements
Standardized, correct and fast reporting
Auditing and inspections
Support in communication with authorities
Neutral evaluation of technical issues
Your challenges are
Technically and administratively complex approval and supervisory procedures
Limited own technical resources responsible for a technically very extensive subject area
Projects involve long lead times and lots of preparation
Ensuring a presence at the plants and with the manufacturers
Neutrality in the evaluation of applications
Your needs are
Independent and neutral experts and surveyors
Third party evaluation of technical facts
Broad and in-depth technical know-how
Continuous and long-term support in the in the approval and regulatory processes
Global competence & local expert support in the back office and in the plants
Training and education (online and offline) to build and maintain competence
Your challenges are
Managing international supply chains
Different country-specific regulations or requirements for technically similar components
Implementation of own and external quality specifications for subcontractors
Obligation to report to customers according to the specifications
High documentation requirements
Your needs are
Training and seminars (online and offline) to build up and maintain competencies
Qualification measures for subcontractors
Support in the correct implementation of customer requirements
Recognition and consideration of regulatory requirements
Standardized and fast reporting
Your challenges are
Flexible resource management to meet competing client demands
Maintaining resource across a range of specialist disciplines
Different country-specific regulations or requirements
Developing and maintaining staff competence
Your needs are
Resource enhancement partners to supplement own resource
Access to resource in specialist disciplines
Access to qualified personnel with local domain knowledge and experience for international projects
Training and education (online and offline) to develop and maintain staff competence
Whether it's fusion reactors, research reactors, pressurized water reactors, boiling water reactors, high-temperature reactors, small or advanced nuclear reactors, or nuclear fuel cycle plants – our experienced experts are on hand to support you during every phase of your plant's life cycle.
Click on the different phases to learn more.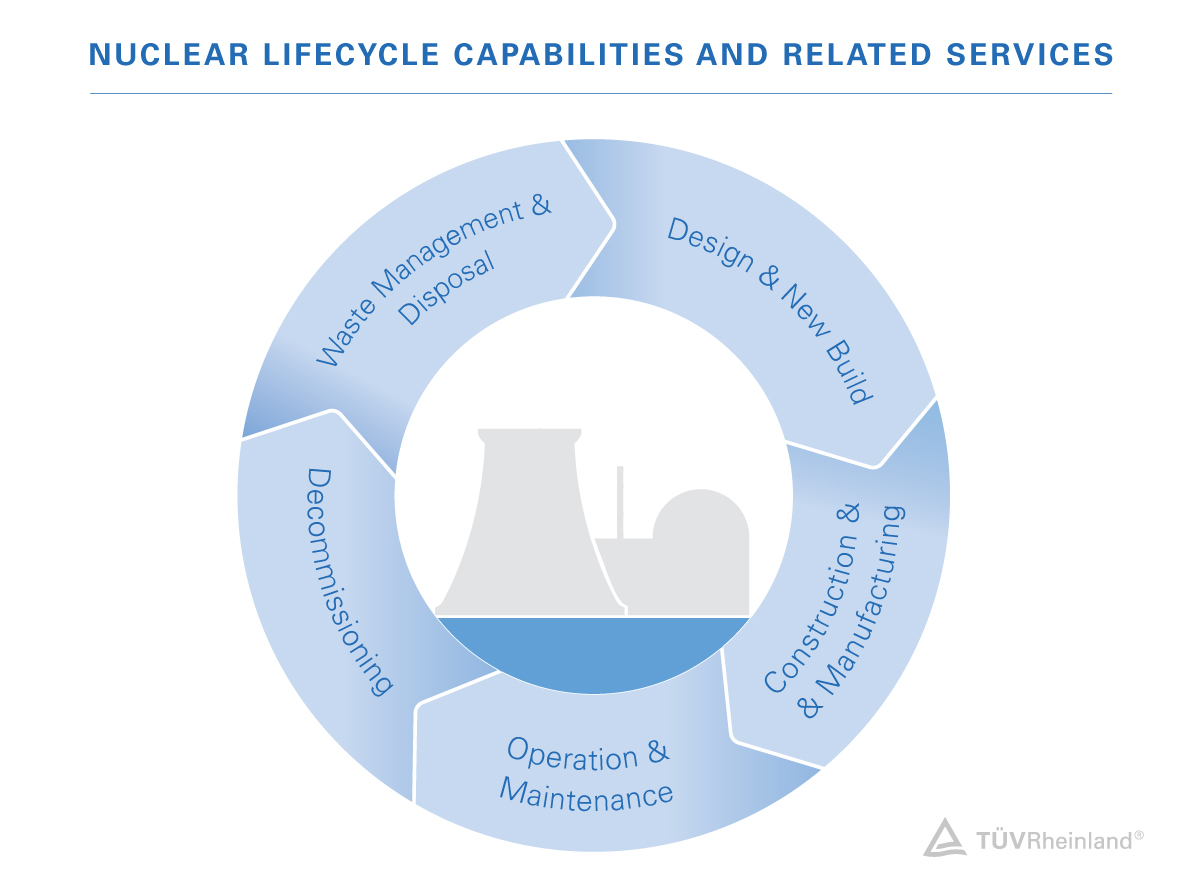 Partner with us for reliable nuclear safety and security.
During your nuclear project, we provide guidance and support at every point of the plant life cycle – from planning and design, to construction and commissioning, operation, decommissioning, waste management, and disposal.

Whatever the challenge, we bring in-depth technological know-how, market expertise, and digital solutions to help you successfully realize your nuclear power plant projects.
Torsten Pfalz, Regional Segment Manager, Nuclear Engineering and Radiation Protection
We leverage our extensive international expertise to help you comply with all nuclear power and local government regulations. Our broad portfolio of services encompasses document evaluation, safety analyses, physical and cyber security assessments as well as supplier assessments. We bundle carefully selected, value-adding services to create a bespoke package that meets your needs. We also help you strengthen your long-term market position by supporting technological innovations as well as economic and political developments.