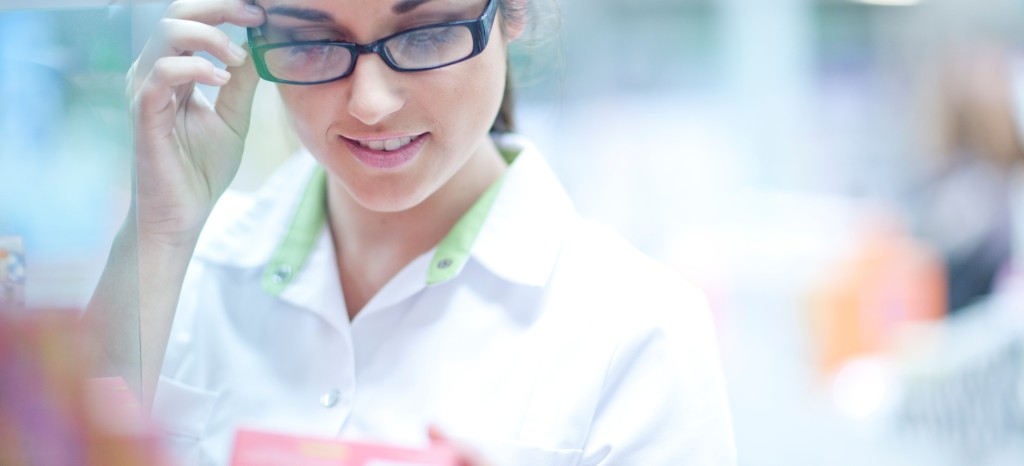 Quality medical primary packaging with ISO 15378 certification
ISO 15378 specifies quality management system requirements for primary packaging manufacturers in the pharmaceutical and medical device industries, and benchmarks their ability to consistently deliver safe and reliable packaging. Primary packaging comes in direct contact with medicinal products, and packaging materials include aluminium, containers/components, films, foils, glass, laminate containers, plastics and rubber. Suppliers of medicinal primary packaging must demonstrate the quality of their production process through their implementation of the quality management system (QMS) and good manufacturing practices (GMP).
The ISO 15378 integrates requirements from ISO 9001, as well as specific Good Manufacturing Practice principles (GMP). This enables the manufacturer to manage product efficacy and quality, while reducing the likelihood of product contamination and mitigate safety hazard risks.
An established ISO 15378 certified quality management system (QMS) demonstrates the ability to consistently meet the customer's requirements, regulatory requirements and applicable international standards.
Prove the calibre of your primary packaging QMS with ISO 15378 certification!
Manufacturer QMS obligations
Good manufacturing practices (GMP), derived from ISO 9001 standard, is an integral part of ISO 15378 and requires the demonstration of exceptional manufacturing practices by suppliers and manufacturers of medicinal primary packaging materials and medicinal products.
For ISO 15378 certification, manufacturers must comply with standard-specific requirements such as:
Batch monitoring and documentation
Controlled environmental conditions
Validations and qualifications
Risk management
GMP training
Securing the ISO 15378 certification for your medicinal primary packaging quality management system notably increases your process efficiency, lowers risk, and sets a high-level of best practices. Additionally, the accreditation authority endorsing the certificate showcases your aptitude for quality manufacturing, especially to pharmaceutical companies, and creates a foundation for future business growth opportunities.
Benefits of ISO 15378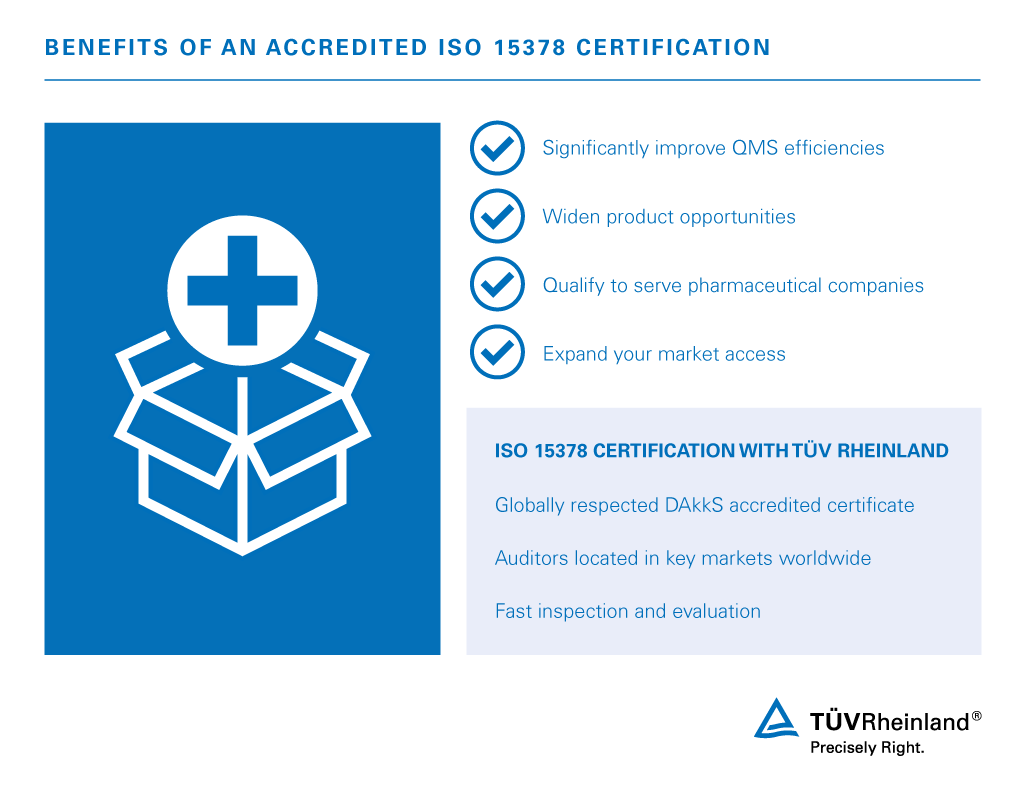 Our expert evaluations on established safety standards directly reflects your daily practices and in turn lowers your risk of liability. Our DAkkS certification proves the level of your QMS, manufacturing practices, and approach to risk management, which can differentiate you in the marketplace as a supplier.
Get ISO 15378 Certified
Optional Preliminary Audit
Voluntary site inspection, quality management documentation review and gap analysis assessing your readiness for full-scale Phase I & II certification auditing.
1. Certification Audit: Stage I
Assessment of certification eligibility determined by results of mandatory on-site inspection, workflow planning, and quality management documentation analysis.
2. Certification Audit: Stage II
On-site evaluation of quality management system (QMS) for excellence in areas of applied practice and efficiency.
3. Final Result
Declaration of official result, issuance of final reports, conference of ISO 15378 certificate & commencement of annual surveillance audits
First-time applicants benefit greatly from opting to undergo the Preliminary Audit. The process facilitates timely and concrete preparation for the official ISO 15378 audit process. Outcomes are shared in the form of documented results and gap analysis, which can then be immediately used to make adjustments in your processes prior to commencing official auditing.
Transfer of Certification applications are currently being accepted, in addition to applications for Certification Renewal.
Our services are delivered using the four-eyes principle, which mandates the evaluations by the audit team and product experts be followed by an independent review for final decision. The separate review and decision process applies when granting certification or making changes to a certificate status.
DAkkS Accredited Certification
Among accreditation authorities, Germany's national accreditation body, DAkkS is renowned for their high-quality standards and uncompromising impartiality. TÜV Rheinland is one of the few DAkkS approved certification authorities for ISO 15378.
Your experienced certification service provider
We offer auditing and certification services to primary packaging material suppliers and manufacturers to prepare them for the opportunity to serve medical device and pharmaceutical companies. Our ISO 15378 experts and Market Access Services team are located in offices around the world to serve you and your business.
We are a globally operational Certification Body with a wide range of international accreditations to support you with certifications across many regulatory frameworks. We provide comprehensive services from a single source -- simplify the process, shorten turnaround time and get your product onto the market.
Get certified with confidence, backed by our 150 years of regulatory experience!
Frequently asked questions
ISO 15378 certification demonstrates quality assurance to help you boost customer confidence and lower your risk of liability. Connect with us to discuss your specific needs.
This might also interest you
Last Visited Service Pages