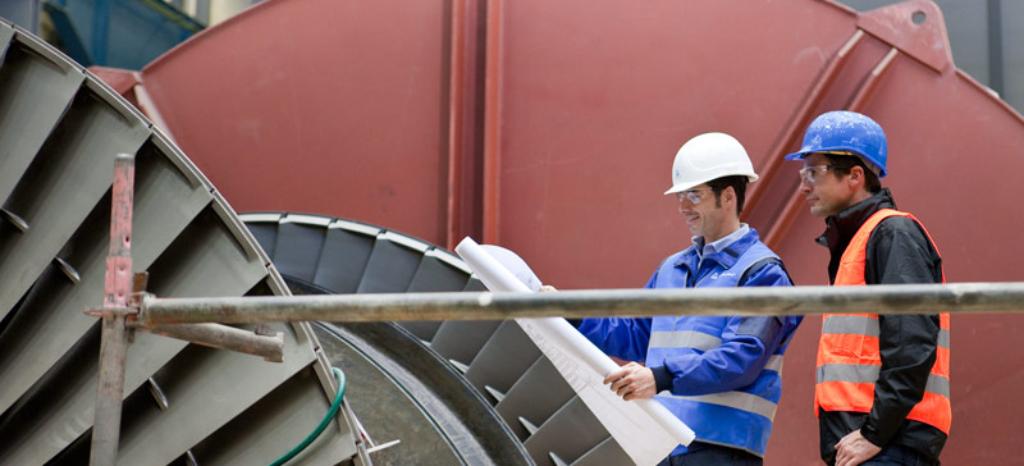 Optimize the operating safety and performance of your industrial equipment
No matter what you produce, you want your machines to run as safely as possible, with as few interruptions as possible. We offer the tools to help you achieve these goals with our extensive service portfolio. Third party reports and approvals issued by our experts are internationally recognized and signal your commitment to a safe working environment and high quality standards.
Taking into account applicable regulations, our assessment aims to minimize your machines' defects and downtime while maximizing safety and sustainability.
As a Notified Body and accredited test laboratory for machinery, we are a trusted partner in industrial machine inspection. We would like to put our experience and expertise in the field to work for you.
Speak with a member of our team to find out how to get started with inspections that suit your needs.
Experience the benefits of expert machinery inspection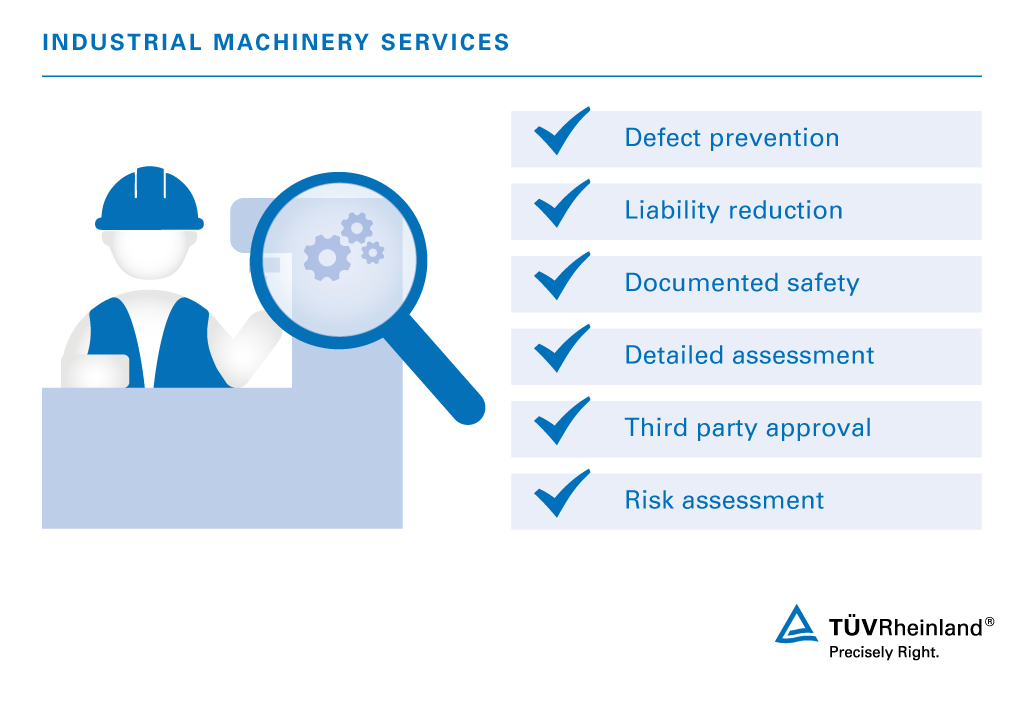 Once your company has earned our independent approval, you will be able to reap the benefits. The approval is recognized worldwide, and comes with documentation of safety standards, which can reduce liability. It is also a selling point for manufacturers, giving you an edge over the competition. Internally, you will be able to better avoid defects and all the risks, costs and inconveniences they create.
Through our global machinery assessment service, we conduct testing and certification of machinery according to international standards and regulations – from the EU Machinery Directive to OSHA in the US as well as customer specifications. This allows you to keep track of the constantly changing safety regulations for new, old and modified machinery on a local and global level and ensure the conformity of your machinery.
Our experts test and evaluate the following machinery for you
Packaging machines
Filling machines
Injection molding machines
Presses
Woodworking machines
Printing and paper machines
Semiconductor manufacture equipment
Robots
3D-printers
Laser processing machines
Manufactoring equipment
Others
Compliance with European directive 2006/42/EC and your needs
Our machinery assessments are based on European directives and regulations and include:
EC type examination for machines under Annex IV of the Machinery Directive as Notified Body
Conformity Assessment for products in the scope of the machinery directive
Assessment of quality management systems in accordance with Annex X of the Machinery Directive
Individual solutions for your company
Inspections are tailor-made for your company and your machines. Some of the tasks we carry out are:
Check for ergonomics, ease of operational use, and service
On-site testing of electromagnetic radiation (EMC, EMF)
Assessment of functional safety of control systems
Safety evaluations for commissioning of machinery and evaluation of energy consumption values
Support while compiling risk analysis and risk assessments
Support with new developments and modifications
Authorized, customized machinery inspections
When you are aiming to lead your industry, you look for partners who lead in theirs. Recognized worldwide and authorized (NoBo NRTL, CB, ...) to issue third party approvals, we qualify for that role.
Our approach stands out for its emphasis on customization. Your company's circumstances are unique, and that is why our experts work closely with you to understand your current situation and your specific goals. Our bid proposal will reflect the markets you wish to reach, applicable regulations and, of course, the machinery you use to get the job done.
Evaluations for compliance with SEMI guidelines S2, S8, S23, etc.
Great Britain
through the UKCA conformity assessment of machinery. Support with UKCA self-declaration as well as issuing UKCA certificates for Annex IV machinery.
Saudi Arabia
USA and Canada:
through our Field Evaluation Services, our NRTL cTUVus certification according to UL and CSA standards and our Panel Shop Program for the certification of enclosure manufacturers according to UL508A, NFPA 79 and CSA C22.2 No. 14
Brasil
through our safety assessment of machines according to NR 12 (machine safety), NR 10 (electrical equipment) and NR 13 (pressure vessels)
Korea
by supporting the Korean approval procedures. In detail, these are the mandatory approvals KC (EMC for industrial equipment) and KCs (EMC and safety for high risk machinery) and the voluntary KOSHA S-Mark for machinery.
Australia
by evaluation machines according to Australian and New Zealand standards according to AS/NSZ 4024.xxxx series
For your convenience, we have streamlined the procedure to include just two simple steps. First, we prepare a bid proposal based on the information you provide about your machinery and target markets. Second, we carry out the necessary inspections and either issue a certificate (positive assessment) or a detailed report of open points and modifications to be made (negative assessment).
Make an appointment now with one of our experts . Together we will find the right services for you.
This might also interest you
Last Visited Service Pages