Workplace accidents and production stoppages result in substantial expense and loss of revenue. In addition, they can severely weaken a company's reputation in the eyes of potential business partners.
Machine safety inspections are the best way to prevent such events from happening. We support you with the implementation of safe machines and workstations and ensure trouble-free operations. When individual machines are linked together to form assembly lines, it is especially important to check that the entire production process and all interfaces run safely.
Our service "Production Line Assessments (PLA)" are compact safety tests that require significantly less time and effort than the comprehensive, multi-day inspection of a machine or complete lines. Using our proprietary machine (PLA) checklist, our experienced experts examine and evaluate all safety-relevant aspects of your equipment and lines. The testing parameters of our PLA checklist go far beyond regulatory requirements.
Safety Over and Above Legal Requirements
It is particularly important for globally deployed machine operators to maintain a uniformly high standard. To ensure uninterrupted operation, their equipment must of course meet all the legal requirements of the production location. However, comprehensive machine and operational safety involves more than meeting minimum machine design standards. Experience shows that safety risks arise when adjustments are made at the installation site.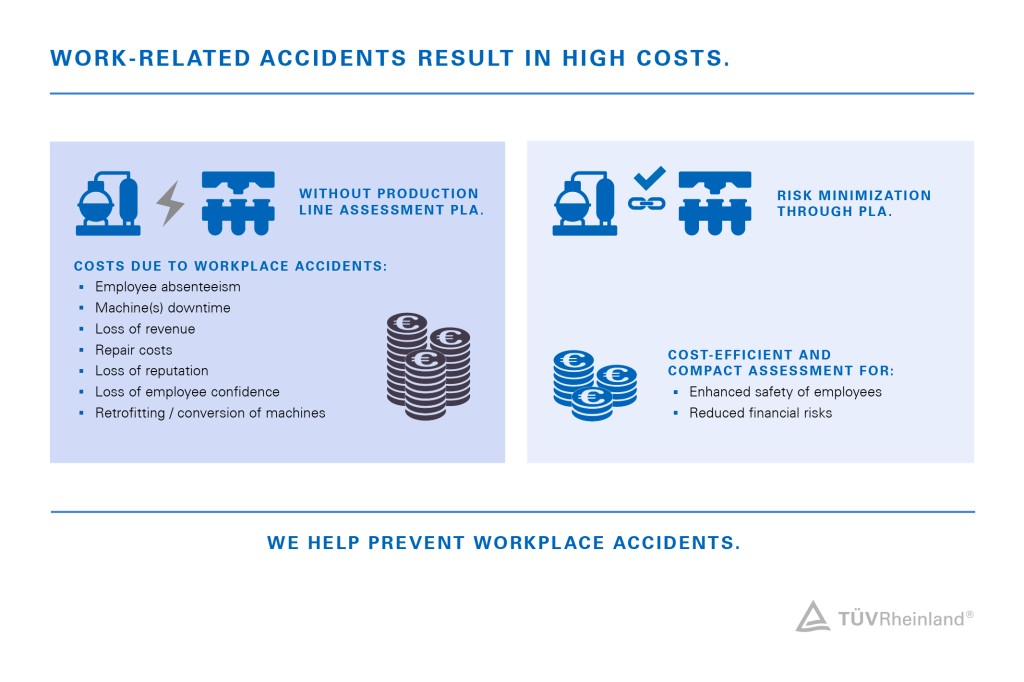 We therefore recommend having the safety of the machine checked by a competent independent body before commissioning. We expertly examine your equipment and, if the inspection is successful, we will issue our test label and, on request, a certificate of conformity (CoC).
Our simplified safety inspection covers (but is not limited to) mechanical and electrical safety, conformity to regulatory or company guidelines, and, upon request, ergonomics, workplace safety, and service/maintenance plans. Of course, we always perform our PLAs on-site, directly on the machine.
The manufacturing industry is responsible for safety testing and risk minimization
Globally active companies, such as large food corporations, face major challenges in ensuring a consistently high level of safety.
Knowledge of all national requirements: Regulatory requirements vary widely across global markets.
Differences in testing structures: Local testing service providers at various plant locations are usually not able to meet the procedural requirements of companies with global structures.
Linking of machines: Frequently, several machines from different manufacturers are connected to form installations or lines. The machines must then be evaluated as an integrated manufacturing system. This results in additional safety requirements. Such a system must be reassessed to account for the interfaces.
Local modifications: Factory conversions and modernizations are commonplace in industry. As a result, if a machine undergoes significant modifications, a processing plant is suddenly considered a manufacturer and must go through the conformity assessment procedure again. This is often not possible without an assessment by an independent body.
Various training requirements for safety officers: Machine and operational safety is a complex field. That means, keeping local safety officers up to date with every detail is extremely time consuming.
Your Global Partner for Professional Safety Testing
As a globally active testing organization, we offer you customized solutions in all areas of machine and operational safety. To substantiate the conformity of your machine with the basic safety requirements in its region, you need to meet local legal standards such as the CE certification for Europe, OSHA for the USA, SCC for Canada, NR 12 for Brazil, or CCC for China.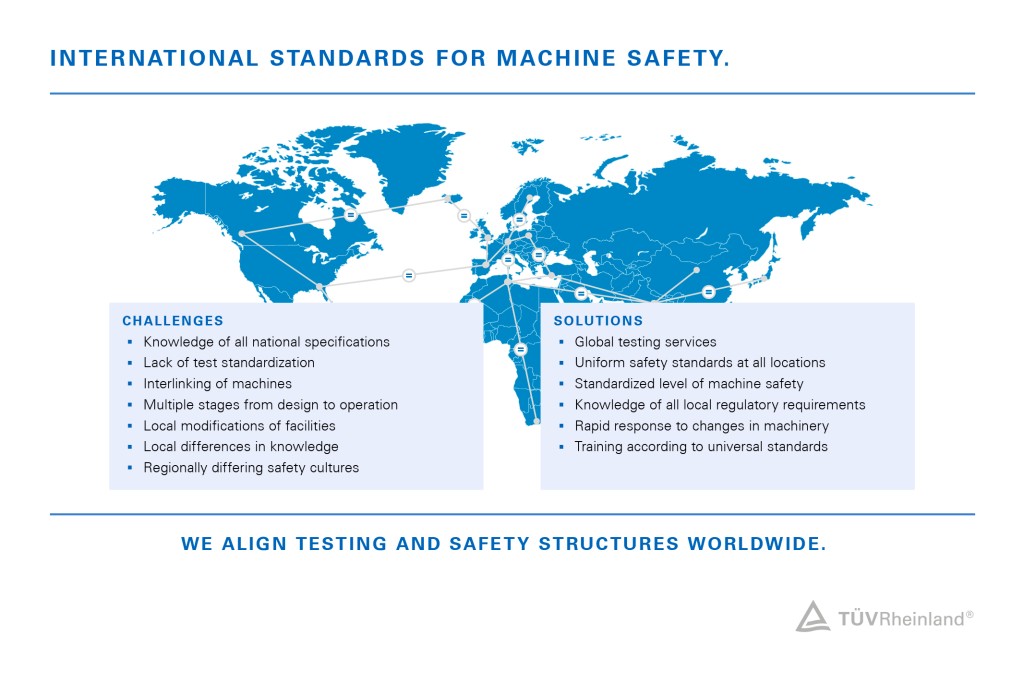 Our experienced teams of experts are very familiar with all regulatory requirements around the globe and also keep a close eye on guideline changes. With our help, you can quickly respond to amended regulations regarding your machine inventory without compromising on operational safety.
Another aspect: In a globalized world, equipment and components often come from different countries. But all machines must meet the national regulations at the place of installation. If it is only determined at the installation site that a machine does not meet the national requirements, it is too late. Clarify open questions at an early stage and use our Market Access Services.
We also train your safety officers and other personnel in machine safety issues. In this way, we provide them with the skills they need to identify and eliminate risks themselves. This refers to both the safety of the machines and additional protective workplace measures.