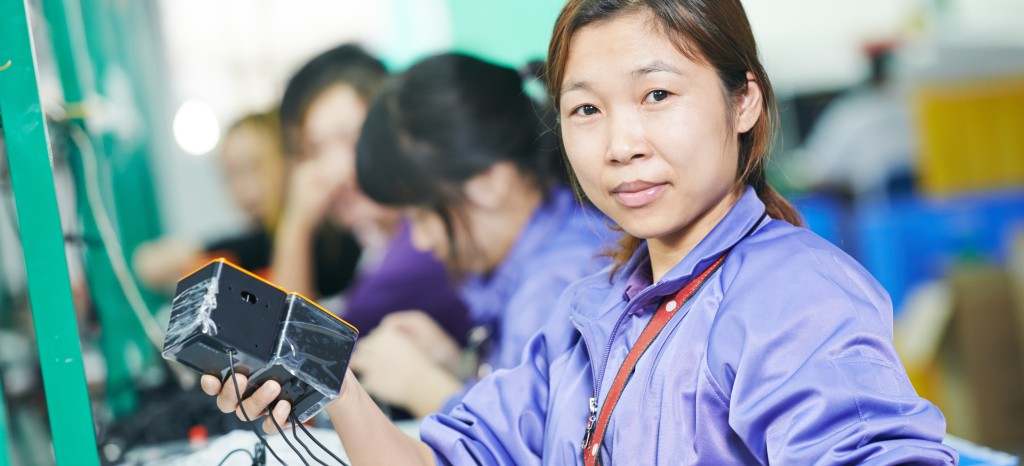 Social Labor Conditions in the Electronics Industry
The RBA (Responsible Business Alliance, formerly EICC) code of conduct outlines practices that promote fair working conditions, comprehensive labor protection and environmentally friendly manufacturing processes for the electronics industry. Complying with these guidelines promises companies a distinct advantage over the competition.
As leading manufacturers increasingly demand that their suppliers make a voluntary commitment to the RBA code of conduct, we provide auditing services based on RBA standards that certify compliance with its guidelines. An RBA audit enables you to show that your company abides by the principles of corporate social responsibility, or CSR.
Known globally for our role in promoting safety, sustainability and social responsibility across a range of industries, we are perfectly positioned to certify your organization according to RBA rules. Our experts bring extensive experience in the electronics sector to their auditing tasks and are pleased to offer insights that help you fulfill your commitment to social responsibility.
Schedule an RBA audit today!
The RBA program speaks to electronics-adjacent sectors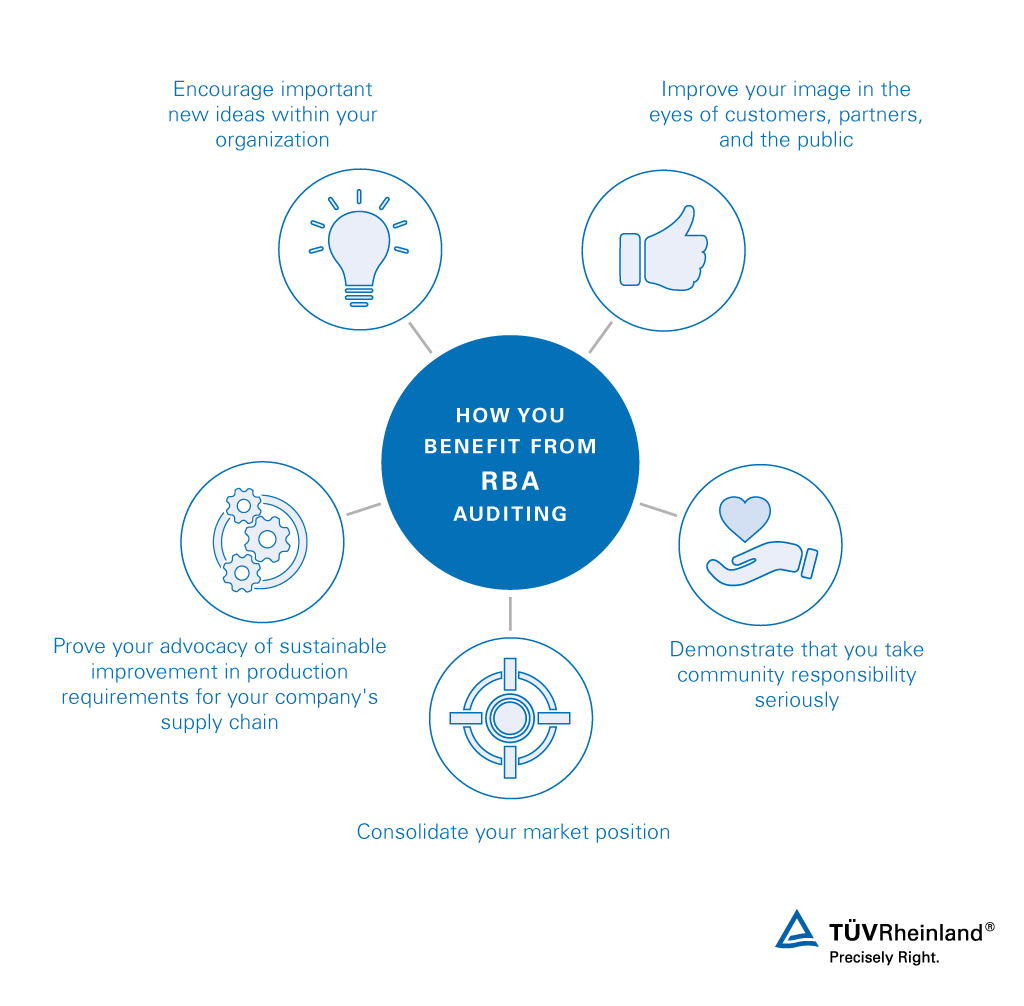 The Responsible Business Association (RBA)'s code of conduct reaches out to companies beyond the traditional electronics industry. As the automobile sector, toy manufacturers and other businesses increasingly depend on electronics and electronics supply chains, the guidelines set forth by the RBA prove relevant to a growing number of companies.
Whatever your profile, our RBA auditing services enable you to improve your image in the eyes of customers, partners, and the public by demonstrating that you take community responsibility seriously. You establish your company as an advocate of sustainable improvement in supply chain production requirements and foster innovation in your organization and beyond. Ultimately, an audit conducted according to RBA standards allows you to consolidate your market position and thrive.
The RBA code of conduct is the backbone of our auditing service
The code of conduct established by the Responsible Business Alliance (RBA), formerly the Electronic Industry Citizenship Coalition (EICC), provides the basis of our RBA auditing services. The code covers five principal areas:
Labor
Health and safety
The environment
Ethics
Managment systems
A sampling of RBA requirements includes:
Prohibition of coerced, exploitative or involuntary employment
Prohibition of child labor
Prioritization of occupational safety in the workplace
Emergency preparedness
Pollution prevention measures esp. regarding air and water
Energy consumption awareness and reduction
Promotion of business integrity and anti-corruption measures
Transparency and fair business practices
A management system that assesses risks and focuses on improvement
Four Steps to Fair Working Conditions with RBA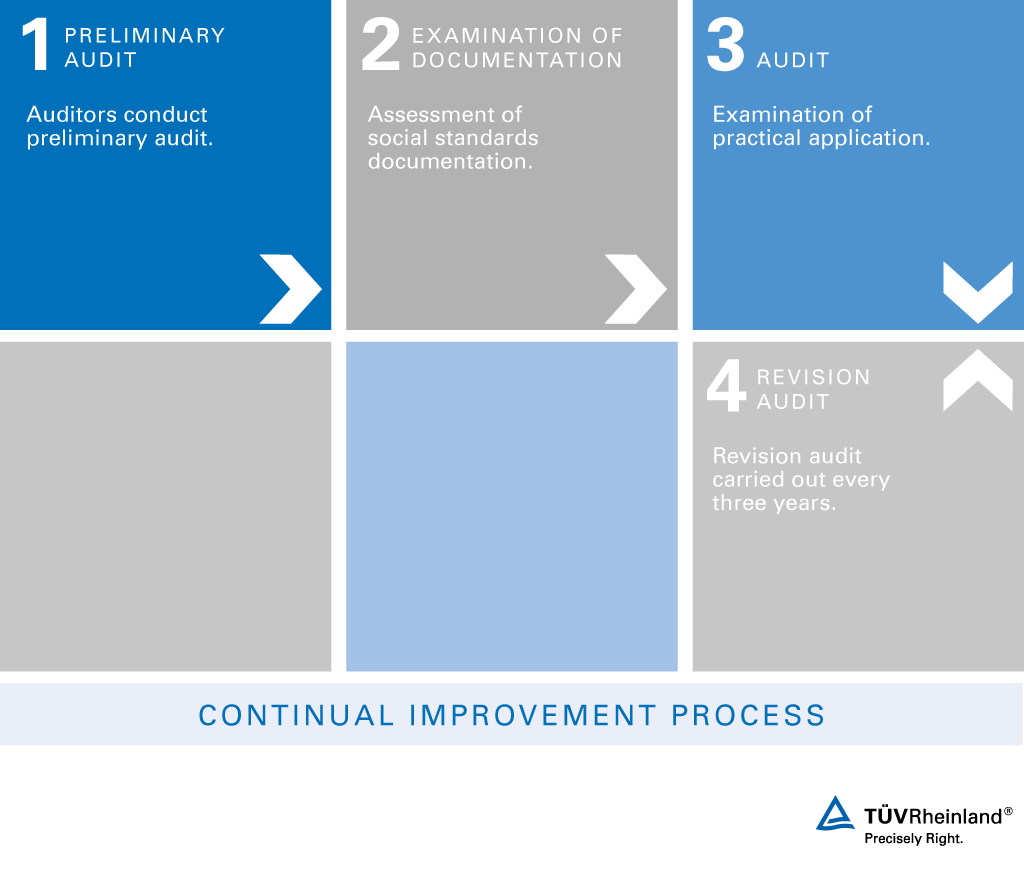 Preliminary audit
The auditors conduct a preliminary audit to determine whether any requirements associated with this standard have already been implemented and, if so, which ones.
Examination of documentation
The auditing team determines the extent to which documentation of social standards complies with the requirements of the RBA.
Audit
Our auditors monitor the practical application of social standards to ascertain their effectiveness.
Revision audit
The revision audit is carried out every three years and supports the continued optimization of company procedures.
Experience with RBA, EICC and electronics
We are seasoned auditors of the electronics sector, having carried out audits based on the current organization's standards (RBA) as well as its forerunner (EICC). Our experts have a thoroughgoing familiarity with the codes of conduct issued by these organizations and extensive experience enabling companies to transform their practices in the name of safety and social responsibility. In addition, our reputation precedes us as leaders in certification and auditing for electronics, automobile, toy and other electronics-related manufacturers.
Speak to one of our experts about RBA requirements today!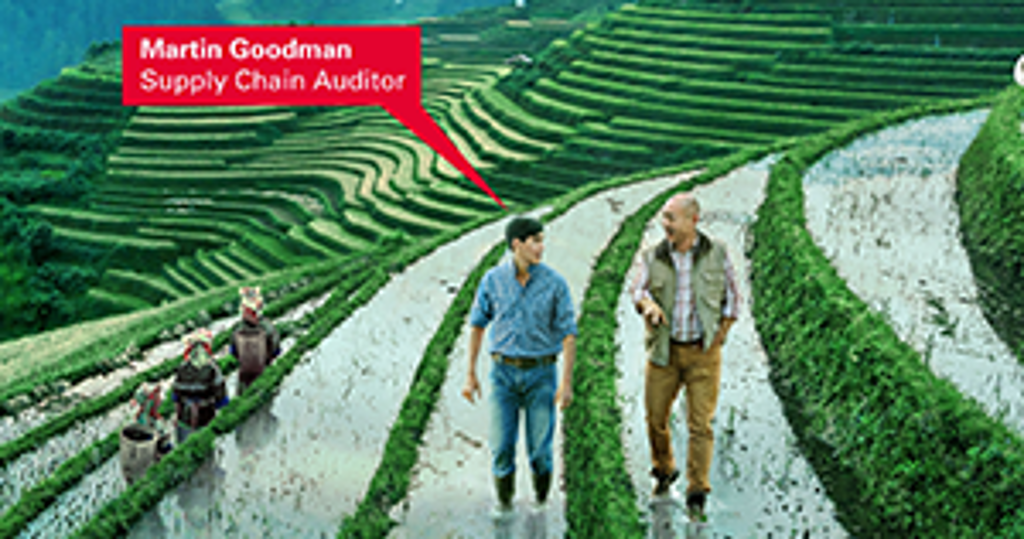 Supply Chain Audits
With our experienced experts we examine your supplier behaviour on the basis of relevant international standards and work together to create safe working conditions and responsible business practices.

Find out more.
Our Sustainability Initiatives
Nothing less than the future is at stake. Companies, institutions, public authorities and each and every one of us can play a positive role in shaping the path to tomorrow. We provide you with comprehensive support to ensure that you operate safely, sustainably and efficiently for many years to come.
This might also interest you
Last Visited Service Pages