Being more efficient. Systematically. With innovative remote audit solutions by TÜV Rheinland!

Remote Audits have established themselves in companies, especially due to the corona crisis. But in the future - independent of Corona - the possibility of remote auditing will be an important and lasting offer to our customers. TÜV Rheinland has already conducted 5,000 Remote Audits worldwide. The digital procedures provide companies with more flexibility, appointments can be made online, travel and on-site expenses can be reduced.
Tamas Lovasz Szabo, TÜV Rheinland
Change creates the new normal. Globalization, digitization, competition leads to new conditions, new complexities and new technologies. Future success needs a reliable, sustainable and innovative system. TÜV Rheinland offers you audits from a distance, so called 'Remote Audits', for Management System certifications. Efficient and flexible solution. Worldwide. Innovative remote audits are carried out as a real-time virtual solution. It will enable you to be ready for the future. Continuously.
Increase the flexibility and lower Cost
The execution of remote audits offers your company a number of opportunities in today's world. With the help of remote services, companies have the opportunity to save both time and money, for example by avoiding costly additional appointments on site. In this way they reduce unnecessary additional work and increase the efficiency of auditing & certifications.
As the auditor does not have to visit you on site, the audit – or at least a part of it – takes place online. This will lower the effort, leads to savings in travel costs and thus lowers the costs.Coordinating an audit with several participants will be coordinated with less expense, what leads to more flexibility. Our remote audits are designed to provide the same level of quality and technical expertise as our conventional audit methods – in a safe and flexible manner.
Below you will find detailed information about how exactly we conduct such remote audits; which requirements must be met by both parties, and what has changed in the auditing and certification process with the use of digital technologies.
What is a Remote Audit? – Definition
A remote audit is a new form of auditing, during which the physical presence of an auditor is no longer absolutely necessary. Instead, the auditor uses digital technologies to connect remotely. The technologies used in a remote audit can include the following:
Live web streaming technology such as Skype for Business, Webex or Zoom
Live streaming in combination with mobile apps on a smartphone or tablet
Live streaming combined with smart glass technology and video headsets
Prerequisites and Framework Conditions for Remote Audits: What is Possible?
Due to the current situation, many accreditation bodies and scheme owners have specified a number of special provisions and individual requirements for the standards and permit remote audits under defined conditions partly or in full extend which are conducted online.
To support you quickly and effectively, we hold virtual meetings via "Skype for Business" or Zoom. During these remote audits, documents can be exchanged in real time, interviews with responsible employees can be conducted and production process can be observed using video-in-live transmissions. To ensure that this process runs smoothly and without undue delays, we carry out a test of the internet connection and the implemented information and communication technology with you beforehand.
We have listed all the audits that may be conducted remotely:
Remote Auditing of Management Systems – Audit Process and Procedure
Remote audits are currently probably the most discussed form of remote services. The option of remote auditing is already mentioned in the DIN EN ISO 19011 – the standard for auditing management systems.
There are a number of different forms of remote audits:
Complete remote audit up to 100%
Restricted remote audit – including remote and on-site visits
Expert remote audit – Auditors on-site are supported by high qualified technical expert remotely.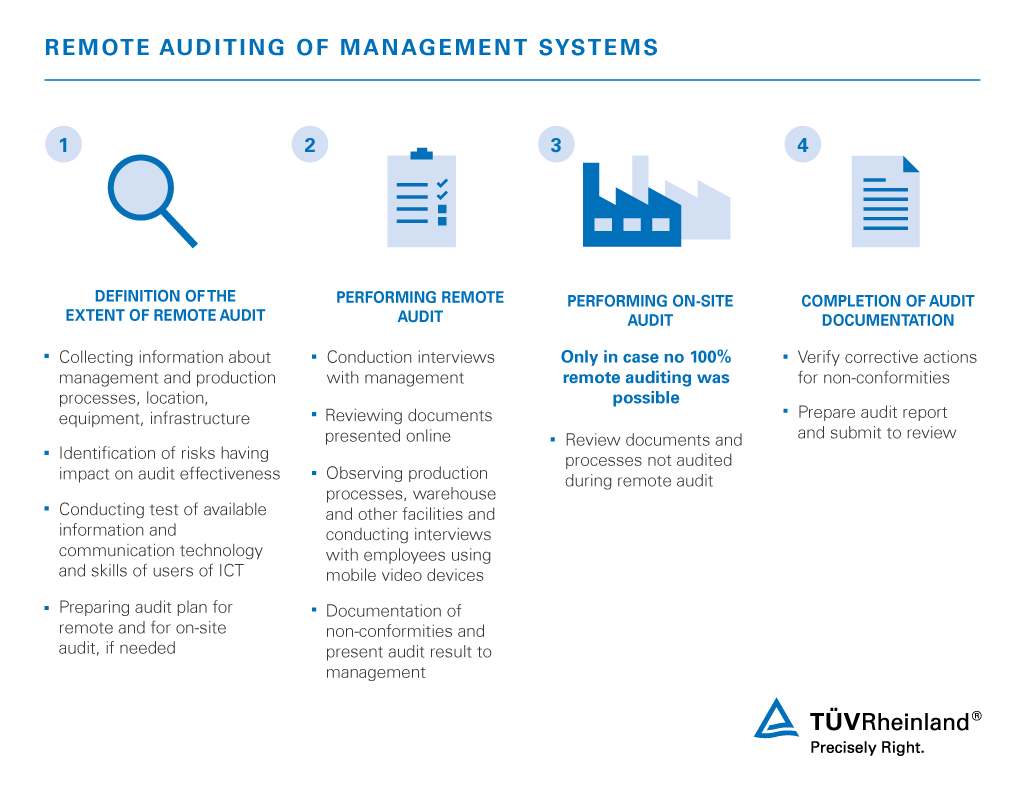 Due to the Corona pandemic, the demand for remote audits is steadily increasing. The actual process of a remote audit is slightly different from an on-site audit. In preparation of the audit the certification body shall identify the risks they may impact audit effectiveness. Information about management and production processes, description of the site, equipment, floor plans, technical datasheets might be requested beforehand. Functionality of IC-Technology providing real-time connection must be tested. Involved persons shall have the competency and ability to utilize the applied ICT technology during the remote audit. Based on the collected information, the certification body shall decide on the extend of the remote audit and prepare audit plan accordingly. 100% remote audit is not possible in every cases, on-site visits might be inevitable.
Are you interested in a remote audit at your company?
Certifications
After the successful completion of the remote audit, implementation of corrective actions for non-conformities and verification their effectiveness by the auditor, the certification body can review and release audit documents, decide on the certification and issue a certificate. The certification process is actually the same as after a normal on-site audit.
Do you want to learn more about our certifications via remote audit?
Who is a Suitable Candidate for a Remote Audit?
Remote audits are particularly recommended in cases where travel restrictions such as those currently imposed by COVID-19, health risks or product-related risks pose a problem for on-site auditing.
Remote audits are also useful and efficient when a company has several sites that are located far apart geographically. Whether and to which extent remote audit is possible must be decided by the certification body in consultation with the customer based on risk analyze beforehand.
Technical Requirements for a Remote Audit by TÜV Rheinland
What do companies and employees who want to use remote services need to be aware of?
In order to fully benefit from the advantages of remote audits, certain technical conditions must be ensured by the organization. Communication devices – like laptop, desktop computer or tablet, mobile phone equipped with microphone, camera, loudspeaker and stable internet connection must be available on the whole territory of the company to ensure video connection in adequate quality. Furthermore, issues such as data protection and data security as well as the granting of access rights need to be clarified in advance. Our experts will be happy to support you with the preparations for a remote audit.
Downloads
| | | | |
| --- | --- | --- | --- |
| pdf | Our Remote Audits with Skype for Business (Lync) Meetings | 866 KB | Download |