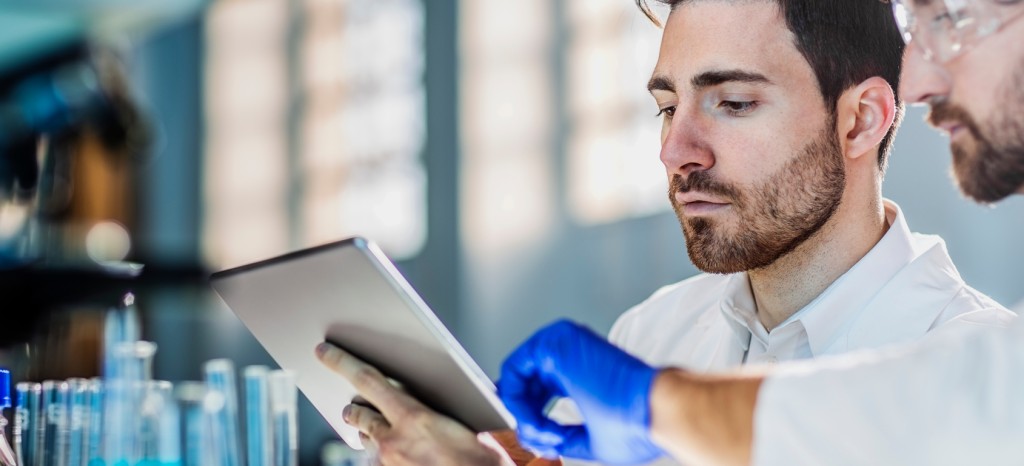 Quality Management System EN ISO 13485 certification
Implementing and maintaining a robust quality management system (QMS) for your medical devices, products and services provides an indispensable foundation on which to build your business. EN ISO 13485 certification of your QMS demonstrates your commitment to operating at a global standard.
The EN ISO 13485 certification process includes on-site audits to verify the capability and reliability of your quality management system. Our experts assess both the practical application and degree of effectiveness in the areas of design, development, production and customer care.
As a well-respected and globally recognized Notified Body, we hold extensive accreditations and are able to serve you at regional facilities worldwide. Our one-stop-shop portfolio consists of comprehensive services designed to accommodate your unique circumstances and business needs.
Optimize your QMS to the global standard of excellence!
Benefits of EN ISO 13485 certification
Medical devices (including Class I) greatly benefit from a production line, that includes an internationally recognized EN ISO 13485 certified quality management system (QMS). The certification framework provides for more product opportunities and extensive market access approval. Manufacturers and sub-contractors of medical devices can leverage their certified QMS status for a seamless transition into specialized certifications such as TCP, MDR, IVDR, and MDSAP. Start-up businesses benefit from the strong position EN ISO 13485 certification provides for future growth and expansion. Mindful preparation for the audit can also serve as an opportunity for all those in the medical devices industry to further refine QMS processes and workflows.
Four steps to EN ISO 13485 certification: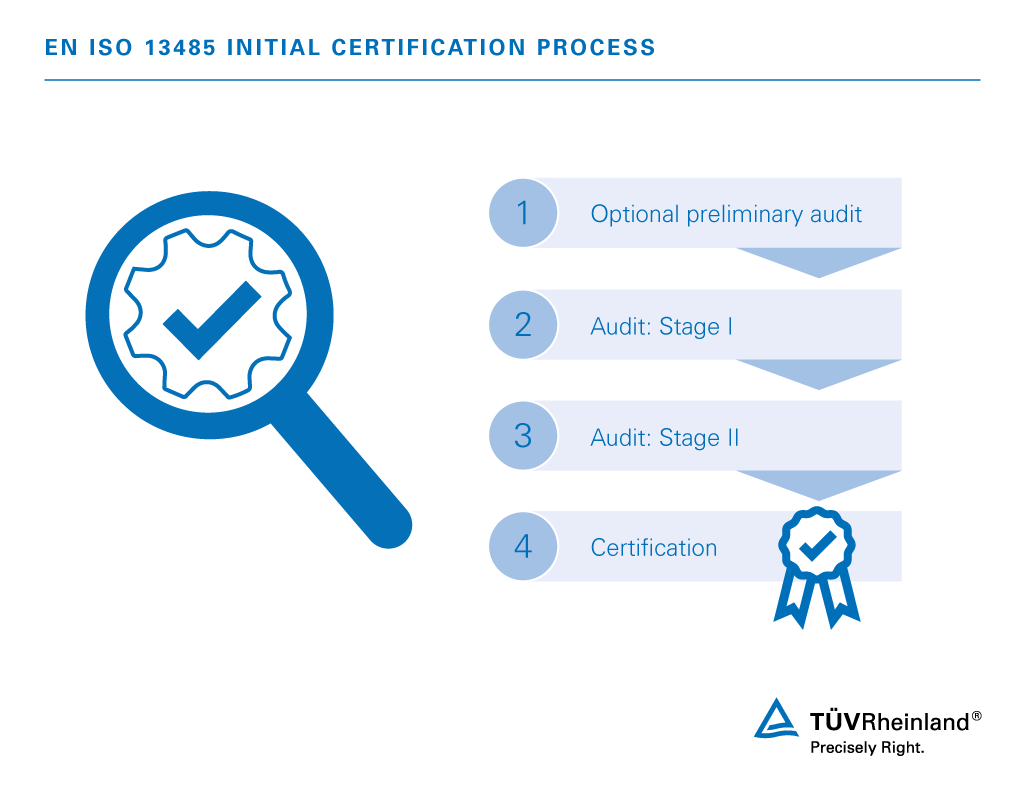 Optional preliminary audit
Voluntary site inspection and quality management documentation review assessing your readiness for full-scale Phase I & II auditing.
Audit: Stage I
Assessment of certification eligibility determined by results of on-site audit, quality management documentation analysis and business assessment.
Audit: Stage II
On-site evaluation of quality management system for excellence in areas of applied practice and efficiency.
Certification
Official confirmation certifying the integrity of your quality management system and complete compliance to the standards.

First-time applicants benefit greatly from opting to undergo the preliminary audit. The process facilitates timely and effective preparation for the official EN ISO 13485 audit process. You are provided documented results that can be immediately applied for making adjustments in your processes prior to commencing with the mandatory audits.
Transfer of Certification applications are also being accepted, in addition to applications for Certification Renewal.
Our services are conducted using the four-eyes principle, which mandates the evaluations by the audit team and product experts be followed by an independent review for final decision.
Choose an experienced partner for your certification
We are a globally operational Notified Body with a wide range of accreditations and certified staff serving an extensive list of customers from every industry. Our EN ISO 13485 experts are here to serve you and your business around the world. Have confidence in your certification options and market access knowledge. Build your ideal certification package from a comprehensive list of services from a single provider.
Indian Certification of Medical Devices Scheme (ICMED) ICMED 9000 and ICMED 13485 Certificates
ICMED Scheme is a voluntary quality certification scheme for medical devices manufactures & industry introduced by Quality Council of India (QCI), India's apex quality facilitation and national accreditation bod, in collaboration with the Association of Indian Medical Device Industry (AIMED).
TÜV Rheinland India Private Limited is NABCB accredited by NABCB to conduct audits on medical device quality management system and issue certificate under the following scope:
ISO 13485
ICMED 13485
ICMED 9000
The requirements of ICMED 13485 standards are generic, which is based on International Harmonized Standard
(ISO 13485) "Quality Management Systems for Medical Devices" plus additional requirements identified in the scheme, such as essential principles of safety and performance applicable to medical device manufacturers and industries regardless of the type or size of the organization. The program is based on the internationally harmonized quality management systems with additional requirements specific to the Indian market.
SERVICES FOR MEDICAL DEVICES MANUFACTURERS & INDUSTRY
ISO 13485:2016 certificate under NABCB accreditation
ICMED 13485 certificate under NABCB accreditation
ICMED 9000 certificate under NABCB accreditation
BENEFITS
ICMED 13485 and ICMED 9000 certification from TÜV Rheinland allows you to:
Communicate high standards of your product quality in the medical device industry
Gain a competitive edge with independent certification scheme
Build a qualified team of local auditors & reviewers with global auditing experience, based on ISO 13485 standard
COMPLIANCE & CERTIFICATION STEPS
Preliminary Audit (Optional): During preliminary assessment, TÜV Rheinland reviews\ inspects your site to check documentation & implementation of quality management system for your organization, based on ICMED and ISO 13485 requirements.
Phase 1 - Initial Certification Audit (Mandatory): TÜV Rheinland audits your site to determine that your organization is in compliance with the standard and ready for certification audits based on ISO 13485 and additional requirements of ICMED 13485.
Phase 2 - Initial Certification Audit (Mandatory): Based on phase 1 outcomes, TÜV Rheinland does on-site certification audit to evaluate implementation and compliance of standard effectively and in a continuous manner.
ICMED & ISO 13485 Certificate: Based on satisfactory phase 2 audit outcomes, TÜV Rheinland will issue a certificate confirming compliance with standards.
This might also interest you
Last Visited Service Pages