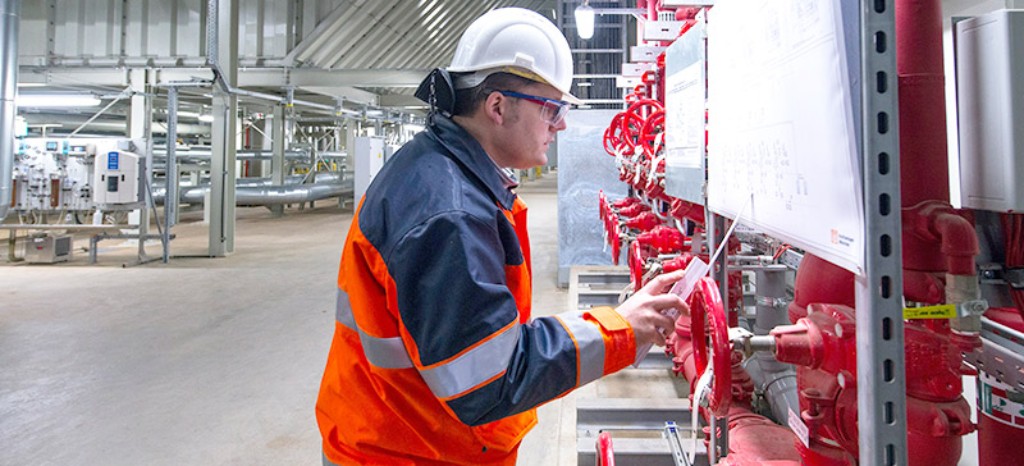 Protect life, health and property with preventive fire protection
As building owner, manager, employer and facility operator you are required to ensure compliance with the legal regulations for fire protection. Only in this way can you ensure the safety of your employees. We support you with our comprehensive services during the construction as well as the operation of your facility. In doing so, the construction, equipment and organizational aspects are taken into account by our experts in accordance with the law. This can be covered with the creation of fire protection concepts or assessments, the examination of structural and technical fire protection requirements as well as the creation of escape and rescue plans.
Thanks to years of experience in fire protection, we can assist you with our comprehensive and target-oriented knowledge. You will receive an objective and impartial evaluation of your property from our experts allowing you to bring the fire protection up to date and introduce compensatory measures. We support you in developing tailor-made solutions.
Contact us today and learn how fire protection contributes to the security of your company.
Detect potential fire risks in your buildings at an early stage with the help of our experts
With our solutions for fire protection, you can minimize the risk of fire and counter the spread of fire and smoke. Additionally, you ensure that the legal regulations for fire protection are complied with. You also minimize your financial risk through fire and consequential damages and reduce your liability risk.
Individual fire protection for your safety
We offer our clients a variety of services over the entire life cycle of their property in the following areas:
structural fire protection
facility fire protection
organizational fire protection
Structural fire protection
We check if the required structural fire protection regulations are observed in all buildings and also assist you in the following way:
Preparation of comprehensive and protection-goal-oriented concepts, which take into account specific fire risks and the correlation of construction, facility and organizational fire protection measures
Preparation and examination of fire protection certificates and fire protection assessments in accordance with the law
Evaluation of existing fire protection concepts and identification of potential for optimization
Construction management fire protection with an audit of the fire protection-related building construction as well as a check of the conformity with the proof of usability for construction products and building materials
Fire simulation , smoke extraction simulation and evacuation simulation
Facility fire protection
Our expert inspectors test the following technical equipment and facilities on site in accordance with the inspection regulations of the countries they are located including their special building regulations:
Implementation of fire smoke sampling
Emergency power supply
Active principle test
Organizational fire protection
Our experts for occupational safety examine the fire risk in your enterprise and, based on that, identify practical fire prevention measures.
We offer, among others, the following service portfolio:
Provision of an external fire protection officer
Instruction by fire protection assistants
General instructions on behavior in case of fire
Planning and implementation of evacuation drills and exercises
Preparation of fire protection rules
Preparation of escape and rescue plans
Compliance audit of fire protection
More information about organizational fire protection can also be found here.
TÜV Rheinland – Your partner for preventive fire protection
With TÜV Rheinland you are on the safe side. Through the support of our experts you get a neutral assessment of your property, facility and organization in the area of fire protection. Trust in our many years of experience in fire protection for the security of your company and employees.
Please contact us and receive a personalized offer.
References
| | | | |
| --- | --- | --- | --- |
| pdf | Quality assurance for fire protection, Stadtwerke Düsseldorf AG | 157 KB | Download |
This might also interest you
Last Visited Service Pages