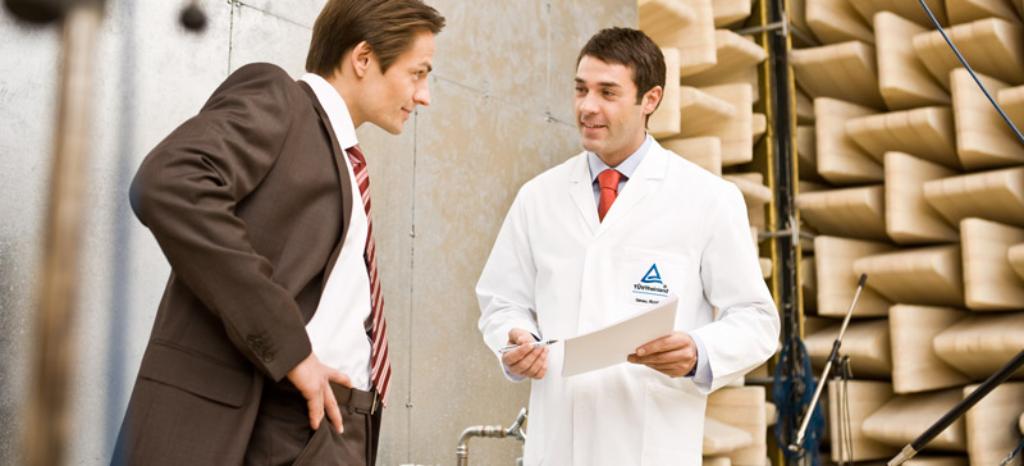 Work safely with our online hazardous substance management system
Safe handling of hazardous substances requires a comprehensive and structured approach. At the same time, it can be a great challenge to properly implement the current body of regulations concerning hazardous substances, especially when it comes to the necessary hazard assessments. This is especially challenging for small and medium-sized businesses (SMB).
TOGs® is our online hazardous substance management system, designed to support organizations in mastering the complex web of legal requirements surrounding this issue. Information is gathered, assessed and documented in a central register of hazardous materials. This lays the foundation for further steps, such as issuing hazard assessments and operating instructions or mitigating risks for your staff, clients and the environment.
Our experts are there to help you record any dangerous materials used by your company in an effort to optimize your hazardous substance management. Our comprehensive expertise and experienced auditors make us the ideal companion for the introduction and documentation of your hazardous substance management.
Want to learn more about hazardous substance management in your company? Contact us now to schedule a free appointment!
Prudent hazardous substance management with our TOGs® software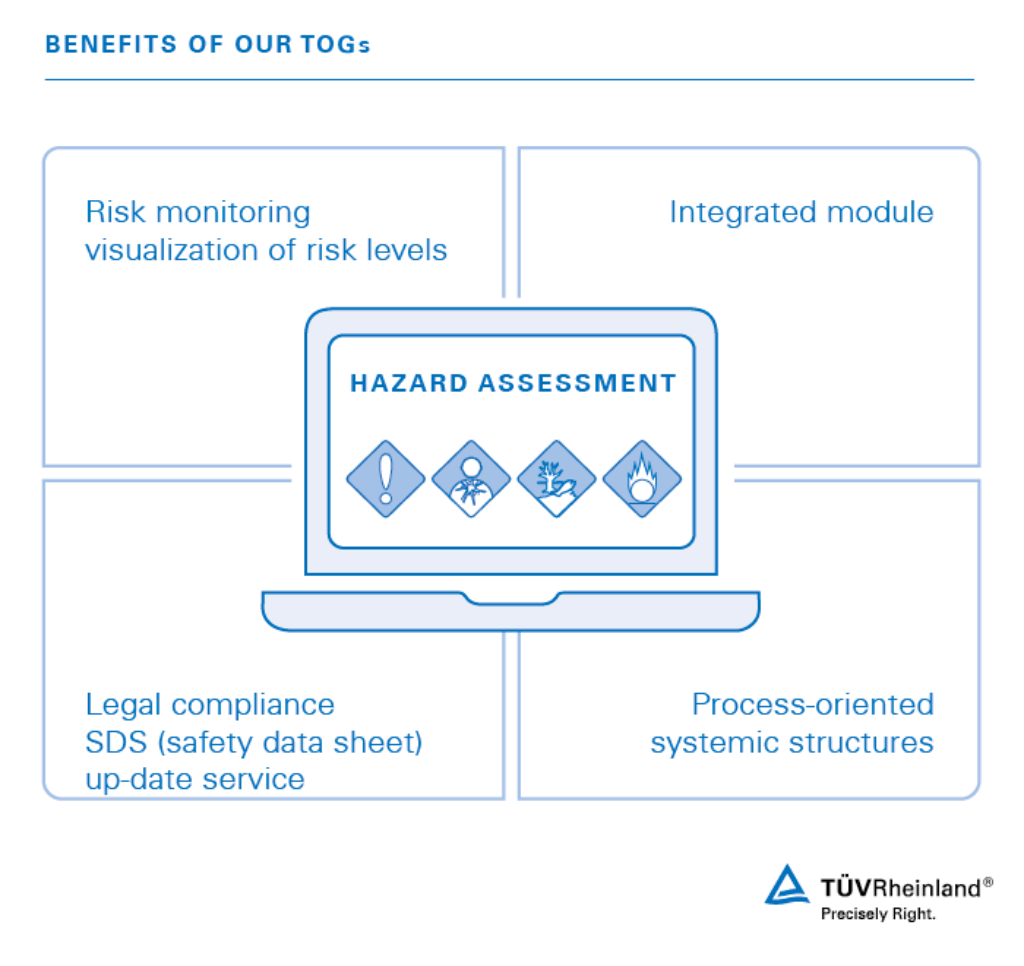 Save up to 70 percent of your time and outlays for administration and documentation by using our TOGs® software. Cost savings depend on the prevalent conditions on-site.
Take advantage of our process-oriented systemic structures designed to optimally assist you as a user of the platform. Its integrated module provides the perfect foundation for generating hazard assessments in compliance with the German Ordnance on Hazardous Substances and other occupational-safety laws, based on your hazardous substance evaluation report. The system simplifies your risk monitoring by visualizing the different levels of risk.
Furthermore, our online platform depicts a variety of relevant processes, including: timeliness and risk assessment, documentation, application and processes, synergies and groupings, primary regulations, group-wide instruction manuals, hazard assessment, measures such as efficacy and control.
Overview of our hazardous substance management services
Our TOGs® software helps you evaluate your hazardous substances for compliance with regulatory requirements:
TRGS Technical Rules for Hazardous Substances (TRGS)


TRGS 400 Risk assessment for activities involving hazardous substances
TRGS 401 Risks resulting from skin contact – identification, assessment, measures
TRGS 402 Identification and assessment of risks from activities involving hazardous substances: inhalation exposure
TRGS 410 Exposure records for hazards resulting from carcinogenic or germ cell mutagens hazardous substance category 1A or 1B
TRGS 600 Substitution

EMKG BAuA simple action plan against hazardous substances
Column Model By the German IFA ("Institut für Arbeitsschutz der Deutschen Gesetzlichen Unfallversicherung")
CMR-substances Assessment of carcinogenic, mutagenic or teratogenic substances

Additional assessment criteria:
In cases where an audit reveals other priorities, additional evaluations may become necessary according to the following criteria:
Water hazard classes
Environmental hazards as per transport laws
Waste code numbers and waste groups
Especially worrisome substances for the approval process (ECHA candidate list)
Products with solvents
Products with heat-trapping gases (contains fluorinated greenhouse gases defined by the Kyoto Protocol)
Other sector-dependent lists of banned substances (ZVEI, VDA)
Our TOGs® platform helps you save on software expenditures, reduce your investment costs, and lower your supervision efforts in your own IT department. As a web-based application, it integrates effortlessly into your existing IT landscape. But TOGs® is more than just a service. This high-tech online platform comes equipped with a comprehensive service package to help you organize and maintain your hazardous substance management – individually and efficiently.
Centralized identification and assessment of hazardous substances used in your company for the purposes of a hazardous substance register
Risk assessment for hazardous substances, for example via the column or protection-level models
Individualized representation of your company structures
Central documentation of hazardous substance histories, organizational structures, document controlling and quality management
Determination of measures and tracking: Risk analyses, hazard assessment and training
Controlling of running processes
Ongoing updates to policies and hazardous substances
Individual document generator, for example hazardous substances register and working instruction
Online access from any device and location
Possible link to an operational safety management system (OSM) and existing QM systems
Central documentation for certifications
Expert system for assessments
Identification of hazardous substances actually in use: Pure substances and mixtures
Up-to-date information at any given time thanks to database updates and system notifications as well as through the possibility of internal research upon change
Adaptation of all follow-up processes and documents upon changes to the framework
Documentation of organizational restructuring
Archiving de-registered substances and their life cycles in a substance log
Take advantage of our longstanding experience with hazardous substances
Thanks to our specialists' comprehensive experience in the field of hazardous substance management, we are the right partner to support you with the introduction and optimization of your hazardous substance management system. Not only do our experts consider your company's individual situation, we also offer a cutting-edge online platform for you to manage hazardous substances from any location and on any device.
Discover more about how we can help you. Contact us now!
More Information and Downloads
| | | | |
| --- | --- | --- | --- |
| pdf | Online hazardous substance management system | 137 KB | Download |
Our Sustainability Initiatives
Nothing less than the future is at stake. Companies, institutions, public authorities and each and every one of us can play a positive role in shaping the path to tomorrow. We provide you with comprehensive support to ensure that you operate safely, sustainably and efficiently for many years to come.
This might also interest you
Last Visited Service Pages