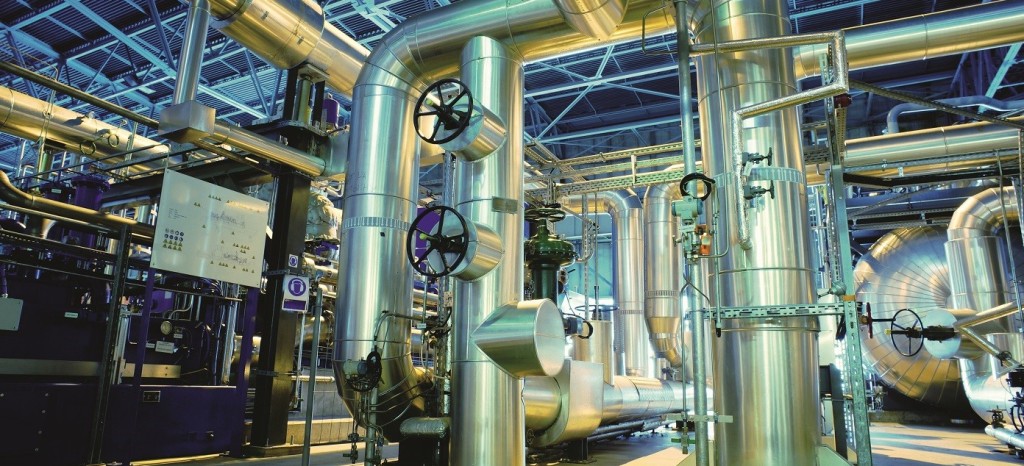 PED compliant with our pressure equipment inspection services
In effect since May 2002, the Pressure Equipment Directive (PED) sets design, fabrication and safety standards for all pressure equipment, components and assemblies on the European market. PED requirements were revised on 27. June 2014 establishing the current essential safety requirements and conformity assessment procedures for accessing markets in the European Union.
Our experts help you to comply with the PED requirements and perform the appropriate testing, examination, monitoring and certification relevant to the conformity assessment procedure selected for achieving CE marking. We also offer comprehensive services according to other Directives such as 2014/34/EU (ATEX) or 2006/42/EC (Machinery Directive) that may apply to your particular pressure equipment.
We are your recognized and competent partner, accompanying you from draft design through to the acceptance of your individual pressure equipment, components and assemblies. With our international network of laboratories and experts, we are able to provide you comprehensive services from a single source at anytime, anywhere in the world.
Would you like to learn more about our services for the implementation of PED 2014/68/EU? Contact our experts now!
Quality assurance and European approvals with PED compliance
Our services ensure that you meet the requirements established by the Pressure Equipment Directive. PED compliance enables you to forego local authorization procedures to place your equipment on the market in any member state of the European Union. CE marking proves your conformity with the current directives.
By introducing a quality assurance system, you can optimize processes, reduce risks, save money and ensure the high standards of your products.
Our services according to Pressure Equipment Directive 2014/68/EU
The Pressure Equipment Directive applies to pressure equipment and assemblies subject to a maximum allowable pressure of more than 0.5 bar. This includes, for example, pressure vessels, boilers, piping and safety accessories (e.g. safety valves) and pressure accessories with elements attached to pressure parts (e.g. flanges, nozzles, couplings, supports, lifting lugs).
For certain equipment, other directives such as 2014/34/EU (ATEX), 2006/42/EC (Machinery Directive), 2014/35/EU (Low Voltage Directive) or the 2014/30/EU (Directive on Electromagnetic Compatibility) may also be applicable. We provide appropriate services necessary for verifying compliance of your pressure equipment with the particular specifications.
For certain conformity assessment procedures, PED also requires a quality assurance (QA) system in which the responsibilities and processes are defined. This corresponds to certification according to ISO 9001, supplemented by product-specific requirements that result from PED provisions in Annex I and III. Monitoring of the QA system enables you to specify and implement effective preventive measures and take adequate corrective actions when needed.
Categories for the PED conformity assessment procedure
Based on the category of the pressure equipment, manufacturers must successfully complete the selected conformity assessment procedure (module) in accordance with Annex III of the current Pressure Equipment Directive before placing this equipment on the market.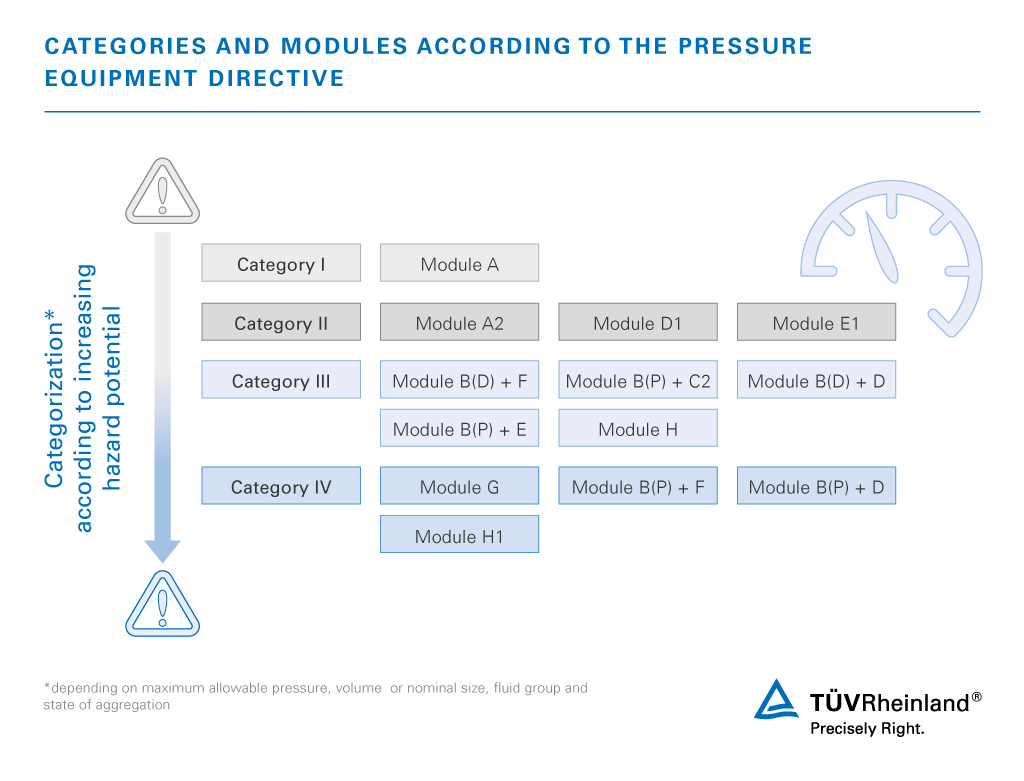 Modules A and A2 – Internal production control
The manufacturer is responsible for a continuous internal production control. In case of Module A2, random pressure equipment checks are to be performed in addition to the internal production control.
Module B(P) – EU-type examination (Production Type)
The notified body shall verify compliance with the PED requirements on the basis of an inspection of the technical documentation and the production type.
Modules B(D) – EU–type examination (Design Type)
In contrast to the production type examination, the design type examination is only performed on the basis of the technical documentation without any production type or product test being performed.
Module C2 – Conformity to type
The manufacturer shall declare conformity with the type as described in the type-examination certificate - the Notified Body shall monitor the production and testing on a random basis at the manufacturer's site.
Modules F and G – Individual testing
The Notified Body shall examine the technical documentation, carry out the final assessment of pressure equipment and issue a Certificate of Conformity. This is the basis for the CE marking by the manufacturer.
Modules D, D1, E, E1, H, H1 – QA systems
Quality shall be ensured by developing and implementing a reliable QA system.
Material Manufacturer
The Notified Body audits the QA system of the material manufacturer.
Our services include among others:
Design examination of individual pressure equipment
Design examination of assemblies - including inspection of safety devices (e.g. design and suitability of MSR protective devices, circuit diagrams, suitability of electronic components, PCE devices, safety valves)
Approval of procedures and personnel for permanent joining of pressure equipment parts for categories III and IV
Approval of NDT personnel for categories III and IV
Specific assessment of particular material appraisal for categories III and IV (e.g. when using ASME materials under the PED)
Verification of conformity based on unit verification (modules F and G)
Issue of type approvals, module B (production and design types)
Auditing of QA systems for modules D/D1, E/E1 and H/H1
Auditing of material manufacturer QA systems according to point 4.3 of Annex I
Issue a Certificate of Conformity
Benefit from our core competence in the field of pressure equipment
As a leading service provider, we have almost 150 years of experience with pressure equipment. We are continuously involved in key committees to provide you with up-to-the-minute information from the inside. Our experts deliver fast and suitable solutions as well as comprehensive services from a single source. This includes, for example, all necessary examinations, certifications and recognized training. We are your flexible and reliable partner ready to assist you at any time anywhere in the world. Put us to work for you!
Call now to find out more about our services for your pressure equipment and assemblies!
Further information for download
| | | | |
| --- | --- | --- | --- |
| pdf | The Pressure Equipment Directive 2014/68/EU | 568 KB | Download |
This might also interest you
Last Visited Service Pages