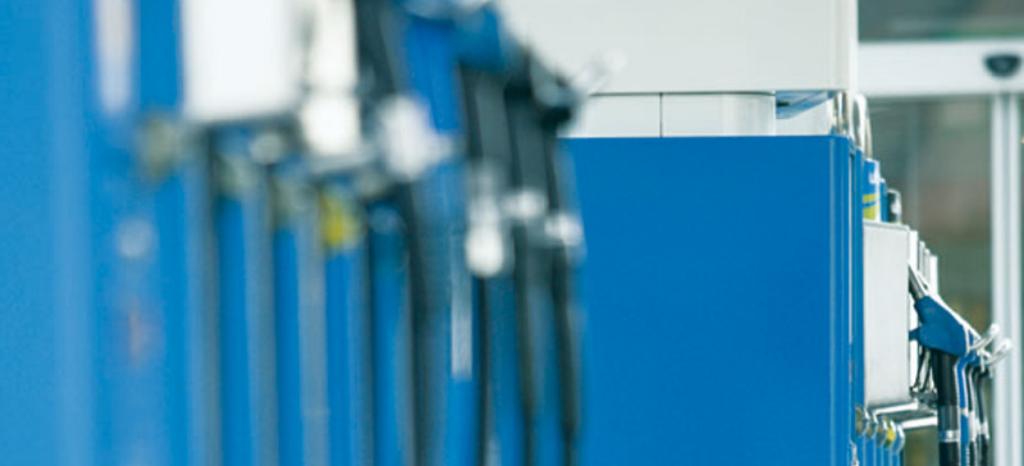 Ensure safe and uninterrupted operations with our fuel tank inspection services
It is no great secret that flammable liquids and water-polluting substances must be handled with great care during processing, filling and storage. Formal inspections not only ensure a high level of safety, they generate trust for all manner of fuel systems, from commercial gas stations and industrial oil tanks to private stores of heating oil.
Our experts are on hand to guide you through the planning, repair and upgrading of critical fuel tank systems and refueling facilities. We are also qualified to carry out operational monitoring in accordance with statutory requirements under the German Water Resources Act (Wasserhaushaltsgesetz/WHG). Additionally, we provide inspection, auditing and testing services for fuel tank facilities prior to their commissioning or decommissioning.
Thanks to our longstanding experience with fuel tank inspections, our specialists have acquired a large body of knowledge and expertise in the field. As your reliable partner, we provide the support you need to gain a secure legal footing for your fuel tank facilities.
Need inspection services for your gas station or fuel-storage facility? Contact us to request your individual proposal today!
Gain a secure legal footing with our fuel tank testing services
Our solutions in the field of fuel tank inspections are tailored to each client in an effort to optimize your processes and ensure the uninterrupted operation of your gas/petrol stations, oil tanks and other fuel tank facilities. Importantly, this paves the way for a smooth approval process on the part of authorities.
Beyond the statutory and regulatory requirements, our inspections help you uncover concealed defects or hidden wear and tear, allowing you to act early to prevent more costly repairs later on.
As a well-established name in the inspection and auditing business, we can help you gain a secure legal footing and protect yourself against liability claims. By contracting our services, you demonstrate your commitment to meet and exceed due-diligence requirements, giving you a strong defense in case of legal claims.
An overview of our inspection services for fuel tank systems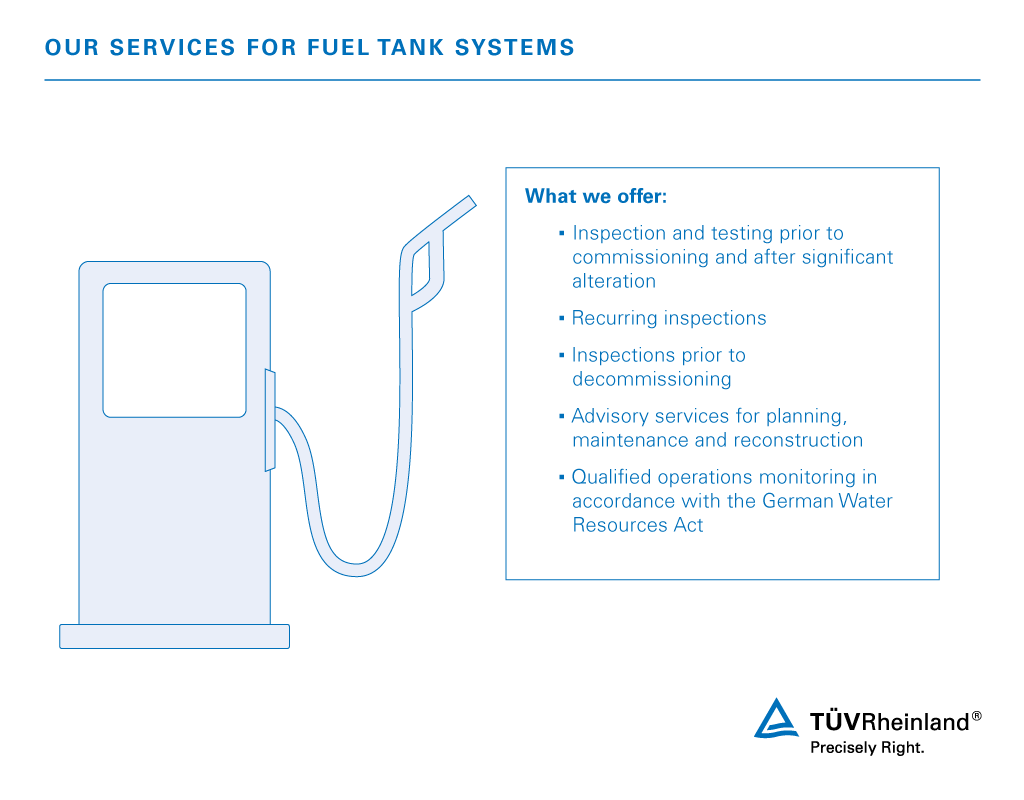 In addition to our qualified inspections, we support you in the planning, maintenance, repair, overhaul and reconstruction of your gas stations or other fuel tank facilities.

We offer the following inspections:
Inspection and testing prior to commissioning and after significant modification
Recurring inspections
Inspections prior to decommissioning
We also provide additional services for gas stations and other fuel tank systems:
Inspection and testing before and during operation
Review of technical documentation
Schedule management with a view towards inspection deadlines
Efficient implementation of inspections by our specialists
Support for approval and licensing procedures
Creating an explosion protection document
Hazard assessment and safety-related technical evaluation
Ongoing support throughout planning, maintenance and reconstruction projects
Information and advisory services concerning safety requirements and your technical options for implementing them
Formal report for the regulatory approval process
Guidance on manufacturing components for fuel tank facilities
Your high safety standards – documented by experts
Our specialists have years of experience in the field of structural inspections and equipment safety. That makes us your ideal partner for the inspection, testing and operation of your tank systems and refueling stations. Our competent and reliable support enables you to document the safety of your facilities to the highest standards, giving you a clear advantage over the competition.
We can help you gain approval as a specialist company under German law. Contact us for more information!
This might also interest you
Last Visited Service Pages