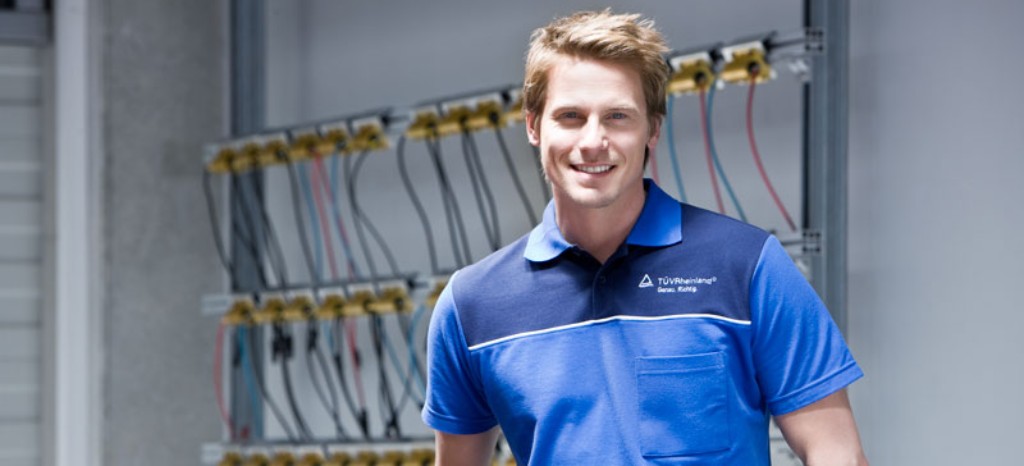 Ensure high safety and quality standards of fuel cells through our testing and certification
A fuel cell is a critical device that can convert the chemical energy in liquid fuels into electrical energy. It is widely used in various industrial applications for power generation and transportation. The development and installation of fuel cells for use in portable and stationary applications is expected to help solve worldwide fuel-energy problems.
We play a pivotal role in your company's development process of consumer oriented fuel cells. Our team of experts test and certify that your fuel cells comply with the IEC/EN 62282 and ANSI/CSA FC "Fuel Cell Power System" standard. We provide testing services for Europe, the United States and Canada, which are conducted in accordance with IEC/EN 62282 and other applicable standards and guidelines.
Due to our extensive knowledge of fuel cell technology we are an excellent partner for development and testing of this technology – including regulatory consulting of all safety aspects and an assessment of conformity to regulations and standards – and can guarantee you a top-quality service.
Contact our experts in order to make the testing process of your fuel cells safe and reliable!
Benefit from fast audit times and greater market access with our fuel cell testing services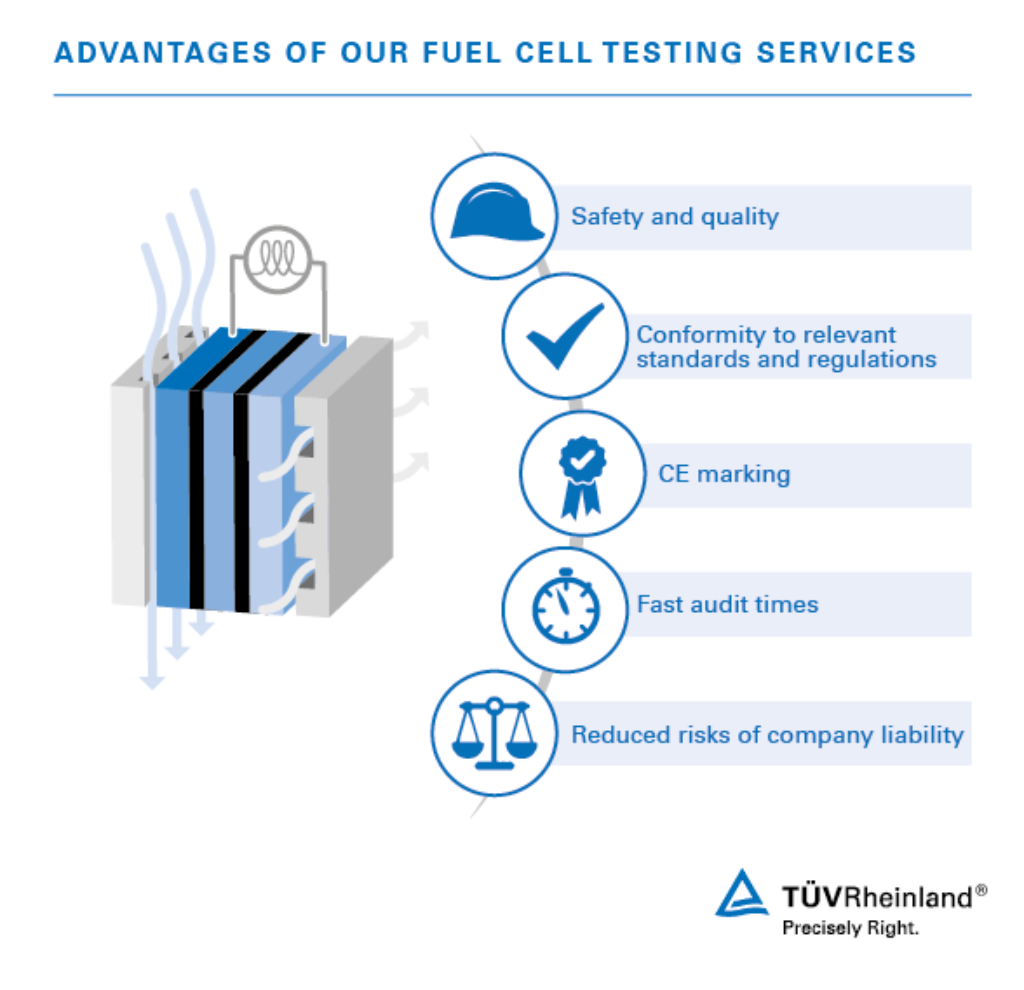 Our specialists can not only help you to build consumer trust in your fuel cell products, but they can also provide a genuine certification of your fuel cell systems. We supply a one stop solution in which we guide you through the entire process from quotation to testing and finally certification. As a result, compliance with safety and quality standards as well as local government and legal requirements is achieved. This reduces the liability risks for your company that are associated with the products. Moreover, by obtaining our neutral test mark you can gain a competitive edge in a growing market and achieve greater access to international markets. Benefit from our fast audit times and our extensive experience gained over many years.
Our testing and certification services for fuel cell products
You will not only find a reliable partner when you work with us, but we can also provide you with the following services:
Quote
Document/application submission
Preliminary investigation
Testing
Factory inspection
Certification
Our fuel cell testing and certification services are conducted in accordance with the following standards:
For the U.S. and Canada:
Standards of ANSI/CSA FC1/2/3/4, ANSI/CSA AMERICA FC 1/2/3/4, CAN/CSA-C22.2 No. 62282 "Fuel Cell Power System"
For China market:
Standards of GB/T30084, GB/T29838 series "Fuel Cell Power Module and System".
For Europe and other markets:
Standards of IEC/EN 62282 series "Fuel Cell Technologies".
Other directives and standards might be relevant, depending on the size and design of the fuel system.
Shaping the Future of Energy: Hydrogen Energy and Fuel Cell Technology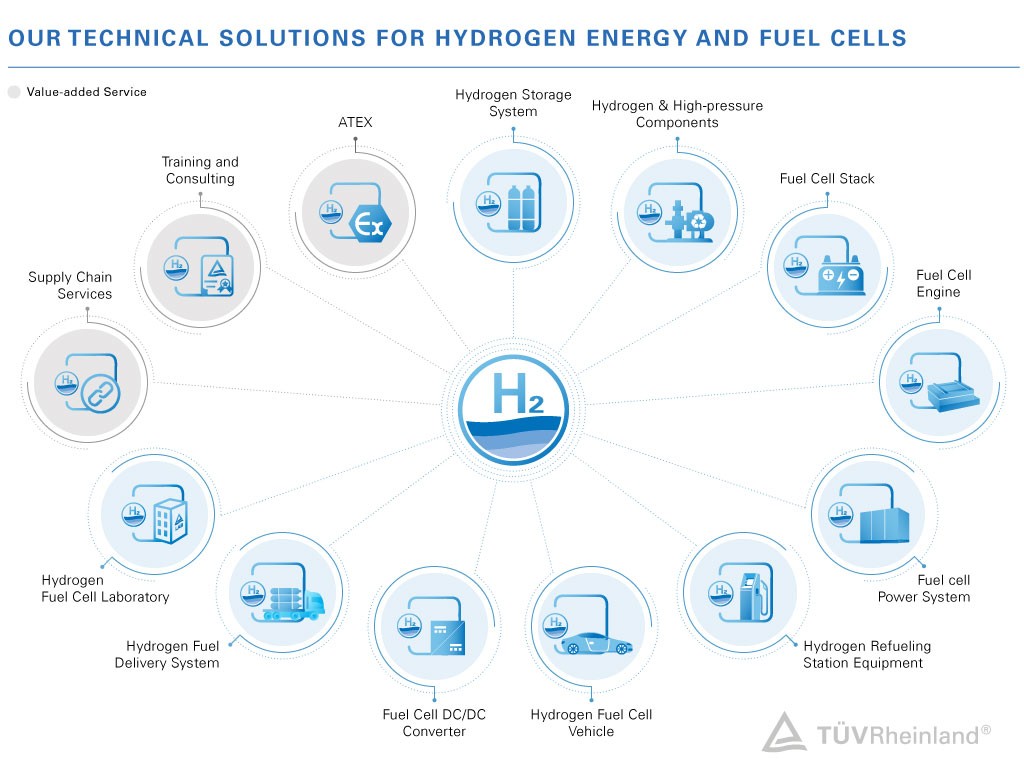 Political efforts to reduce the consequences of climate change are bringing hydrogen technology into the focus of consumers. This means enormous potential for the development and marketing of fuel cells, which are converting the chemical energy of hydrogen and oxygen into zero-emission clean electrical energy. Investments in the R&D, demonstration and commercial applications of fuel cells are constantly increasing.
However, opportunities and risks coexist. The future development of hydrogen energy also requires technical support and risk management. We provide one-stop technical solutions for the entire industry chain. Our services cover:
Hydrogen production by water electrolysis
Hydrogen storage systems
Hydrogen cylinders in valves and pipelines
Hydrogen refueling stations
Fuel cell vehicles, fuel cell engines
Fuel cell stacks
Fuel-cell power generation systems
Supply chains
We can provide technical support, guarantee safety for manufacturers and retailers, and promote the safe, healthy and sustainable development of the hydrogen energy and fuel cell industries.
Contact our experts for hydrogen fuel cells to discuss your specific requirements!
Our extensive experience of high quality and safe fuel cell technology
Our experts have gained much experience over the years and are highly knowledgeable about fuel cell technology. We can fulfil and be compliant with your local legal and governmental requirements, which makes us your perfect partner. Our handpicked specialists are proficient enough to fulfil the many international standards as well as constantly provide you with safe and trusted services.
When your fuel cells are successfully certified, you can be registered as a certificate holder in our online certificate data base Certipedia, which gives you the opportunity to highlight this accomplishment in your marketing information.
Request more details about our fuel cell testing services!
Our Sustainability Initiatives
Nothing less than the future is at stake. Companies, institutions, public authorities and each and every one of us can play a positive role in shaping the path to tomorrow. We provide you with comprehensive support to ensure that you operate safely, sustainably and efficiently for many years to come.
This might also interest you
Last Visited Service Pages