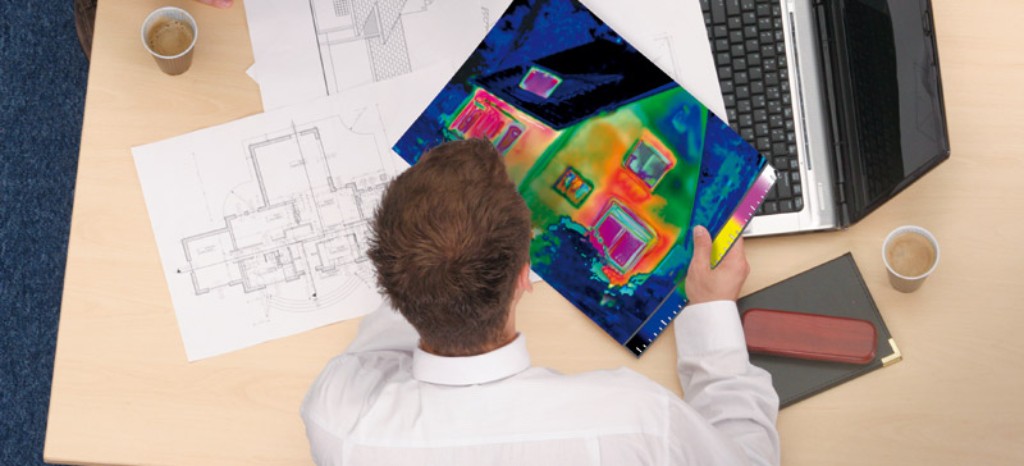 Thermal Imaging Leak Detection and Air Tightness Testing Services
High thermal transmittance in poorly insulated buildings results in heat and energy waste. To detect weak points such as thermal bridges on a building envelope, our experts implement two important analytical methods. Thermal imaging leak detection identifies heat leaks in the building envelope by means of infrared images. Air tightness testing reveals leaks in windows and doors.
These test results help you improve insulation in your property and avoid unnecessary energy consumption or waste, saving you money.
We will also be happy to help you in our capacity as advisors.
Benefits of Our Building Envelope Testing at a Glance
With thermal imaging leak detection and air tightness testing services from TÜV Rheinland, you can:
Determine sources of heat loss and weak points on your building envelope.
Reduce your property's energy consumption.
Cut operating and capital costs by carrying out appropriate insulation work.
Receive independent advice and technical support from a single source.
Please contact us to learn more about how our building envelope testing services can benefit your company.
Our Building Envelope Testing Services
Our team of experts will inspect your building´s heat insulation properties using the two most important tests in this area: thermal imaging leak detection and air tightness testing.
Thermal Imaging Leak Detection
Our thermal imaging leak detection localizes weak points in the building envelope, including thermal bridges, insulation deficiencies and leaks. Leaks in subfloor water pipes, heating systems, boilers and other heating equipment can be detected using our heat loss measuring services.
Our comprehensive services also include measurements on refrigeration equipment and systems, including cooling ceilings, ventilation and air conditioning systems.
Air Tightness Testing
We provide professional services for the determination of air permeability. Heat loss is measured at your building's door or window aperture through sealing an airtight fit to establish a positive or negative pressure differential. Measuring this difference in pressure between outdoor and indoor air, enables our experts to calculate the volume of air escaping and pinpoint existing leaks occurring under particular conditions in the airtight building envelope.
As a result you will be able to significantly reduce your energy consumption and costs and receive a certificate in accordance with ISO 9972.
Our Energy and Sustainability Services
Due to our extensive knowledge in the field of energy efficiency, we can help you to optimize your processes and show you how to use energy-saving technologies and resource-conserving processes to build sustainable constructions, both for the industrial sector and private households. In addition to building envelope testing, we also offer you advice, testing, and certification services in the following areas:
Energy efficiency
Green building certification
We will certify the sustainability of your building in accordance with the guidelines of the German Sustainable Building Council (Deutsche Gesellschaft für Nachhaltiges Bauen, or DGNB for short) and the Building Research Establishment Environmental Assessment Method (BREEAM); plus we can award the US Green Building Council's LEED certificate.
Building simulation and life-cycle assessment
Worldwide energy efficiency codes
Responsible for more than 30% of global CO2 emissions, energy use within buildings plays an important role in climate change mitigation, given the significant potential for savings in both new and existing buildings. Establishing mandatory energy efficiency codes are a central element in achieving energy savings in new buildings.
German Energy Saving Ordinance for New Buildings (Energieeinsparverordnung, EnEv)
The Energy Saving Ordinance is an important element of the energy and climate policy in Germany. The Federal Council regulates the energy performance of and poses higher energy efficiency requirements for new buildings. The EnEV includes requirements for heating, ventilation and air-conditioning systems, hot-water heating systems and the energy certification of buildings.
The Energy Saving Ordinance aims to save heating costs and to reduce environmentally harmful greenhouse gases such as CO2. The EnEV defines demands on energy efficiency in new buildings and the U-value (heat transfer coefficient) is one of the most important reference values for energy saving regulations. The U-value determines the amount of energy flowing through external walls, windows, floors, roof and ventilation as well as heat gained from the sun and electrical equipment. A lower U-value indicates a higher level of thermal insulation.
What is a U-value?
A U-value is a measure of heat loss. It is expressed in W/m2k and shows the amount of heat lost in watts (W) per square meter of material (for example wall, roof, floor etc.) when the temperature (k) outside is at least one degree lower.
The lower the u-value, the better the insulation provided by the material.
English Code for Sustainable Homes
The national standard for the sustainable design and construction of new homes in England and Wales aims to reduce carbon emissions and promote standards of sustainable design higher than the current minimum standards set out by the building regulations.
Dutch Building Code (Bouwbesluit)
In the Netherlands, the mandatory performance-based code known as Bouwbesluit 2012 requires an energy frame calculation to establish the maximum allowed Energy Performance Coefficient (EPN) for both residential and non-residential buildings. The code addresses most thermal envelope requirements and energy-using systems within the EPN calculation, including HVAC, hot water, lighting, bioclimatic design and renewable energy.
Our Sustainability Initiatives
Nothing less than the future is at stake. Companies, institutions, public authorities and each and every one of us can play a positive role in shaping the path to tomorrow. We provide you with comprehensive support to ensure that you operate safely, sustainably and efficiently for many years to come.
This might also interest you
Last Visited Service Pages