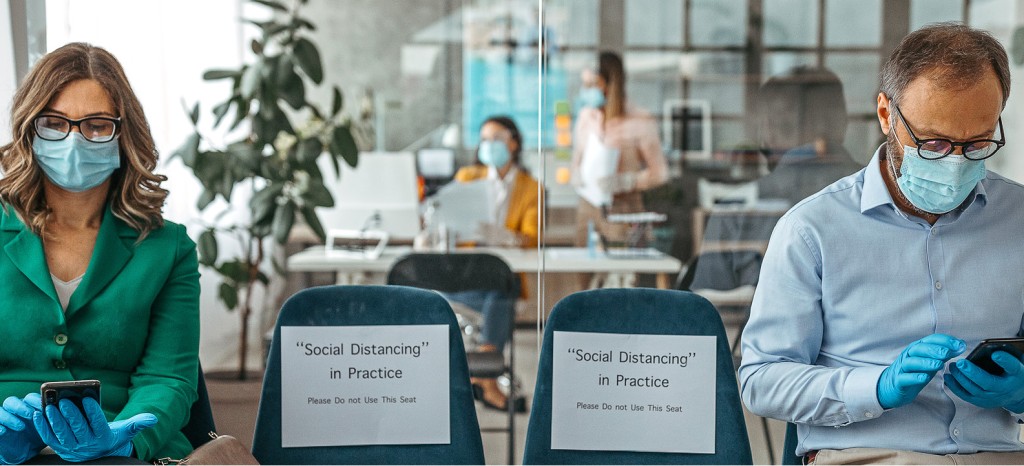 A safe restart with our back to business checklist audit
In recent months, we have all felt the impact of Covid-19, personally and collectively. Many companies have had to shut down completely or in part to help fight the spread of the virus.
As your business prepares to reopen, safety is the top priority. A successful restart means understanding your current circumstances and being fully aware of the regulations and guidelines in place to protect employees and customers from infection.
Our experts have developed a checklist audit that includes governmental regulations and industry-specific recommendations to help you reduce the risk of infection and fulfil expectations as you restart operations. In addition to the checklist itself, you receive an evaluation of the results given in percentages and spider web diagrams.
We are long-term partners to industry, supporting our clients in times of prosperity and hardship. To help you meet the current moment, we have compiled the technical, organizational and personnel requirements aimed at keeping staff and customers healthy. With our checklist audit, you can access our extensive industry expertise and experience and transition safety back to business.
Ask our experts and fill out our contact form!
A successful post-COVID restart
With our checklistaudit, you will feel better prepared to initiate a safe restart, recover sales and get on the fast track to previous performance levels. The checklist audit allows you to assess your compliance with applicable rules and regulations and provides a degree of transparency and legal security for your organization.
It is our intention to see our partners through a successful restart and reintegration into the larger economy. Our auditnot only facilitates this, but can function as a means of communicating your commitment to health and safety to your customers, employees, shareholders and other stakeholders. As we all resume our activities, trust is key!
A systematic and tailored approach to COVID-19 business restart
Our aim is to support your restart by ensuring that the appropriate hygiene measures are in place and that infection prevention requirements are met. To this end, we have developed a one-time checklist audit that can be carried out remotely to assess your status quo.
We classify the audit results according to our three-level preparedness model:
Level 1: measures and processes are missing
Level 2: measures and processes have been partially implemented
Level 3: measures and processes have been demonstrably implemented
Included in the service is a final evaluation overview of the results presented as percentages and spider diagrams. If you would like an audit report including photo documentation and concrete recommendations, you may request one as an additional service.
Because requirements vary among industries and each organization is unique, we tailor our service to suit your needs and local circumstances. You can request a focus on particular topics for an even more individualized experience.
Your ideal back to business partner
We are a professional team of inspectors and auditors with many years of experience across industries. Our neutral, third-party services are available globally and with speedy delivery times. With a customer-oriented approach featuring comprehensive, targeted certification concepts, we are able to maximize synergies and provide efficient, cost-effective solutions. Now more than ever, you can rely on our expertise for guidance in getting safely back to business.
Solutions for the new normal. TÜV Rheinland is your partner during the COVID-19 Pandemic.
Find out how we can help you dealing with the consequences of the pandemic and get an overview of our extensive service portfolio.
This might also interest you
Last Visited Service Pages