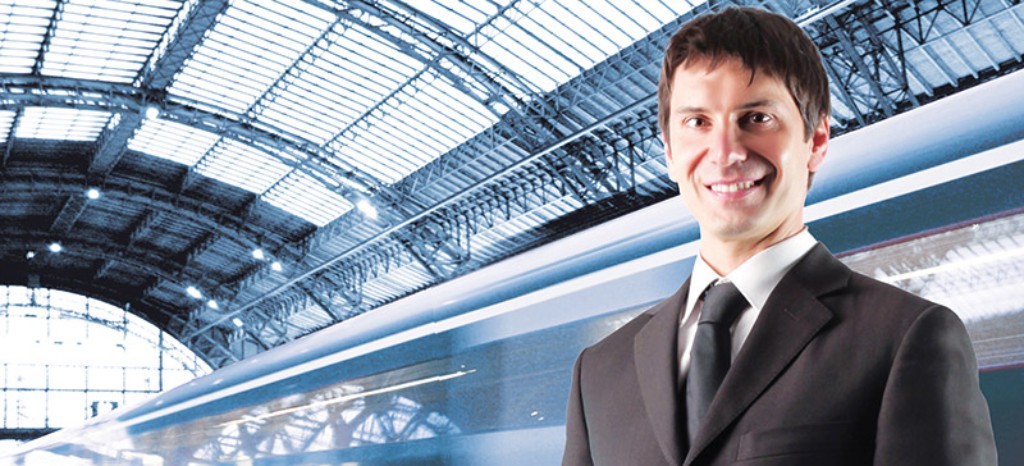 Uniform quality standards with IRIS certification
From track guiding to the braking system: IRIS / ISO/TS 22163, as the International Railway Industry Standard (IRIS), offers you, as a railway industry supplier, a uniform language, uniform guidelines and mutual recognition of inspections. The IRIS quality standard was initiated in 2006 by the four most important system manufacturers and the "Union des Industries Ferroviaires Européennes" or UNIFE for short. The IRIS standard is currently in revision and is planned to be published as ISO/TS 22163.
Document your quality in a credible way to potential clients at all times: with an entry into the IRIS database of UNIFE, which is frequently relied on by buyers for renowned manufacturers when selecting their suppliers. IRIS is based on the specifications of the internally recognized ISO 9001 quality standard, which was expanded to incorporate the requirements of the railway industry.
Benefit from the uniform certification process, which is performed by authorized certification centers only. As an experienced and competent partner in the logistics industry, our experts are at your side to offer you support. We accompany you throughout the entire certification process and also organize the transition to the planned ISO /TS 22163 to ensure it runs smoothly. Feel free to contact us!
By the way, you can also just have the relevant subdivisions of your company audited. Our experts will be more than happy to assist you should you have questions or require any further information on IRIS certification. Together we will find the best solution for your certification.
Secure competitive advantages and lower your costs with an IRIS certificate
IRIS certification provides you with many advantages: You fulfill the requirements for approval as a supplier for the railway industry. An entry into the IRIS database allows you to gain a competitive advantage internationally and increase the quality standard of your company along the entire supplier chain. It increases customer satisfaction and allows liability risks to be reduced through better analyzed and managed processes. An IRIS certificate also increases your chances of being awarded a tender. Certification in accordance with IRIS helps you to avoid expensive multiple certifications, saving you time as well as costs.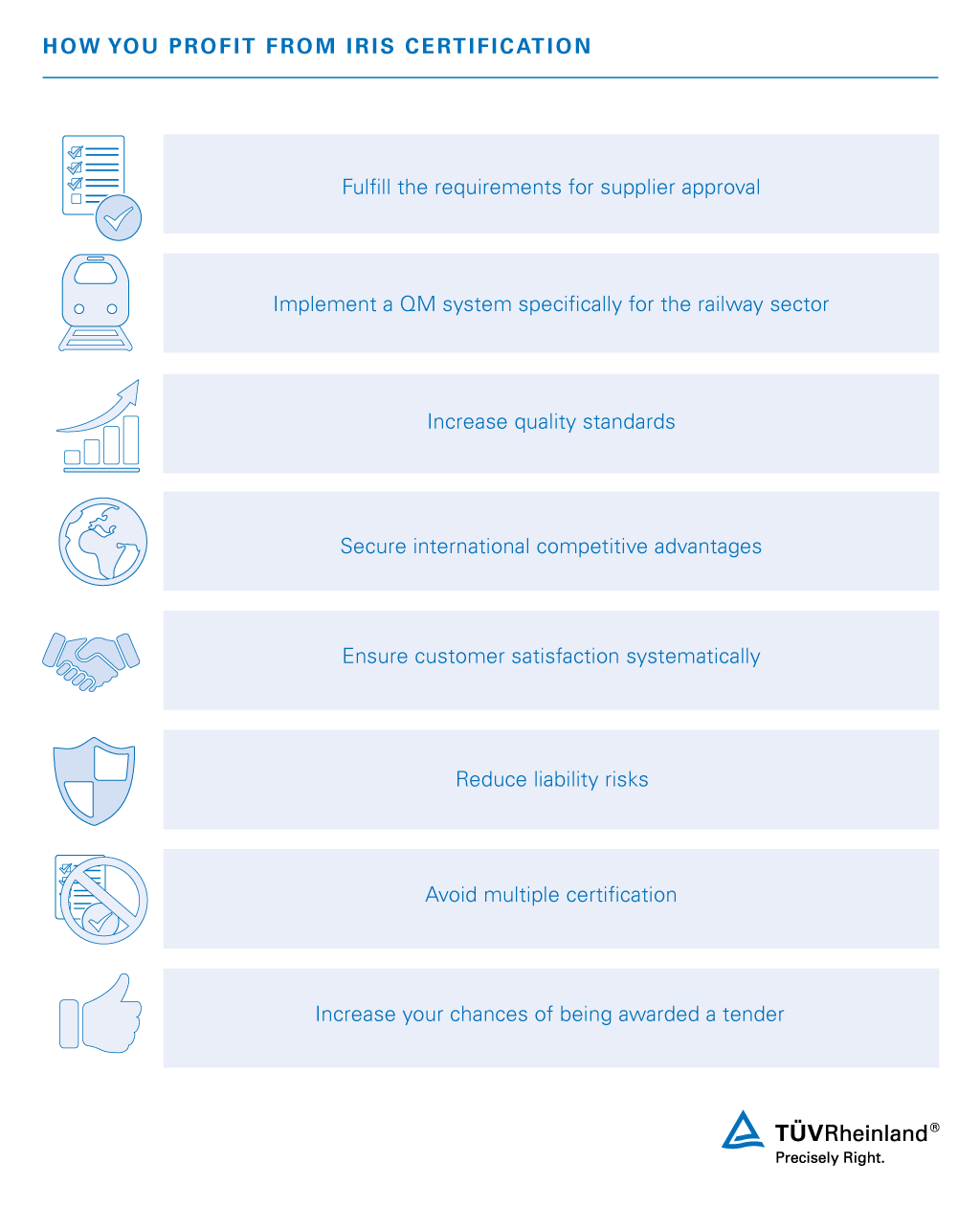 Get IRIS certification in just a few steps
During IRIS certification, our experts employ their extensive experience and tact to analyze and assess your processes and systems. Take advantage of the benefits of certification by using our Certipedia certification database and "Advertise with TÜV Rheinland" .
Checking certification capability
Certification audit
Issue of certification, entry into IRIS database and into our online certification database Certipedia
Annual surveillance audit
Recertification before the end of three years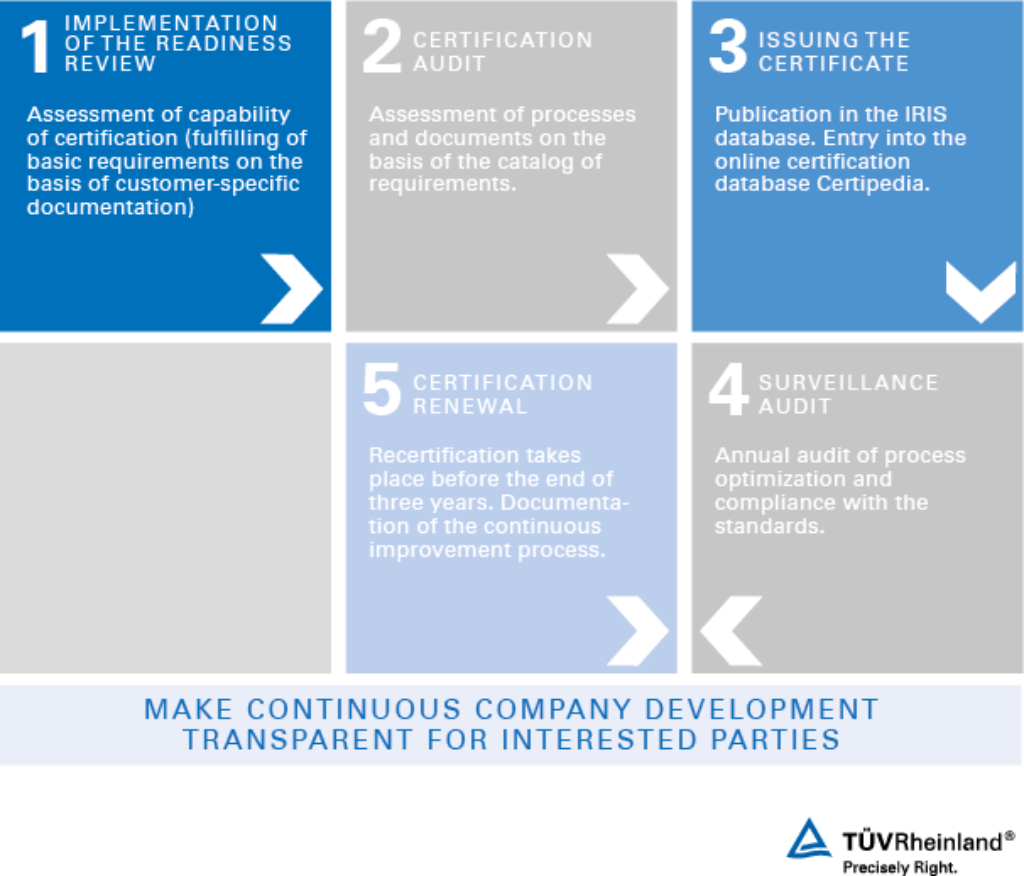 Our experts answer important questions about IRIS certification
This might also interest you
Last Visited Service Pages