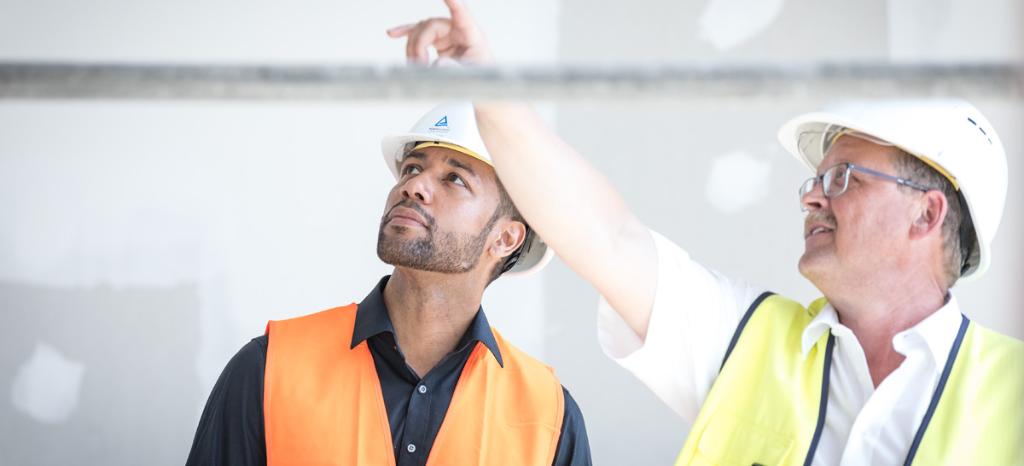 Optimize your occupational health & safety management with the new ISO 45001 standard
Safeguarding and maintaining health & safety in the workplace is an important prerequisite for motivated and productive working processes, both for employers and employees. The new ISO 45001 standard for occupational health & safety management will supersede OHSAS 18001, the previous standard for occupational health & safety, and will minimize the risk of damage to health and accidents in the workplace. BS OHSAS 18001 was developed by the British Standards Institution (BSI) and forms the basis for the new ISO 45001 standard. The 'Project Committee PC 283' of the International Organization for Standardization (ISO) received a proposal from the BSI in March 2013 for the new international standard, which was now published on 12th March 2018. We have summarized important questions and answers arising in connection with the new ISO 45001 standard in our FAQs.
Would you like to find out more about the certification for optimal occupational and health & safety management in accordance with the new ISO 45001? Our experts would be delighted to provide you with this information!
Standardization thanks to the 'High Level Structure'
The new standard focuses on preventative employee protection and greater involvement from the management team. The structure of the standard permits simple integration into previously implemented management systems and the standard can be utilized regardless of the size of the company.
Compared with OHSAS, ISO 45001 offers the following amendments, amongst others:
'High Level Structure' (HLS), which, through its uniform structure, uniform definition and uniform terminology facilitates simplified integration into other management systems (e.g. ISO 9001 and ISO 14001 )
Increased focus on the context of the organization and risk recognition
Taking account of individuals who are not permanent employees, such as sub-contractors and suppliers
Legal and regulatory compliance guidelines for all phases of the PDC cycle
Greater involvement from the top management team
Our information brochure also offers you a summary of the most important information.
At present it remains possible to obtain and implement OHSAS 18001 certifications. However, organizations are strongly encouraged to become now acquainted with the requirements of ISO 45001, as the new version of the occupational safety standard must be implemented by March 2021.
Increase confidence with documented health & safety management according to ISO 45001
By following a systematic standard for your occupational health & safety protection according to ISO 45001, sources of errors and risks can be identified and eliminated or minimized. By means of certification of your occupational protection management you will thus significantly reduce the number of occupational accidents, regardless of your industry or the size of your company, and you will simultaneously fulfil legal and official requirements. You will therefore not only increase the confidence of your employees, you will also reinforce your positive reputation with clients, business partners and the authorities. This creates a valuable competitive advantage for you.
Our experts have many years of experience with management systems and in the field of effective and sustainable occupational health & safety protection. We will check and certify your company according to ISO 45001. If you are already certified according to OHSAS 18001, we support you in implementing the new requirements of ISO 45001.There will be a three-year transitional period from the current OHSAS 18001 standard to ISO 45001, so the transition must be completed by spring 2021. We will support you in implementing the requirements and will permit a smooth transition to the new standard.
Do you still have questions on the new ISO 45001 standard? Arrange an appointment with our experts now!
Our Sustainability Initiatives
Nothing less than the future is at stake. Companies, institutions, public authorities and each and every one of us can play a positive role in shaping the path to tomorrow. We provide you with comprehensive support to ensure that you operate safely, sustainably and efficiently for many years to come.
You may also like to visit our blog at insights.tuv.com for further thought leadership and opinion articles on this topic:
This might also interest you
Last Visited Service Pages