Greater safety with a certified business continuity management (BCM)
Operational risk management is becoming increasingly important. Business processes are getting faster, more specialized and increasingly interlinked. If the supporting operating infrastructure fails, whether in IT, personnel or production, the consequences range from malfunctions to long-term outages or even loss of market share and corporate image. With a certification of your business continuity management you can increase the stability of business processes as well as reduce stoppage and recovery delays.
Our experts certify your business continuity management (BCM) according to ISO 22301. We examine your risk management system according to various criteria and check whether you are properly prepared for issues such as worst case scenarios, a drop in performance and tolerable outage times.
Trust in our long experience and extensive expertise in the certification of crisis and emergency management systems. As a neutral provider of testing services we are the right partner for you and provide optimal assessment of your business processes. With us at your side, you are perfectly prepared for any emergency.
Do you have questions about business continuity management? Contact us!
FAQs: ISO 22301 Revision
Our experts answered frequently asked questions about the new ISO 22301.
Build trust among stakeholders with ISO 22301 – BCM
By certifying your business continuity management system as per ISO 22301 you align your business processes with your operational risk management process. That provides a comprehensive assessment of risk at all business levels and also ensures that managers are more involved in their company's emergency management. The certificate improves the stability of your business processes and provides precisely defined processes as a basis for a structured approach to incidents. It also reduces outage and recovery times for applications.
A certified business continuity management supports you in meeting internal and international standards requirements as well as the requirements your stakeholders place on you. Transparent procedures improve trust among interested parties and the public, and they increase your advantage over your competitors.
ISO 22301 certification helps you identify potential savings on insurance policies and service providers.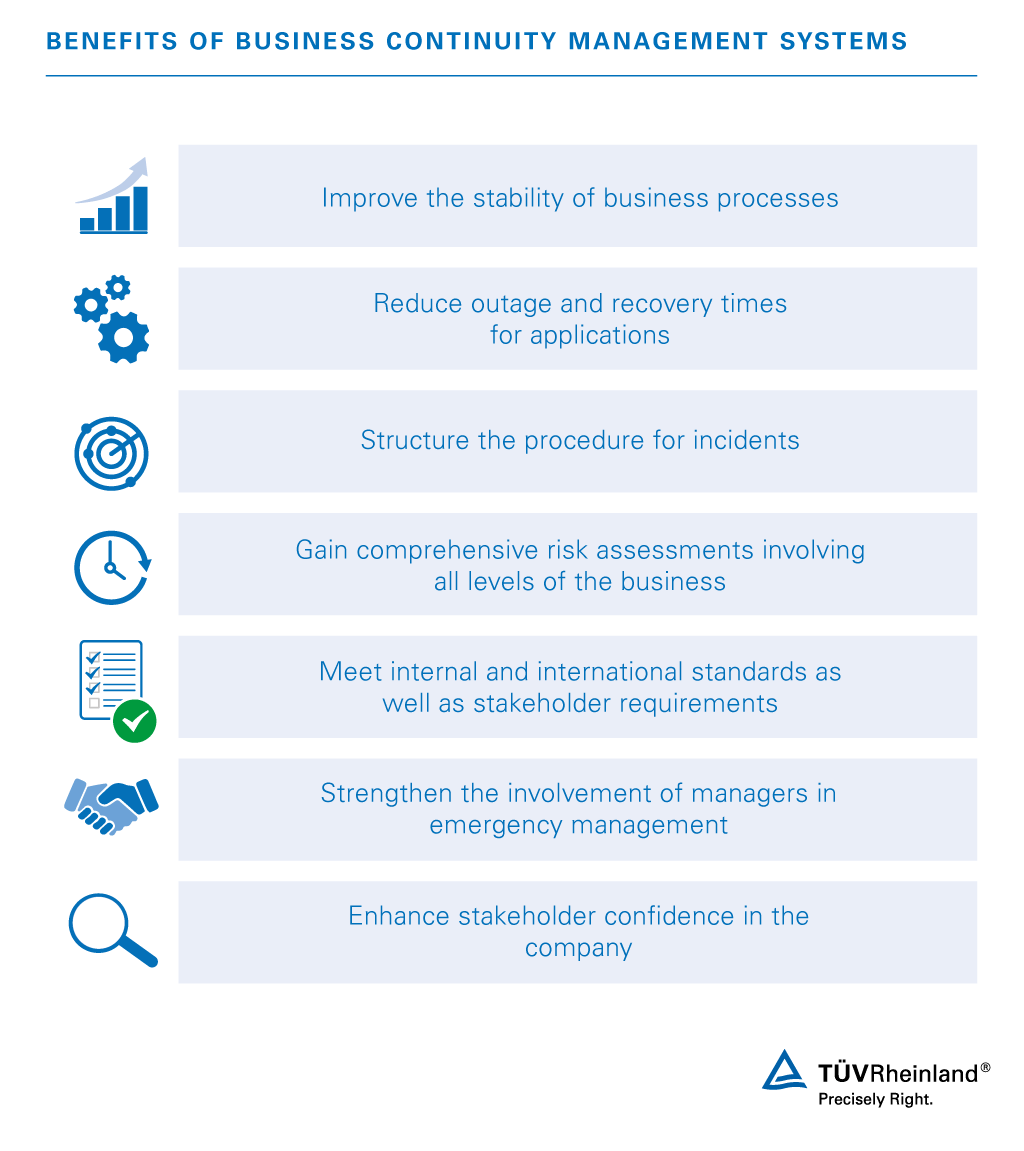 Step by step to your business continuity management certification
Document review of ISO 22301 requirements for BCM
Optional on-site preliminary audit
Creation of an audit plan and scheduling
Performance of the certification audit
Certificate issue and addition to "Certipedia", our online certificate database
Annual surveillance audits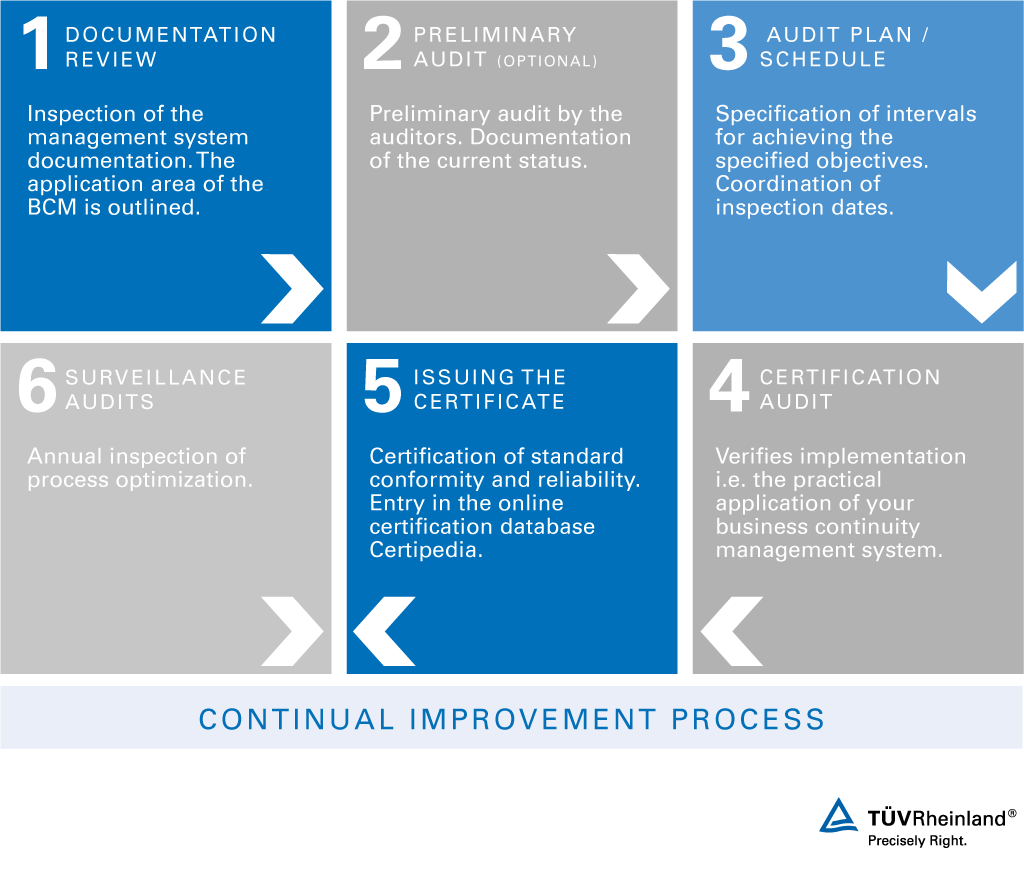 ISO 22301 certification with knowledge and experience
Our experts assist you with their extensive experience in the field of certification. As a neutral provider of testing we are the right partner by your side when it comes to checking your crisis and emergency management system. In the context of certification, we examine your current situation and help you optimize your business continuity management. Rely on our extensive know-how and use our services to secure a considerable advantage over your competitors.
Would you like to know more about certification as per ISO 22301? Contact us!
Our experts have summarized the detailed certification process and other important information in our FAQs.
Our Sustainability Initiatives
Nothing less than the future is at stake. Companies, institutions, public authorities and each and every one of us can play a positive role in shaping the path to tomorrow. We provide you with comprehensive support to ensure that you operate safely, sustainably and efficiently for many years to come.
This might also interest you
Last Visited Service Pages