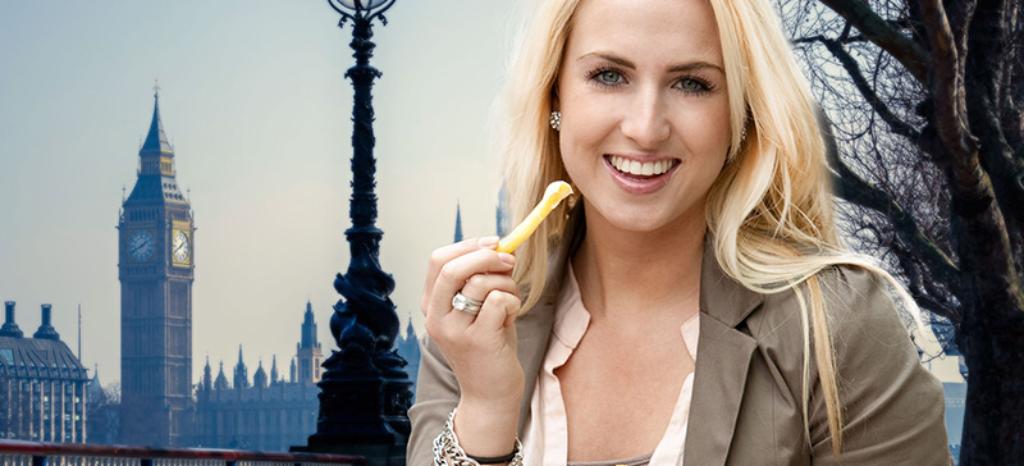 Your gateway to new markets: our BRC Global Standard for food safety certification
English-speaking markets frequently require the BRC Global Standard food certification, which has been recognized by the Global Food Safety Initiative (GFSI). Are you looking to increase food safety in an effort to develop new markets?
We inspect and certify your food safety standards in accordance with the BRC Global Standard. Regardless of whether you manufacture primary commodities—as a slaughterhouse, for example—or processed foods such as canned or convenience goods: any food-processing business can be certified under the BRC Standard. One prerequisite for successful certification is the concept of Hazard Analysis and Critical Control Points ( HACCP ), which implements a hazard analysis and CCP but also documents quality management and establishes a chain of evidence for sanitary conditions.
As your one-stop partner, we offer comprehensive services to strengthen your overall food safety and open the door to new markets. In addition to the BRC Global Standard certification and HACCP, we enable packaging manufacturers to certify their products under the BRC Global Standard Packaging.
If you plan to expand into new markets with a BRC Global Standard food safety certification, now is the time to contact us!
Customer confidence and market expansion: food safety compliance with the BRC Global Standard
Our BRC Global Standard-accredited certification demonstrates your commitment to the highest food safety standards, inspiring your customers and business partners with confidence and trust in your products. This provides a crucial competitive advantage. The ability to meet your trading partners' clearly defined requirements will open up new international markets.
Implementing safety requirements also raises your productivity, as it enables you to recognize potential hazards before they cause any disruptions. This is a good way to minimize the risk of warranty claims.
Your requirements for BRC-rated food safety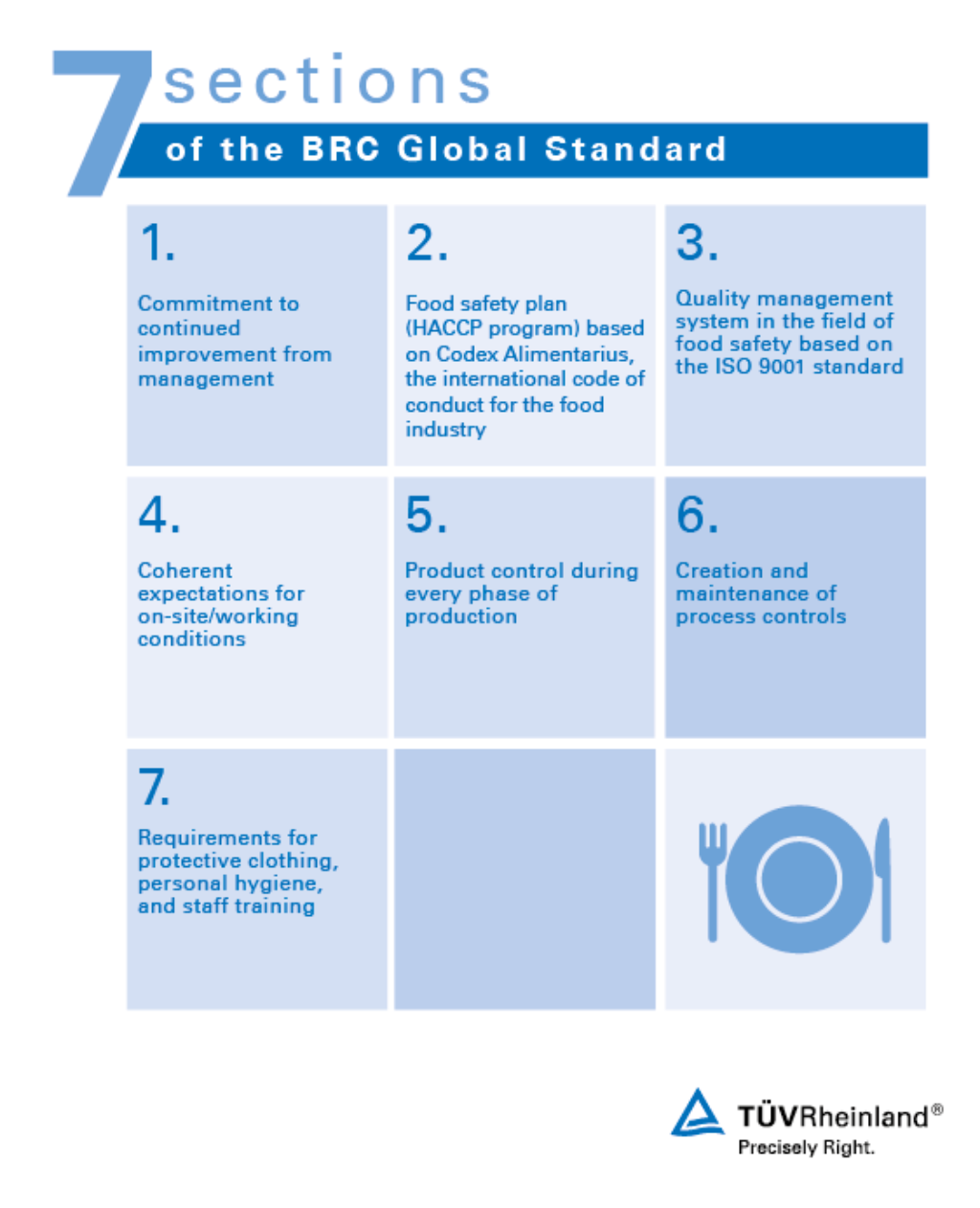 The BRC Global Standard imposes clearly defined requirements on food safety. It is recognized by the Global Food Safety Initiative (GFSI) and widespread across English-speaking Europe as well as in large parts of Asia and the United States.
Any food-processing or packaging business can obtain a BRC Global Standard certification once they have met the following requirements:
Labor operations satisfy the Hazard Analysis and Critical Control Points ( HACCP ) standard
An effective quality management system has been established and documented
Regular in-house inspections are conducted on products, processes, and personnel
How to obtain a BRC Global Standard certification
We inspect and certify your food safety according to the predefined requirements of the BRC Global Standard. After your successful certification, you may also take advantage of our Certipedia database of certificates and begin reaping the benefits of our test mark. Our experts will follow this sequence of events:
Pre-audit (optional)
Certification audit
Issuance of certification
Full annual audits and re-certification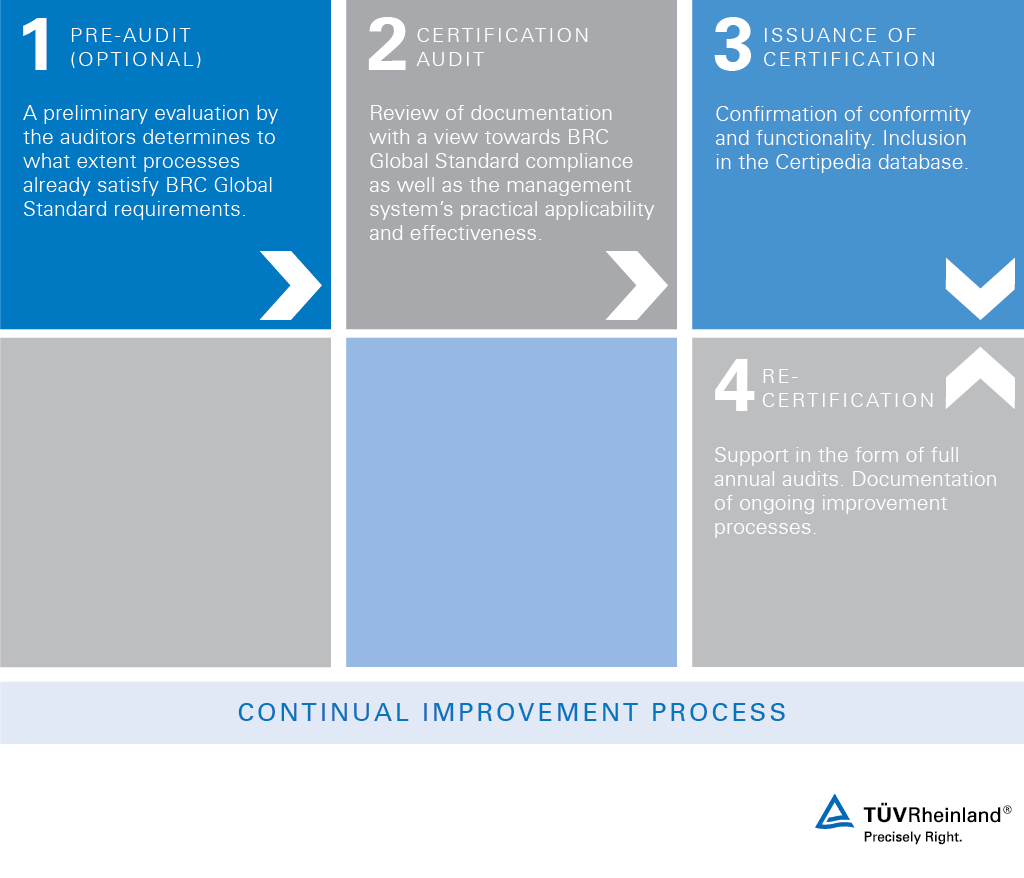 Your experienced partner for BRC Global Standard certifications
Our specialists offer you one-stop comprehensive services for an impartial and transparent inspection of your food safety under the BRC Global Standard. Let us support you in the fulfillment of international requirements and, by extension, the development of new markets. Our recognized certification allows you to demonstrate your high quality standards to your clients and business partners. Obtained certificates are viewable on Certipedia and updated daily. And for manufacturers of packaging solutions, we provide certifications under the BRC Global Standard Packaging.
Are you interested in certifying your food safety standards? Contact our experts!
We have answers to your frequently asked questions about BRC Gobal Standard certifications
Last Visited Service Pages