Your Road to Success with our Comprehensive Portfolio of Global Testing and Auditing Services
Medical devices are used for many different purposes, ranging from the treatment of small wounds to life-saving applications. On the international and national level, a complex system of rules and regulations has been established to ensure the safety of the devices. Country-specific regulations can be difficult for manufacturers to monitor and feel confident about the conformity of their product for a target market.
As a testing and certification organization with a high level of expertise in the field of medical devices, we offer a wide range of services to ensure the compliance of your products for the global market. These services include:
International approvals specifically tailored to the requirements of the markets in Asia, Australia, Europe, Canada, Russia, USA and the South America region.
Approvals for Europe according to the new Medical Devices Regulation 2017/745 (MDR) and the European Regulation on In Vitro Diagnostic Medical Devices 2017/746 (IVDR)
Our experts have extensive experience with the requirements of the applicable standards, ordinances and regulations and support you with gaining access to your target markets. Our experts, auditors and test laboratories are there for you – locally around the world.
Learn more about our medical device services.
Our Global Locations for Services Related to Medical Devices
TÜV Rheinland operates worldwide with its own laboratories, experts and auditors located in close proximity to customers and their businesses. The map identifies countries where our medical experts sit locally, and extended regions supported by Market Access Services for your medical devices.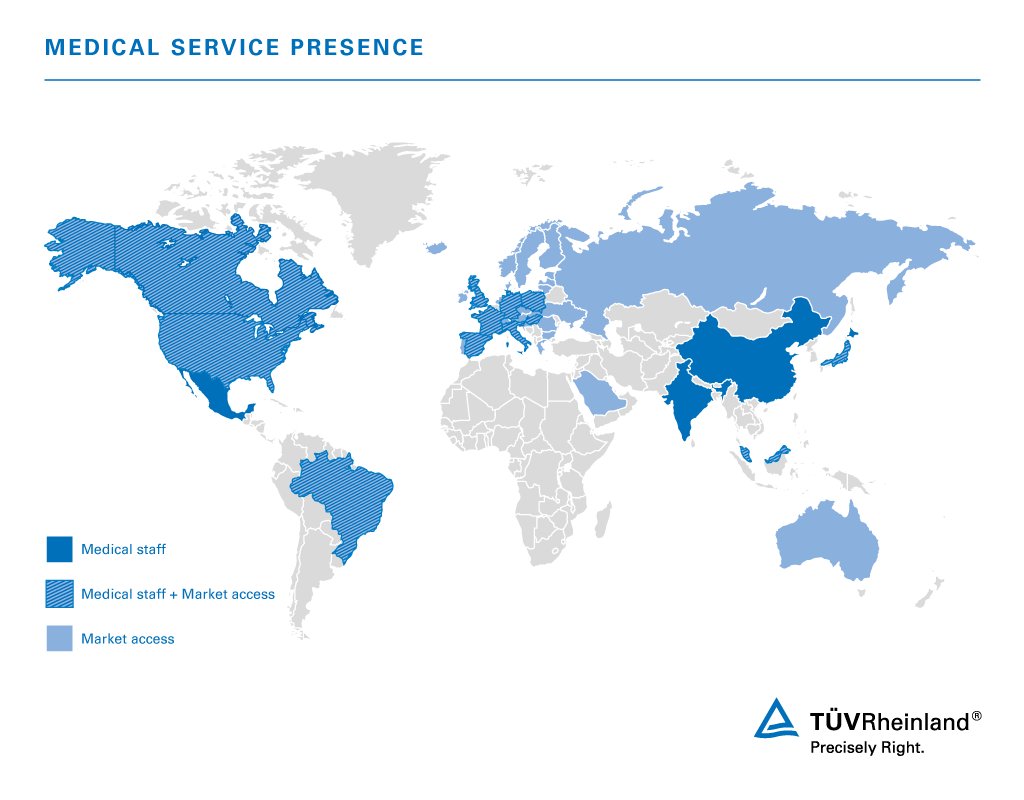 New European Regulations Pose Challenges for Manufacturers
One of the biggest challenges currently faced by manufacturers and/or distributors of medical devices are the new Medical Devices Regulation (MDR) and the new In Vitro Diagnostics Regulation (IVDR). They replace the previous directives MDD (93/42/EEC), AIMD (90/385/EEC) and IVDD (98/79/EC).
In Europe, the new MDR and IVDR are creating uncertainty with regard to the certification of medical devices, particularly due to the short timeframe. Manufacturers are faced with the challenge of having to verify the validity of all their existing declarations of conformity and now additionally need to carry out certifications for products that previously did not fall in the scope of the medical device directives.
You want to learn more about the transition?
Transition to the new regulation for medical devices and in vitro diagnostic medical devices.