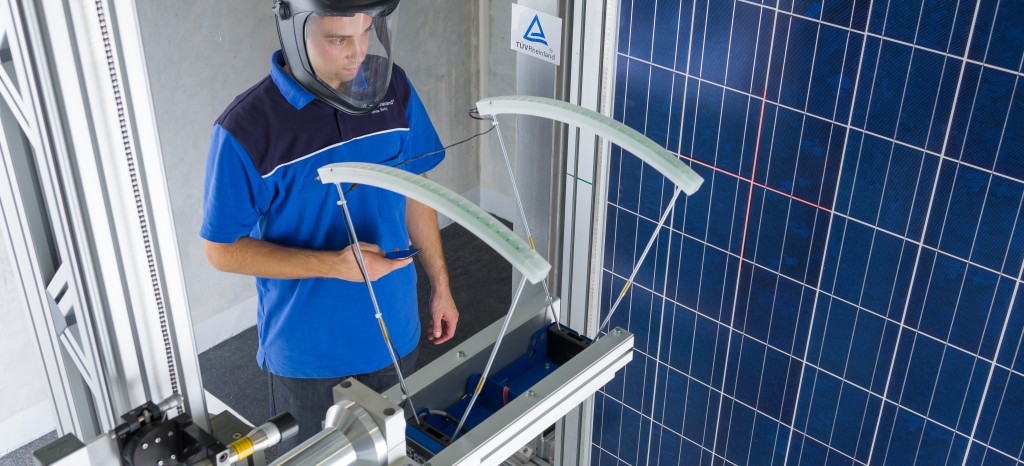 At the Heart of Any PV (Photovoltaic) Solution
Glass is a major component for photovoltaic (PV) cells, thermal solar devices and concentrated solar beam systems. The better the quality the more efficient the PV cells perform – and ultimately – the more satisfied your customers are with their solar energy solution and application.
TÜV Rheinland is an innovator in glass component testing and certification for the end use of solar panels. We focus on glass, because innovations in the PV industry aren't just about ensuring greater efficiency but also about enabling solutions for extended size of PV surfaces. And – in turn – greater potential to generate more electricity from the sun through glass-integrated solutions. We test and certify the stability and performance for each batch of glass and subsequently issue a Certipedia registration. A Certipedia registration provides buyers of your glass components immediate and reliable information re. the compliance according the required product standards – and thus grants you a lead against the competition.
Through our track-record, experience, expert teams and global network TÜV Rheinland offers you advanced testing and certification capabilities for any glass-related of solar application. With our Certipedia program, you can prove to your clients that the products that you manufacture and seal are in conformity with the promised performance and durability requirements. This is a core argument and USP in terms of final product quality or in sub-assembly products to be integrated in complete building or construction aggregates.
Benefits at a Glance
TÜV Rheinland, your partner in testing, certifying and inspecting photovoltaic and solar products:
Gain a clear lead against the competition with reliable and certified information regarding the quality and performance of your glass products and components for solar applications.
Benefit from our up-to-date market knowledge and insight, which allows us to implement new testing and certification schemes in the innovative PV market.
Rely on our impartial advice and communication regarding the applicable testing definitions well in advance before the concrete test cycle starts.
Benefit from expert advice and recommendations, which are based on our long-standing experience in closely working together with our customers in supply chain-based approaches.
Our Range of Services for Solar Glass and Photovoltaic (PV) Testing
Evaluation of light transmittance and reflection in compliance with the standard ISO 9050
Light-scattering pattern and intensity mapping
Durability tests of AR coatings (antireflective or anti-reflection coatings)
Mechanical testing of glass
Environmental testing of glass (corrosion)
Further Related Services
Alongside routine checks and testing of glass, we also provide services in the areas of:
Evaluation of new designs and / or prototypes
Glass testing for construction work and automotive glass
HACCP certification (Hazard Analysis and Critical Control Points: glass-free production facilities in the food and beverages industry)
www.certipedia.com as proof for your CE mark and your quality control system
Direct contact with glass testing and certification experts
Esto también podría interesarle
Últimas páginas de servicio visitadas