Protect and maintain your tanks with our comprehensive SLOFEC inspection services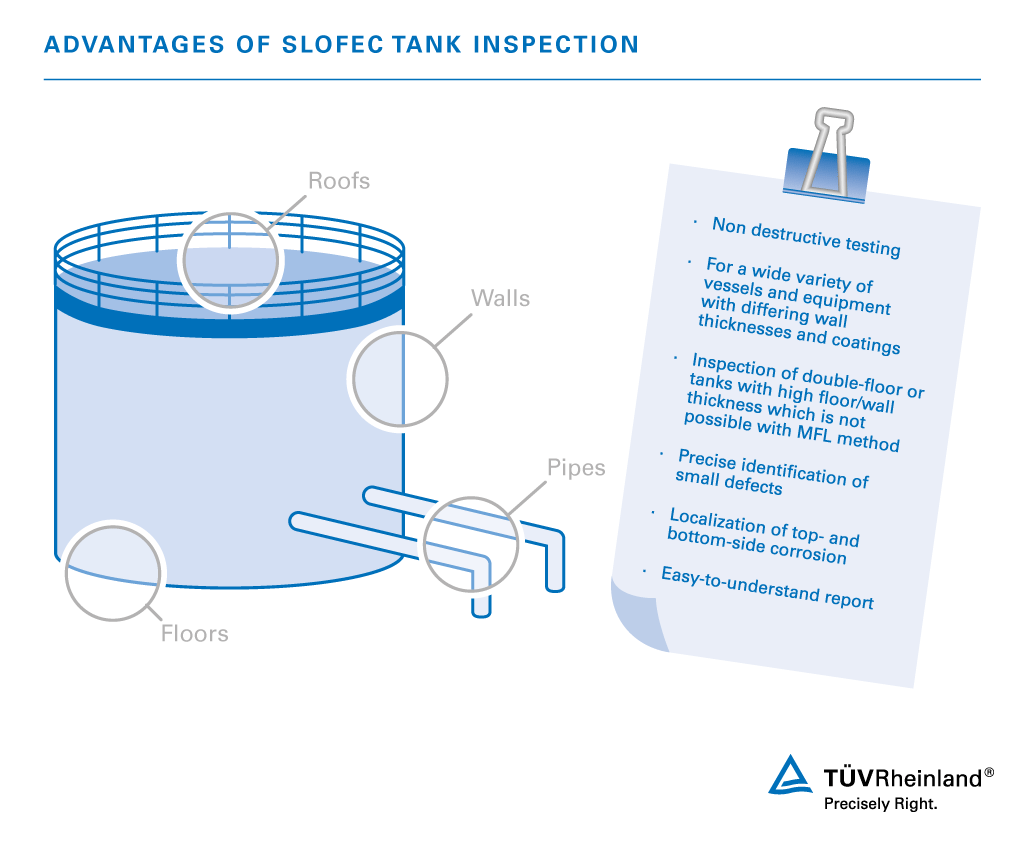 Plant owners and operators must be certain that dangerous defects and damaging corrosion in tanks are detected and monitored to facilitate maintenance strategies and meet safety standards. Non-destructive SLOFEC inspection services are part of a reliable maintenance program for tanks to prevent and control corrosion damage that could potentially halt production or pollute the environment.
The trademark acronym for "saturated low frequency eddy current", SLOFEC, provides a reliable non-destructive testing method for the inspection of tank floors, roofs, walls, boiler tubes and pipes. It is one of the most reliable ways to detect small cracks, pitting and general corrosion on both flat and curved surfaces. The SLOFEC method can precisely locate and display mapping results via the SLOFEC C-scan reporting software in an easy-to-understand color format.
Licensed according to a cooperation agreement with eddy-current specialists KontrollTechnik GmbH, we have completed specific training to conduct state-of-the-art SLOFEC tank inspection services. We have amassed years of extensive experience in conventional and advanced non-destructive testing methods to help you quickly identify corrosion in your tanks and assist you in developing solid solutions tailored to your particular needs.
Develop your strategy to combat corrosion with our experts today!
Reliable inspection and corrosion monitoring with cutting-edge SLOFEC technology
Our SLOFEC non-destructive tank inspection services provide you vital data needed to determine the actual condition of your critical equipment enabling you to monitor and control any production or safety issues that may arise. Our expert inspectors conduct SLOFEC inspection to reliably detect and watch damaging corrosion in thick-walled storage tanks. Our specialists can precisely identify small defects and local top- and bottom-side corrosion.
Combining the eddy-current principle and a magnetic field, SLOFEC inspection increases the testable depth of wall thickness. Because the SLOFEC method allows for the adaptation of eddy-current frequency to each tested material, our experts are able to inspect a wide variety of vessels and equipment with differing wall thicknesses and coatings.
As a licensed SLOFEC service provider, we can provide you comprehensive advance NDT services from a single source. Take advantage of our one-stop-shop from a streamlined approach to your inspection and maintenance strategies.
Our SLOFEC non-destructive tank inspection and exclusive C-scan reporting
Having proven its reputation in the field of advanced NDT as a reliable, high-speed local corrosion detection method for storage tanks, SLOFEC has become a valued technique within the oil and gas industry. The SLOFEC method can be used to inspect both ferromagnetic and non-ferromagnetic materials and is one of the leading technologies being used to inspect diverse vessels such as thick-walled tanks, boiler tubes and pipes. The big advantage of SLOFEC technique is its application for inspection of double-floor tanks or tanks with high floor/wall thickness, which is otherwise not possible with MFL method.
Our SLOFEC inspection is conducted with pipe scanners and flat scanners to allow for the examination of both internal and external tank surfaces. These scanners are able to inspect a wide range of thick-walled and/or coated storage tanks, floors, walls or roofs. The modular design allows SLOFEC scanning equipment to quickly adapt to any surface undergoing inspection. During inspection, the scanning device is manually moved over the surface. Signal data is directly recorded and entered into the exclusive SLOFEC C-scan reporting software system to display defects and areas of corrosion for easy online analysis.
Inspection results are color coded to give you a clear and easy-to-understand mapping of defects and corrosion. In addition, the color system provides detailed information on equipment condition and the severity of each instance found, in order that our experts can advise you on appropriate corrective actions and targeted maintenance strategies suitable to your individual needs.
Our SLOFEC inspection services can be applied to the following:
Pipe inspection
Boiler tube testing
Tank roof, wall and floor corrosion mapping
Spheres and cisterns
Thick-walled tanks up to 22 mm
Top-side and bottom-side corrosion
Steel, carbon and non-ferromagnetic materials
Corrosion detection in walls and coatings
Your licensed SLOFEC inspection services provider
Our experts have many years of experience in the field on advanced NDT methods and have served customers in every corner of the world. One of the best-resourced in the world, our inspection team is internationally recognized as a leading NDT service provider. Our commitment to these techniques is demonstrated in our continuous involvement in developing equipment and inspection solutions as well as providing accredited training courses. We work to provide you comprehensive, state-of-the-art services such as SLOFEC tank inspection to ensure the safety, functionality and profitability of your company assets.
Call us to learn more about our SLOFEC services!
This might also interest you
Last Visited Service Pages