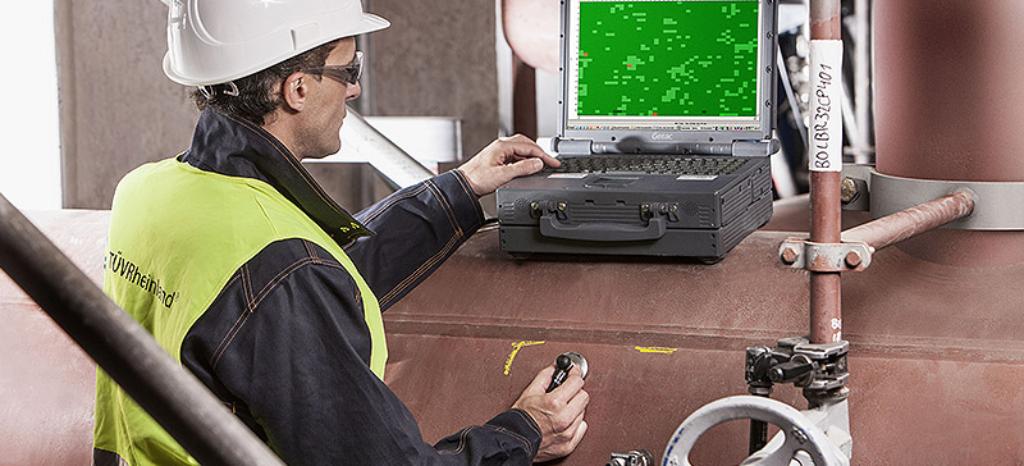 Protect your assets with our SeeScan® corrosion mapping solution
Effective corrosion maintenance strategies can positively impact the safe and profitable operational performance of your industrial equipment and ultimately prevent an unexpected and costly shutdown of your entire plant. It is therefore critical to be able to identify signs of aggressive corrosion early, in order to develop tailored and targeted strategies.
Our SeeScan® corrosion mapping solution assists you in developing maintenance strategies based on the actual condition of your assets. Easily integrated with an existing structured maintenance program, SeeScan® can provide information you need to precisely calculate the remaining lifetime of your industrial plant. Providing visual results in an easy-to-understand topographical color map and comprehensive reporting on affected areas, SeeScan® helps you to avoid unplanned shutdowns. Highly trained in ultrasonic corrosion detection, our specialists are on hand to conduct corrosion mapping services anywhere in the world.
Our qualified inspectors have extensive experience in providing non-destructive testing services for diverse global customers. We implement state-of-the-art technology to fulfill your individual inspection requirements. Our specialized SeeScan® corrosion mapping solution enhances inspection quality, simplifies processes, speeds up inspection and presents clear results.
Make an appointment and let SeeScan® corrosion mapping work for you!
Functional and profitable with accurate corrosion mapping services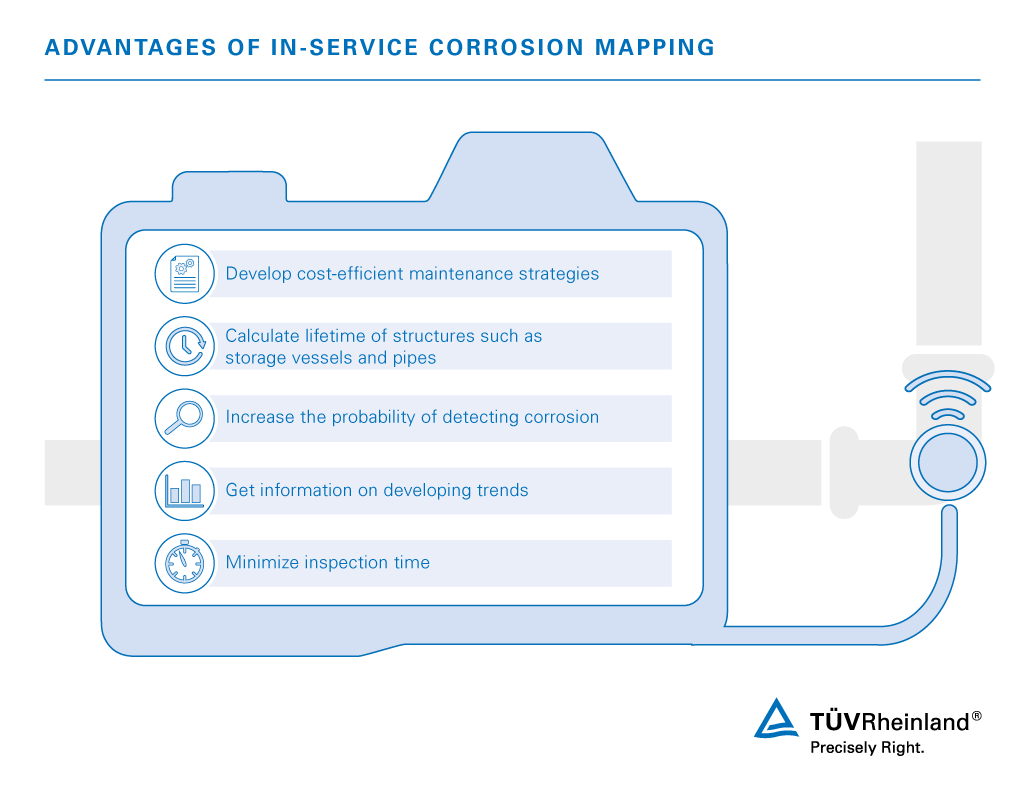 SeeScan® corrosion mapping can accurately monitor progressive damage so that you can develop effective and cost-efficient maintenance strategies. With SeeScan® you can conduct online measurements at high temperatures to improve the probability of detecting corrosion and precisely pinpoint developing trends. Mapping many different as well as complex geometries, SeeScan® provides visual data about a defined test area. This way it presents thickness measurement results in an easy-to-understand topographical color map.
SeeScan® corrosion mapping services reduce costs and minimize inspection times to support you in maintaining the operational functionality and profitability of your assets and investments.
Corrosion mapping with our SeeScan® inspection approach
Combining conventional ultrasonic testing procedures with miniature video camera technology, SeeScan® provides a simple yet highly effective method of collecting and displaying ultrasonic data during corrosion inspection.
Using a small video camera, SeeScan® records data via a tiny infrared LED light mounted on top of a transducer. The infrared light generates a bright spot, which is assigned a coordinate on the X-Y pixel matrix of the video image. The system simultaneously tracks a synchronized ultrasonic signal and converts the measured thickness or amplitude to a correlating color. The combined information is then displayed on the monitor in real time as a composite color image to provide you clear and accurate data in an easy-to-read format.
SeeScan® evaluates the condition of:
Lines and piping
Vessels that cannot be opened due to economic or operational reasons
Systems prone to hydrogen damage
Complex structures such as valves, tee pieces and dome ends
SeeScan® enables you to conduct non-invasive, in-service inspection at temperatures ranging from -25° C to over 300° C.
Your trusted partner with a proven track record
As part of the TÜV Rheinland Group, TÜV Rheinland Sonovation is a recognized global leader in advanced non-destructive (NDT) services.
Providing quality solutions to the industry, TÜV Rheinland Sonovation operates a competence center for advanced NDT headquartered in the Netherlands. In addition to offering expert services around the world, TÜV Rheinland Sonovation invests heavily in R&D and runs an accredited training facility for advanced NDT. We take pride in our track record and are committed to providing you safe, reliable, effective and profitable customized solutions.
Call today to learn how you can benefit with our SeeScan® solution!
This might also interest you
Last Visited Service Pages