Comply with legal regulations by having your emissions measured by our experts
One of the main aims of environmental protection is to suppress harmful emissions or reduce them as much as possible. Typical examples of emissions include gaseous and particulate pollutants emitted by furnaces, odor emissions and particulate emissions from waste tips. Help protect the climate and ask us to measure the emissions created by your facilities.
Our experts will test your facility – from large-scale firing plants to biogas plants, from waste incinerators to crematoria – according to national and international standards. We can also help you reduce noise pollution, measure exhaust gases and harmful emissions, and modernize your facilities.
With their extensive experience, our experts can analyze your processes and identify potential improvements. As a measurement body registered throughout Germany and internationally accredited according to ISO 17025 we are authorized to perform the legally required measurements for you.
Your facilities need testing? Ask us about our emission testing.
Do your part for the environment by testing your emissions
Our emission testing actively contributes to environmental protection. By testing your facilities, you can reduce air, ground and water pollution, protect persons from pollution, and help improve the environment.
Operators of facilities that require permits are obliged to examine the type and extent of emissions emitted by their facilities. Our measurement and testing services will enable you to comply with the legal regulations. Emission testing also enables the smooth and efficient operation of your facilities.
Have your facilities tested in line with national and international standards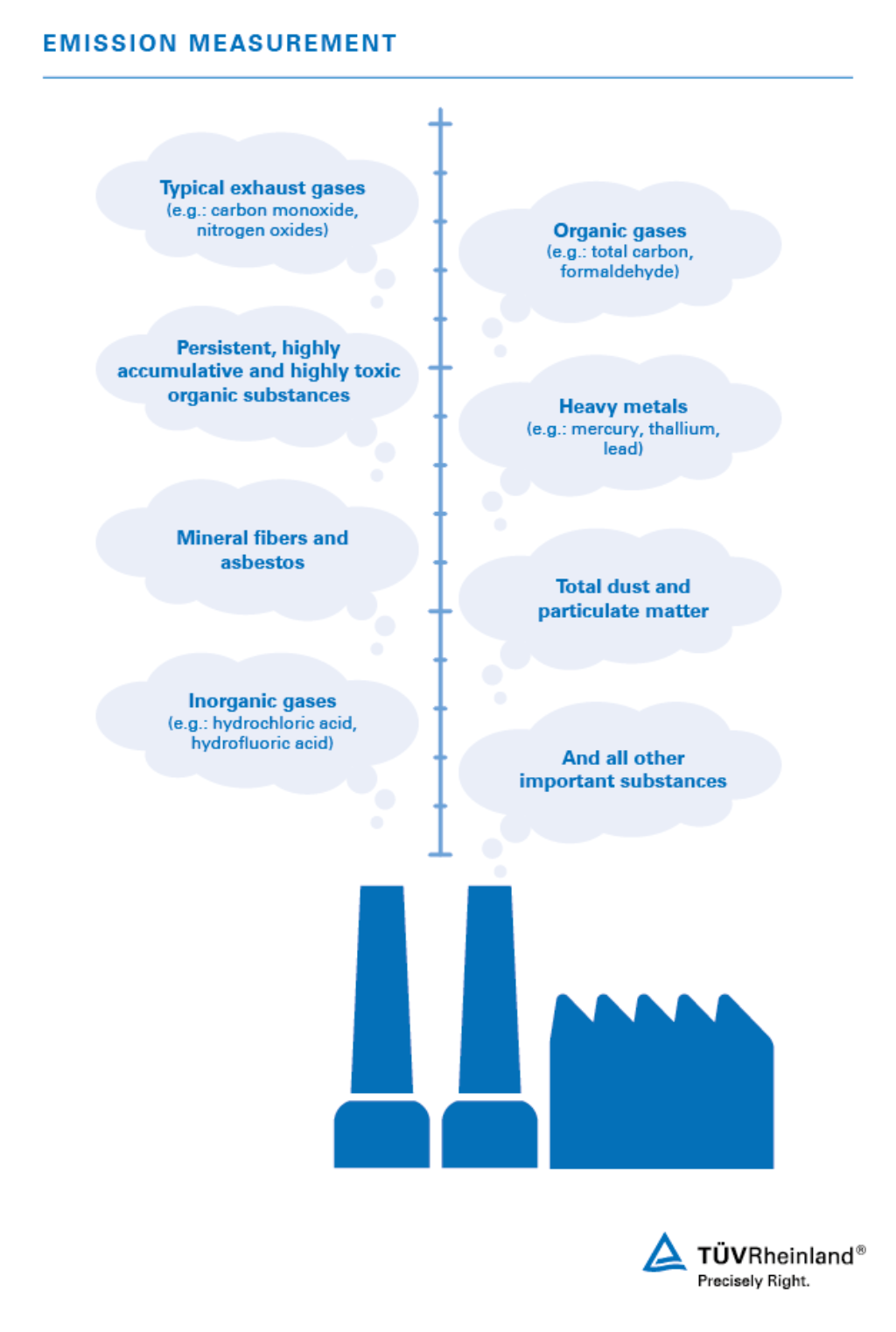 Our experienced inspectors will visit your premises, conduct their measurements on site, analyze the results at our lab, and create a report that you can submit to the authorities.
Our range of services include:
Emissions testing for facilities requiring approval
Functional tests and calibration – AST and QAL2 as per DIN EN 14181 or VDI3950 – of automatic measuring equipment for continuous exhaust monitoring
Identifying the correct installation site for continuous sampling, comparative measurements and the creation of installation certificates
Creating concepts for measuring and monitoring thermal processes such as combustion chambers, crude gas or clean gas
Measuring and consulting for thermal processes and for process technology including exhaust measurement and waste air treatment
Testing and parametrizing systems for data entry, data analysis and data transfer to the authorities as part of remote emission monitoring (emission analysis computer)
Identifying installation and measuring points for comparative measurements as per DIN EN 15259 (VDI 4200)
Concepts for monitoring exhaust and process parameters
In-house measurements, for example for facility improvements
Evaluating, measuring and consulting for process technology in waste air treatment, and information on the state of the art
Measuring and monitoring of material flows and all types of trace elements; surveys for approval testing; drawing up thermal and material balances; and warranty services
Measuring and forecasting odors and odorant spread, and advice about measures for mitigation
Take advantage of our experience in the field of emissions testing
We are an authorized measuring body in Germany as per § 29b BImSchG, and are also accredited as a testing institute as per DIN EN ISO/IEC 17025:2005. We can therefore perform the legally mandated emission testing for your facilities. Our experts will choose the right procedure for every measurement and agree the measurement plan with you. We conduct emission measurements throughout Germany for a variety of components and numerous customers.
Rely on our extensive experience and ask us to conduct your in-house measurements.
Contact one of our experts for more information.
Information about emissions testing
Our Sustainability Initiatives
Nothing less than the future is at stake. Companies, institutions, public authorities and each and every one of us can play a positive role in shaping the path to tomorrow. We provide you with comprehensive support to ensure that you operate safely, sustainably and efficiently for many years to come.
This might also interest you
Last Visited Service Pages