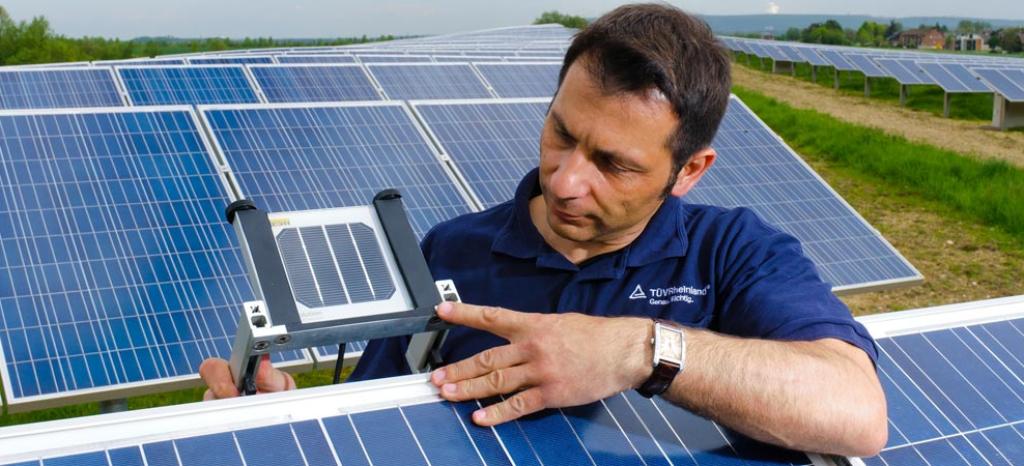 Verify the operational efficiency and quality of your PV power plant with our performance ratio assessment
A photovoltaic (PV) or solar power plant operating as expected is a plant that operates effectively and in accordance with its financial goals. For you as an owner, investor, lender or developer our performance ratio assessment can be used to achieve this goal.
We provide an independent and accurate appraisal of your new or running PV power plant or some of the components, such as PV modules, inverters and transformers. Based on the best recognized practices our assessments verify the overall quality and efficiency of your PV power plant. At any point in the plant life cycle we can provide you and other project stakeholders with first-hand performance information and a realistic picture of the implemented system.
Our internationally recognized name, expertise in the solar industry and compliance with all relevant standards and best practices reflects in a global network of solar experts to support any PV project, anytime and anywhere.
Speak to our experts and find out more about our PV performance ratio assessment. Contact us!
Confidence in your financial investment through our performance ratio assessment services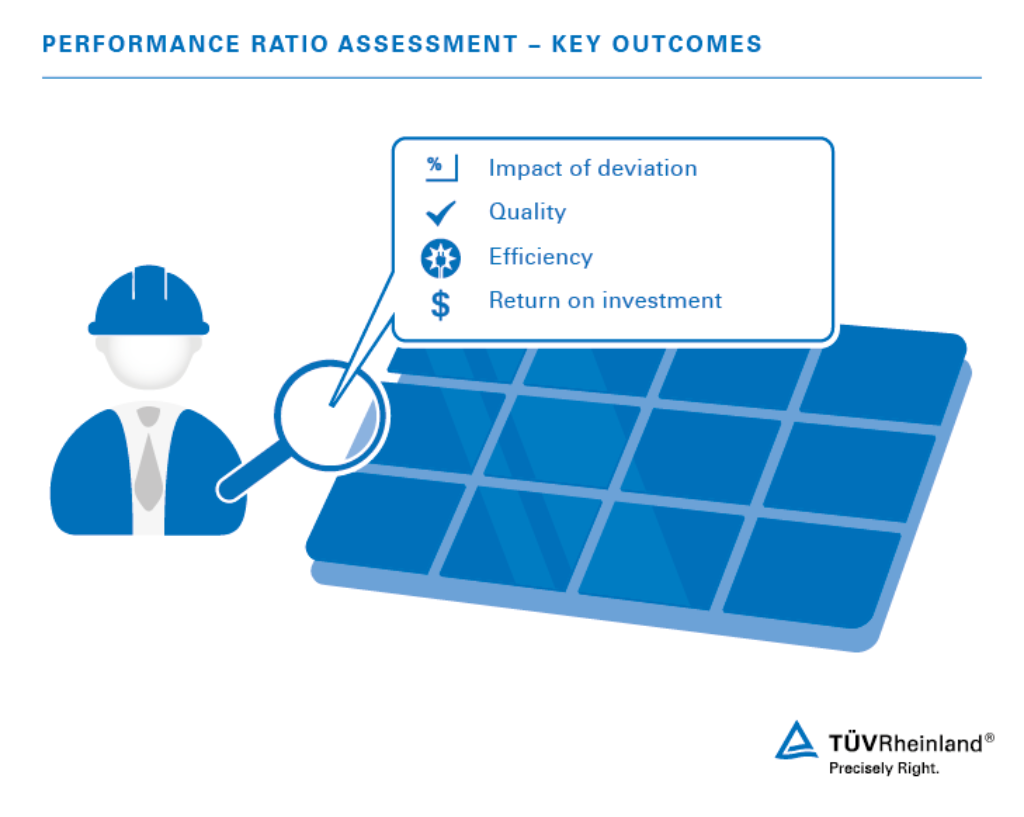 The performance ratio equipment used by our experts has been developed in-house and provides a reliable, accurate and flexible third-party solution for all types of PV power plants and technologies. Besides being an autonomous and inter-connected system, PR measurement units can be easily installed anywhere in the PV power plant.
Our state of the art performance ratio services provide you with an effective performance assessment, which results in highly reliable data. That way, you can gain valuable information about whether there are deviations from the contractually agreed energy generation as well as their impact on your PV power plant.
In-turn, this provides all parties and stakeholders with clarity about the efficiency and health of the plant and reduces financial uncertainty. Stakeholders can gain accurate and independent information for an evaluation of the return on investment. Consequently, all parties are subsequently able to move the project forward with confidence.
Cost effective and accurate independent PV performance assessments
Our performance ratio assessment involves three steps: the setting up of the measurement equipment, followed by a data acquisition phase and then a data analysis step.

Our setup of the equipment involves:
On-site use of our in-house developed and accurately calibrated measurement equipment
Installation of a self-powered autonomous system
Positioning of inter-connected measurement units

Our properly setup system is able to provide:
Solid and simple data acquisition
Highly reliable data from both long and short-term measurements
Measurements made in accordance with applicable national and international standards
Data for all types of PV power plants and technologies

Our carefully obtained data then undergoes:
Detailed analysis by our experts in order to obtain any differences between the actual and contractually specified energy output
Inspection to identify any specific deviations, which might result in poor plant performance
More information can be found about the best assessment practices laid down by an international group of experts, which we adhere to, in the IEA report "Analytical Monitoring of Grid connected Photovoltaic Systems".
Rely on a respected and independent assessor in the solar industry
In order to re-assure potential investors, lenders and other participants of the credibility of any PV project it is essential to bring a respected assessor into the equation. With our reputation for excellence we are that respected partner. We not only have a world-renowned standing, but a name that is built on extensive experience in the PV market as well as many related fields. Our worldwide network is able to support any project, anytime and anywhere. With our name on the assessment all participants can have greater confidence in the project.
Learn how our performance ratio assessment can help you evaluate the current operational and financial performance of your system. Call us today!
Our Sustainability Initiatives
Nothing less than the future is at stake. Companies, institutions, public authorities and each and every one of us can play a positive role in shaping the path to tomorrow. We provide you with comprehensive support to ensure that you operate safely, sustainably and efficiently for many years to come.
This might also interest you
Last Visited Service Pages