Your experienced independent partner for testing and supply chain management services addressing the solar industry
Photovoltaic technology has undergone a tremendous transformation over the last few decades particularly in increased efficiency, lower system prices and PV technology adapted to various areas of application. New installation markets have emerged, while pressure to further reduce prices and improve the functionality of system components has intensified. The need to accurately predict and assess the performance, reliability and durability of entire PV power plants has become critical.
We provide up-to-date solutions to improve the safety, reliability and quality of individual Balance of System (BoS) components and of PV power plants. As an independent third party, we have the trust and respect of investors, owners and lenders.
With over 35 years of experience, we offer a global presence, industry expertise and a wide range of comprehensive services to address the challenges of the solar market. These services include testing and certification of PV modules and components, supply chain management, buyers' services and independent engineering for PV power plants, supporting the PV power plant value chain. We maintain a global network of laboratories in all major solar hubs.
Comprehensive services for the solar industry
As a world leader in testing services pertaining to photovoltaic products and systems, our experts are competent partners for all of your needs. Active worldwide, we provide services for every stage of the PV power plant value chain and PV supply chain, from single components to integrated solution offerings.
Our fully owned solar laboratories worldwide
With our comprehensive line of services we are an ideal partner for all matters concerning solar energy. Our experts offer customized, independent support worldwide and through all project phases. Take advantage of our global test laboratory network, in which we use the latest measurement methods and procedures to ensure compliance of PV products.
News and additional information
Read the latest news from the global solar energy sector. Whether press releases, market figures or articles, here you will find all necessary information about solar energy.
Webinars
Meet our Experts, TÜV Rheinland's free live webinars series, covers everything from Solar Modules, PV Power Plants, Power Electronics, Electrical Components, Machinery, Wireless.
They are packed with information about new standards, new technology, industry insights, and much more to empower you to get access to exclusive and unique insights into smart energy to smart industry.
Ask the Expert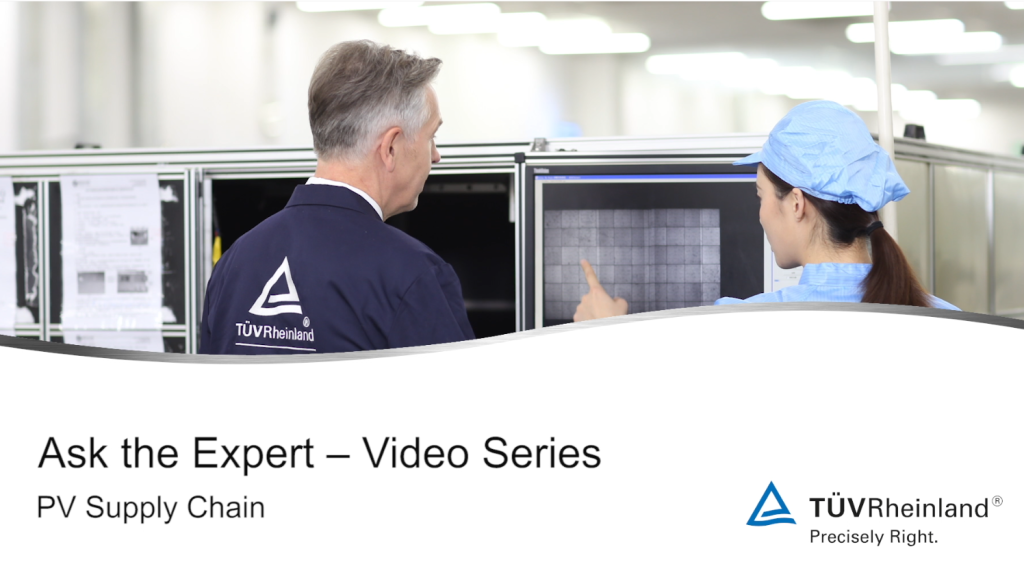 'Ask the Expert' is a video series that enables you to reach out to TÜV Rheinland experts to ask tough questions and turn them into bite-sized Q&As for your watching pleasure.
This way, you benefit from industry insights along with an experienced perspective. Our experts will present a variety of topics such as around safety, reliability and quality of PV modules and components, PV power plants as well as expertise on measuring and testing of new or innovative PV technologies with their applications.
Market Access and Comprehensive Services for Solar Industry
Our references
We offer a wide range of services from independent engineering for PV power plants to setting up research and development (R&D) facilities for photovoltaic modules. Read our reference cases here.