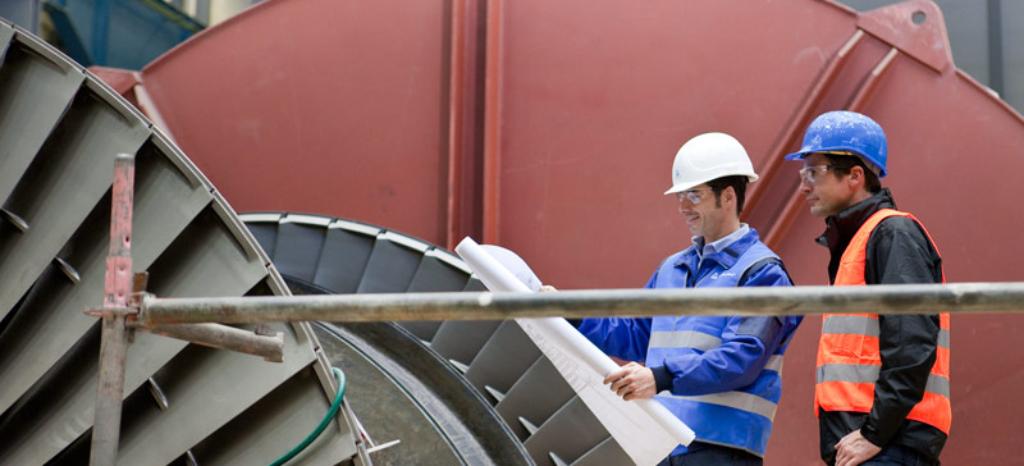 Conformity with the new Machinery Regulation EU 2023/1230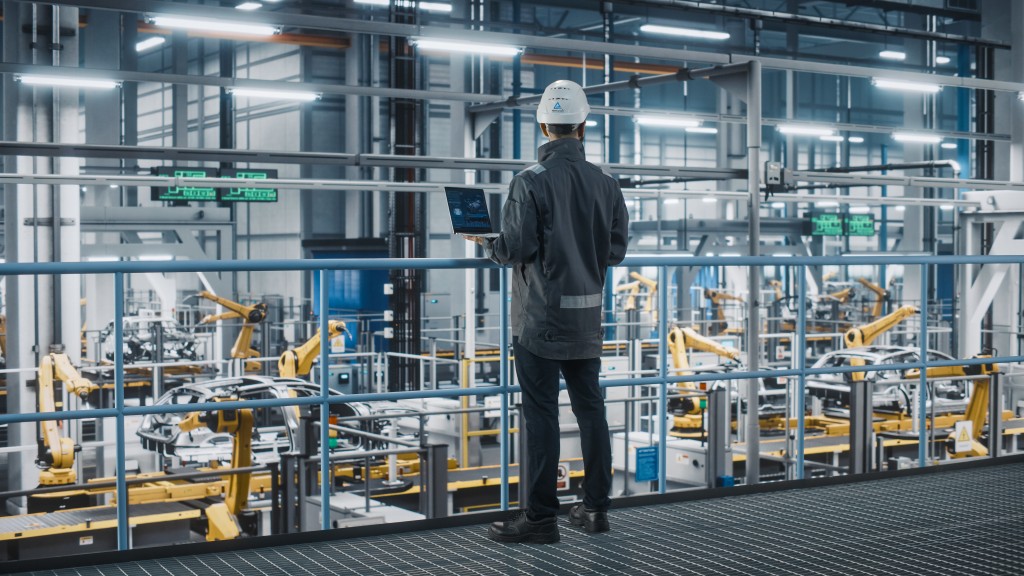 Since June 14, 2023, the new Machinery Regulation has been published and will replace the current Machinery Directive 2006/42/EC in Europe. The Machinery Regulation specifies a 42-month transition period and the change from Directive to Regulation will take place on the effective date of 20 January 2027. All machinery placed on the market or put into service before 20 January 2027 must be CE marked in accordance with the Machinery Directive 2006/42/EC.

From 20 January 2027 CE marking of machinery or assessment of partly completed machinery is only possible according to the Machinery Regulation EU 2023/1230. Take advantage of the transition period to adapt your machines and processes to Regulation EU 2023/1230. TÜV Rheinland will be happy to test your current machines in accordance with the essential health and safety requirements of Annex III. Or have Annex III of the Machinery Regulation tested as an option for new machine developments.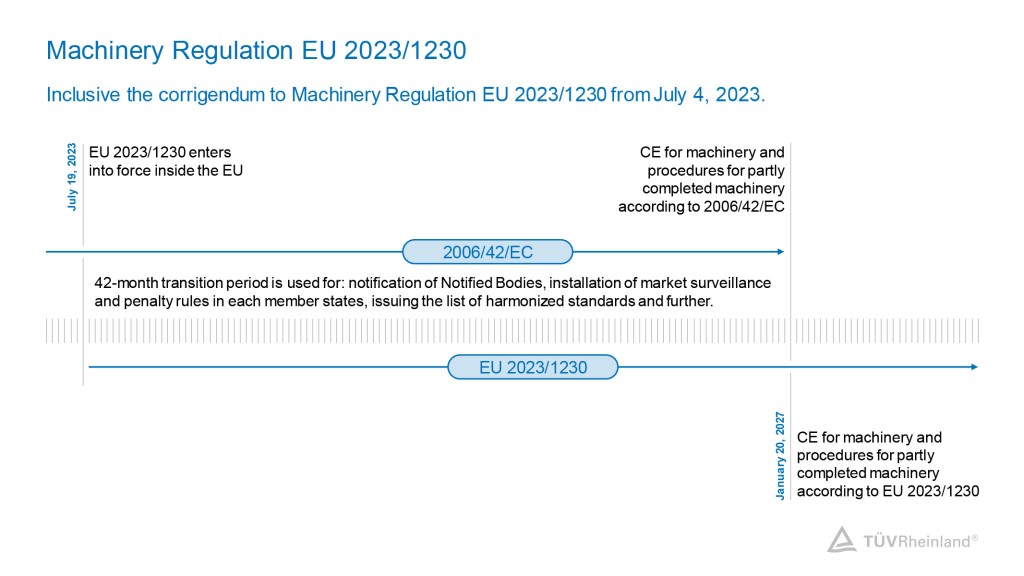 Optimize the operational safety and efficiency of your industrial machinery
Reliability and safety are the most important requirements for industrial machinery to ensure smooth manufacturing processes. With our comprehensive service portfolio for industrial machinery, you create the best conditions for the conformity and safe operation of your equipment in accordance with national and international regulations. As part of the machine assessment, risk potentials are identified early on and downtime rates are reduced. The internationally recognized reports and approvals provided by our independent experts enable you to demonstrate your commitment to a safe working environment and to high quality standards.
This firm commitment to safety, quality and sustainability gives you an enormous advantage over your competitors. Contact our experts to discuss your specific requirements.
Experience the benefits of an expert machinery inspection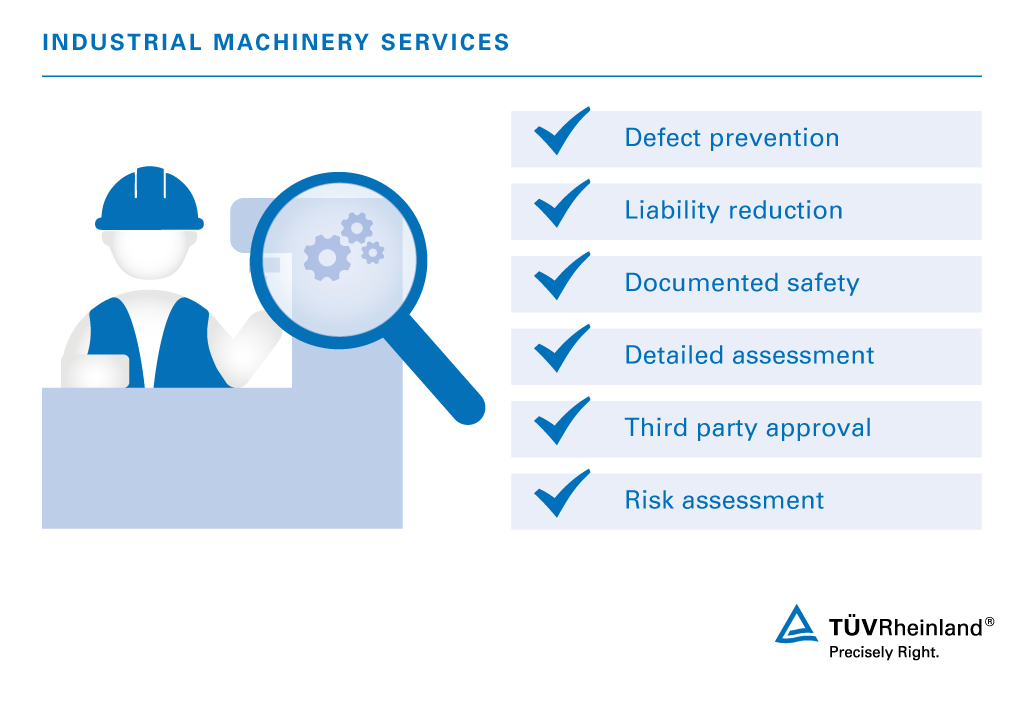 Benefit from the advantages of an independent certificate upon successfully completing the test. With a globally recognized certification, you document compliance with safety standards, reduce your liability risk, and offer your customers a valuable tool for decision-making when selecting a product.
By testing your industrial machinery, you can internally identify mistakes during development at an early stage and avoid risks, costs, and malfunctions.
We conduct our machinery assessment according to international norms and standards – from the EU Machinery Directive 2006/42/EC for the European Economic Area to the OSHA Directive 29 CFR 1910 for the USA. We keep track of the ever-changing safety regulations for new, operating, and modified machinery at the local and the global level and ensure the conformity of your machinery.
Conformity with the EU Machinery Directive 2006/42/EC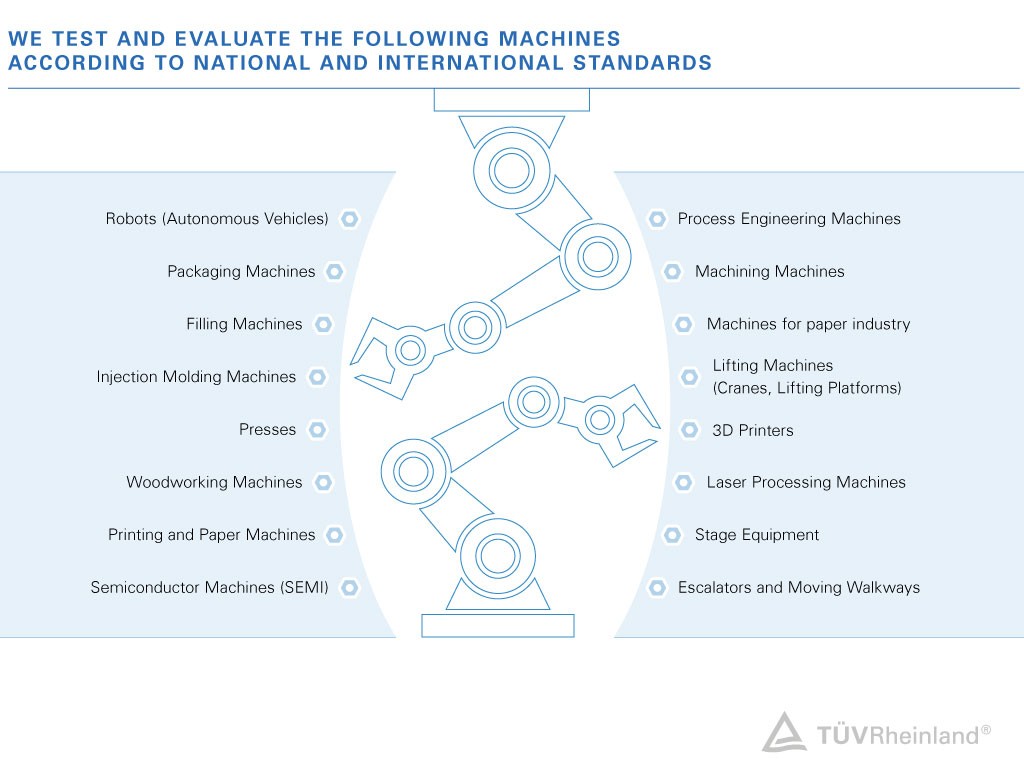 Our machinery assessments are based on EU directives and standards such as the following, and include:
EC type examinations for machinery according to Annex IV of the European Machinery Directive as a "Notified Body".
Conformity assessment for products within the scope of the Machinery Directive
Technical testing in accordance with the German Ordinance on Industrial Safety and Health, including the following details:
Quick check for safe operation including documentation review
Comprehensive analysis with consideration of all risk areas (explosion, cybersecurity, pressure, etc.)
State-of-the-art safety analysis as requested by the customer
Machines with an increased risk potential require special attention
The operation of machines with a considerable risk potential, such as interlinked systems and conveyor systems, necessitates increased safety requirements and thus an additional assessment:
Safety assessment of work equipment (in accordance with the German Ordinance on Industrial Safety and Health, international regulations, the requirements of statutory accident insurance companies and the requests of the operator)
Preparation of safety analyses on the current state of technology & assessment of machinery in compliance with the current state of technology
Coordination of the results with the client and collective determination of any measures according to the TOP principle
Customized solutions for more machine safety
We offer you a testing portfolio customized to your company and your machinery, including services such as:
Safety testing based on German, European and global standards and regulations
Testing according to the specifications of the international SEMI association : SEMI-S2 (general safety), SEMI S8 (ergonomics), SEMI S22 (electrical safety) and S23 (sustainability).
Testing of ergonomics, ease of use and service
On-site or laboratory electromagnetic compatibility (EMC) testing
Testing of the functional safety of your machine control system
Safety assessments during commissioning of machines and assessment of consumption figures
Support in the preparation of risk analyses and risk assessments as well as hazard assessments
Support with interim tests for new products and product modifications
Quality assurance during construction (e.g., review of construction drawings and circuit diagrams or quality control of the production before shipment)
(In-house) training
Your valued partner
When testing your industrial machinery, we emphasize the importance of a smooth process. As a "Notified Body", accredited testing laboratory, inspection body and recognized certification body, we are a reliable partner for testing your machinery. Of course, we also offer our experience and expertise for on-site testing at your facility.
For your convenience, we have optimized the process and reduced it to just two simple steps. First, we prepare a quotation based on the documentation you provide about machinery and target markets. In the second step, we perform all the required tests and issue either a certification (positive assessment) or a comprehensive report detailing any open issues, based on which the necessary modifications can be made (negative assessment).
Regardless, our experts are available to answer questions at any point during the testing phase. Contact us if you are interested in an initial review of a similar machine, or in reviews of circuit diagrams or other documents.
Make an appointment with our experts now! Together we will find the right services for you.
Machinery testing for international markets
As a globally recognized and authorized testing body (NoBo, NRTL, CB, etc.) for impartial approvals, we support you in firmly establishing yourself in the industry. Your needs are important to us, so our experts pay close attention to the unique requirements of your specific situation. We will prepare your quotation while considering your target markets as well as the applicable regulations.
UKCA – Your access to the UK. Now that the UK has left the EU, the regulations for product approval and labeling requirements are changing if you want to bring a product to the market in the UK. With the Brexit process complete, manufacturers and exporters are now confronted with the question of what requirements they will be facing.
Since January 1st, the UKCA marking applies to machines in the UK. The transition period of the CE marking has already been extended several times and is valid indefinitely beyond 2024. It is currently unclear how long the CE marking of machinery in the UK will remain valid. TÜV Rheinland is listed as a "Designated Body" by the authorities in the UK and can support you with the UKCA marking.
Saudi Arabia is a very attractive market for European machinery manufacturers. Before April 1, 2018, a shipping certificate was sufficient to import products into Saudi Arabia. However, since then, a completely new system has been introduced: the SALEEM program, and new technical regulations have come into force.
You may export goods to Saudi Arabia only if your products meet the criteria specified in these regulations and if you can prove compliance with a certificate recognized by the Saudi Standards, Metrology and Quality Organization (SASO). This proof must be presented to the customs authorities upon import. TÜV Rheinland can support you with entering the market. We test your machinery according to Saudi Arabian requirements and can issue the certificate of conformity for the product and the shipment.
The governments of the USA and Canada established clearly defined regulations that machines must meet before they can be put into operation for commercial or industrial use. These products are subject to mandatory testing and certification by an independent testing organization approved in the respective country. As a Nationally Recognized Testing Laboratory (NRTL), the services provided by TÜV Rheinland can help get your industrial machinery to market faster.
Depending on the application, we offer the right services for you:
Field Evaluation Services for customized stand-alone machines according to NFPA 791, NFPA 79 and SPE 1000.
cTUVus certification according to UL and CSA standards
LPC (Limited Production Certification) for small series of machines
Control Panel Shop Program to certify manufacturers of control panels according to UL508A and NFPA 79
We support manufacturers in their conformity assessment with our safety assessment of machines in accordance with NR 12 (machine safety). The specified technical instructions, principles and protective measures of NR 12 are intended to ensure the health and physical integrity of workers. NR 12 defines the minimum requirements for the prevention of accidents and occupational diseases in the phases of construction, manufacture, import, marketing, exhibition and movement of machinery and equipment. In addition, we test your machines according to IEC 60204-1, a standard that typically covers the electrical requirements for manufacturers of machines according to NR 10.
The Korean Occupational Safety and Health Administration (KOSHA) and the National Radio Research Agency have standardized the approval procedure under a Korean law. Only products that have been tested by an internationally accredited testing body (registered with the above-mentioned authorities) and that carry the KC (RRA) and KCs mark may be placed on the Korean market.
TÜV Rheinland supports you with the Korean approval procedures, specifically with the mandatory KC (RRA) (EMC for industrial equipment) and KCs (EMC and safety for high-risk machinery) approvals and the voluntary KOSHA S-Mark for machinery.
In Australia and New Zealand, manufacturers are required by occupational health and safety legislation to design and manufacture machines in such a way that they do not pose any risks to the health and safety of the user. These standards regulate different safety-relevant aspects.
Although testing of the standards is not mandatory for export, proof and compliance are required by the market and the respective industry. TÜV Rheinland tests your machines according to Australian and New Zealand standards from the AS/NSZ 4024.xxxx series of standards.
Machinery for the Mexican market must comply with the Mexican NOM standards. Compliance with these requirements is verified in different ways. Three procedures may apply. For many industrial machines, procedure 3 applies.
1) Proof of compliance with a specific NOM standard is required at customs.
2) Proof of compliance with a specific NOM standard is required for commissioning.
3) No standards are established for 1) and 2), and the machine must comply with the applicable NOM standards.
In Mexico, the main standards that apply to industrial machinery are the following:
NOM-001-SCFI is often used as the basic standard for general safety even though it is harmonized with IEC 60950 and applies to information technology equipment.
NOM-003-SCFI applies to electrical installations and is primarily relevant for the machine operator. However, the standard also requires compliance with NOM standards for equipment and machinery. Furthermore, Annex O specifies basic safety requirements for machinery.
NOM-004-STPS specifies occupational safety for the operation of machinery and is important for machine operators. However, the standard also includes requirements for supporting documentation and for risk analysis.
The scope of NOM-019-SCFI is data processing equipment, and this standard should therefore not apply to machinery. However, Mexican authorities like to interpret the scope generously. The standard is often applied to machines that process data in the broadest sense, which applies to many new machines.
Keep track of international approvals
The experts at TÜV Rheinland know the requirements and challenges of approving industrial machinery in other regions of the world. We provide you with detailed information. Register directly and stay up to date with our webinars and technical articles.
Downloads
| | | | |
| --- | --- | --- | --- |
| pdf | Flyer: Conformity with the new Machinery Regulation EU 2023/1230 | 471 KB | Download |
This might also interest you
Last Visited Service Pages