DIN EN ISO 50001 – increase energy performance with the international standard for energy management systems
The international ISO 50001 standard established the requirements and guidance for organizations to successfully develop, implement, maintain and continually improve an energy management system (EnMS).
With the ISO 50001 revision, the standard provides companies internationally recognized guidelines to improve energy balance, reduce CO2 emissions, and lower energy costs by using energy more efficiently.
Our experts support you in introducing an effective energy management system in accordance with ISO 50001:2018. Increased requirements necessary for the sustainable and efficient use of energy have been optimally addressed in the revised standard.
Our many years of practical experience in ISO certification makes us the ideal partner to serve you in your energy management system needs. With us by your side for the entire certification process, you have the opportunity to establish sustainable improvement in energy efficiency throughout your company.
Our experts are happy to answer any further questions you may have. Feel free to contact us!
Interview on the revision of ISO 50001:2018
In our video, Tyrone Adu-Baffour, product manager for ISO 50001 at TÜV Rheinland, explains the new features of the ISO 50001 revision.
Info sheets - The most important information
Improve your energy performance and reduce energy costs with ISO 50001
With an ISO 50001 certified energy management system, your organization will improve its energy balance and reduce CO2 emissions. This leads to increased profitability and improved competitive advantages through lower energy costs. By identifying optimization potentials, your organization's success will be maximized through the introduction of new energy-efficient technologies.
The High-Level-Structure (HLS) provides a guideline to help you optimally unify the structure and requirements of your energy management system. This superordinate structure facilitates the implementation and maintenance of several management systems and supports the development of integrated management systems.
ISO 50001 certification will increase your employees' awareness and motivation toward a more efficient use of energy, document your energy performance improvement efforts and promote the positive branding of your organization.
The benefits of ISO 50001 certification for you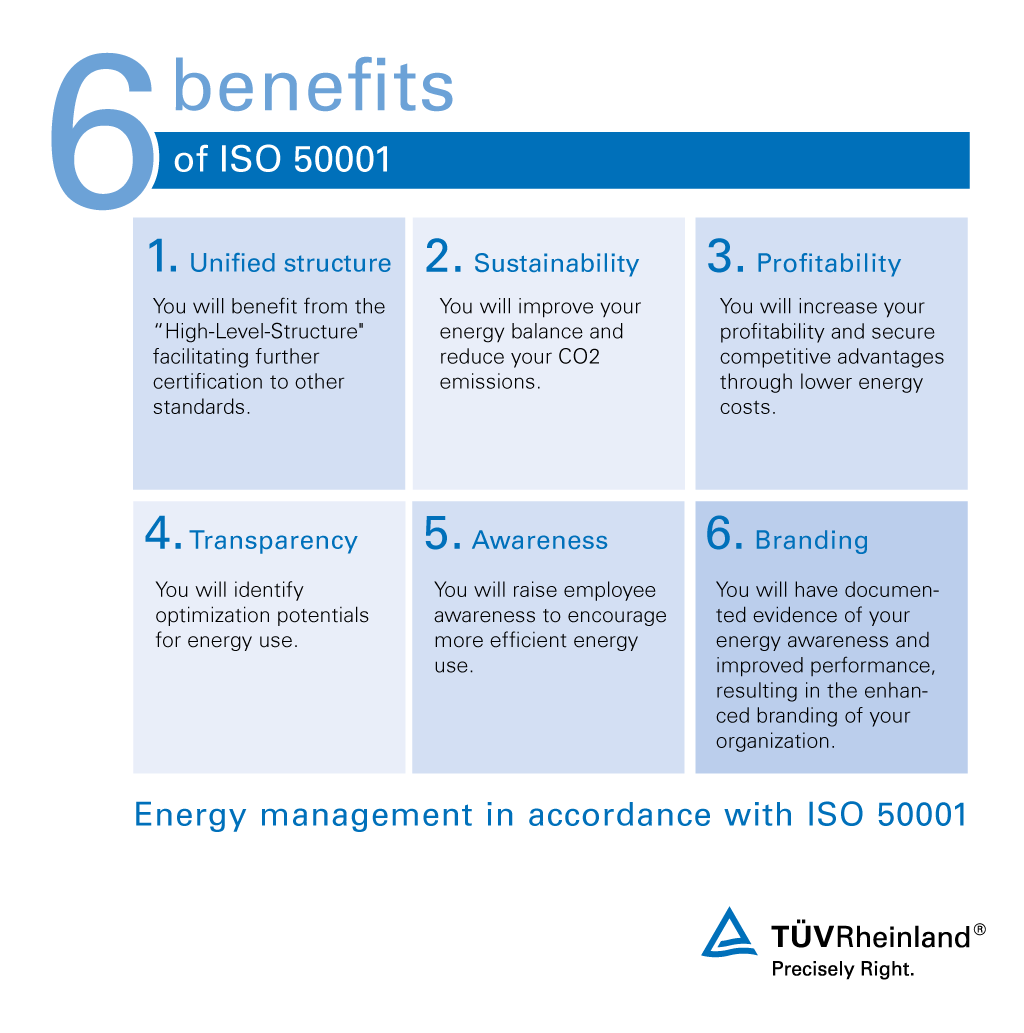 Save time and cut costs with ISO 50001 certification in combination with ISO 14001 and ISO 9001
ISO 50001 certification in combination with ISO 14001 and ISO 9001
We certify management systems quickly, effectively, and economically. Energy, environmental or quality management systems – you can find the perfect mix for your organization to make you even more successful.
Learn more about our combination certification and contact us today!
Stages of your 50001 certification
Preliminary audit (optional): Performing an initial assessment and flushing out potential vulnerabilities in the management system
GAP analysis (optional) Analysis to support you in successfully converting from ISO 50001:2011 to ISO 50001:2018
Certification audit: Checking your documentation and practical application of your energy management system
Issue certificate and list your organization in our online certification database Certipedia
Surveillance audits: Annual surveillance of the ongoing optimization of your processes and energy management system
Re-certification before the end of three years
The course of your ISO 50001 certification
Publication of ISO 50003: Stay up to date on important developments
ISO 50003: Important developments
What you might still need to know: ISO 50003 was published in October 2014 and introduced important changes to the basis of ISO 50001. The updated requirements must be implemented by the certification bodies by October 14, 2017. As these changes also affect organizations whose energy management systems are certified to ISO 50001 or those endeavoring to obtain certification according to this standard, we have summarized the updates for you in the following publications:
This might also interest you
Last Visited Service Pages