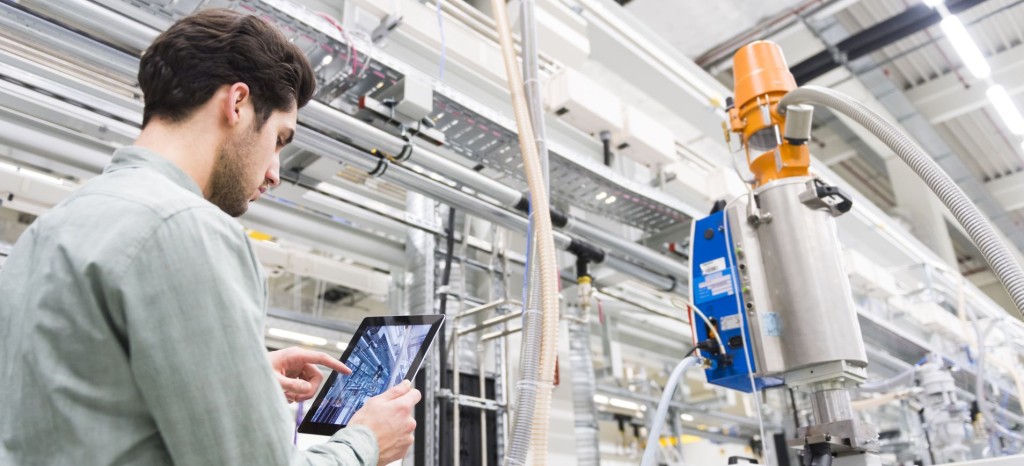 Enhanced safety in process industries with functional safety expertise
Process industries, including chemical plants, refineries or oil and gas production plants are becoming increasingly reliant upon complex safety systems to prevent harmful incidents. These electrical, electronic and programmable electronic safety-related systems (E/E/PES) are regulated by the internationally acknowledged standard IEC 61508, parts 1-7. In addition, IEC 61511 (derived from IEC 61508) defines requirements regarding the application and implementation of these safety instrumented systems (SIS) in the process industry. It describes functional safety (FS) requirements in process plants in detail via a life cycle approach, starting from the first concept, through design, installation, operation, maintenance and decommissioning. Understanding and properly applying these regulations is essential not only for compliance, but, more importantly, for protecting people, assets and the environment as well.
If you are a safety system designer, a system integrator or operator, our functional safety experts can support you when required to produce proof or evidence of functional safety within your safety integrated system (SIS). We carry out assessments, testing and provide certification services to ensure both compliance and the safe operation of your process plant.
As functional safety specialists, we provide reliable, comprehensive services to process industries worldwide. We are a one-stop-shop for all your functional safety needs and bring many years of industry experience to the table, along with high quality standards and professional objectivity.
Contact us to learn more about how our functional safety services for the process industry can benefit your company.
Compliance through functional safety assessments and services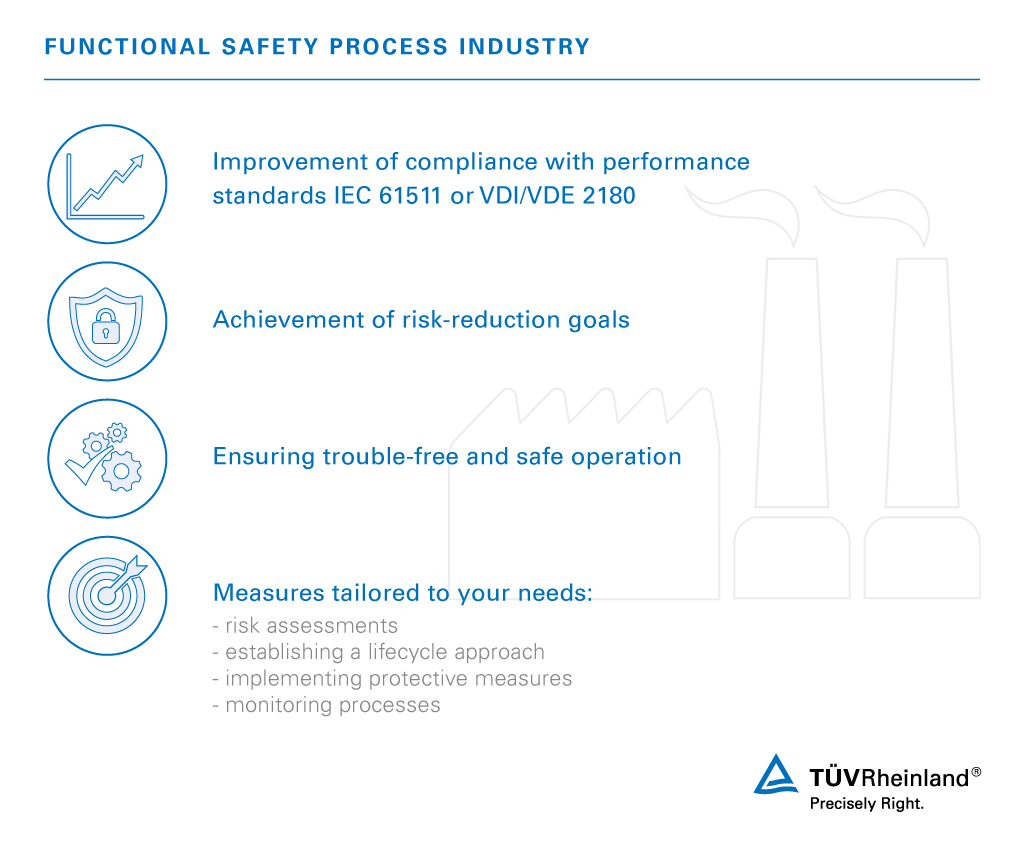 By partnering with us, you can improve your compliance with the performance standards IEC 61511 or VDI/VDE 2180, depending on your safety case requirements. This may involve risk assessments, establishing a lifecycle approach, implementing protective measures or monitoring processes. Whatever your needs, we enable you to experience trouble-free, safe operations and achieve your risk-reduction goals.
Functional safety testing, certification and more
Our functional safety experts have the knowledge and resources to provide a range of services for process industries. These include:
Support in risk analysis (HAZOPs, LOPAs, etc.).
Validation of single safety functions (safety instrumented functions – SIF).
Assessment of applications and system implementations.
Documentation review for SIS, their configuration and safety functions.
Probability of failure calculation of the safety function (SIL calculation).
Assessment and testing of safety-related application software.
Certification of safety functions and safety-related systems/SIS.
Support in the application and interpretation of international standards.
"Safety instrumented systems" training in our TÜV Rheinland Functional Safety Training Program.
Respected partner for safety in process industries
For functional safety assessments, testing and certification in process industries, a neutral, external and expert point of view is essential. We are able to provide that objectivity and expertise, having partnered successfully with industry leaders to ensure compliance and enhance safety for many years. Well-known and respected internationally, we are exactly the right choice to support you in optimizing your functional safety systems.
Speak with one of our experts today!
Downloads
| | | | |
| --- | --- | --- | --- |
| pdf | ISO 3691-4:2020 A Standard for Automated Guided Vehicles | 640 KB | Download |
Our Sustainability Initiatives
Nothing less than the future is at stake. Companies, institutions, public authorities and each and every one of us can play a positive role in shaping the path to tomorrow. We provide you with comprehensive support to ensure that you operate safely, sustainably and efficiently for many years to come.
This might also interest you
Last Visited Service Pages