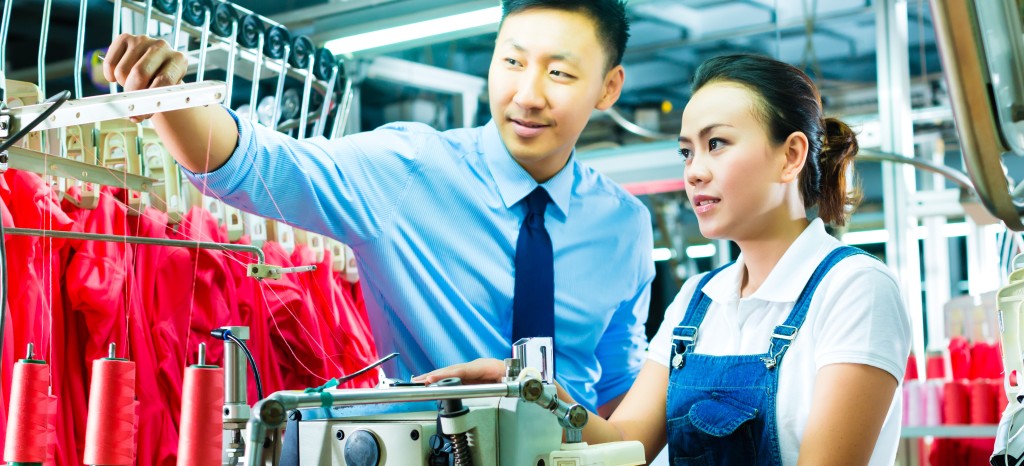 WRAP Certification for socially responsible manufacturing
The Worldwide Responsible Accredited Production (WRAP) program is the world's most accepted independent certification for the apparel/textile, footwear, and sewn products industry. The program monitors and certifies lawful, humane and ethical production. Voluntary WRAP certification distinguishes manufacturers of all sizes aiming to successfully export products particularly to the United States.
Our accredited experts conduct independent audits to ensure that the facility fulfills requirements according to WRAP principles. The audit determines whether criteria have been met or if it warrants changes/additions to the system in order to achieve certification. The audit and subsequent corrective actions are instrumental in WRAP certification being successfully awarded to your facility.
WRAP is supported by the International Apparel Federation, the American Apparel & Footwear Association and as well as more than 20 international trade and industry associations. Demonstrate strong ethics, by certifying your commitment to fair labor practices, environmental considerations and as well as compliance to customs requirements and security standards. WRAP certification increases your global competitiveness and strengthens your corporate image in the lucrative US market.
Show buyers, distributors and consumers that your products are manufactured according to WRAP principles!
Distinguish products and increase profits with WRAP Certification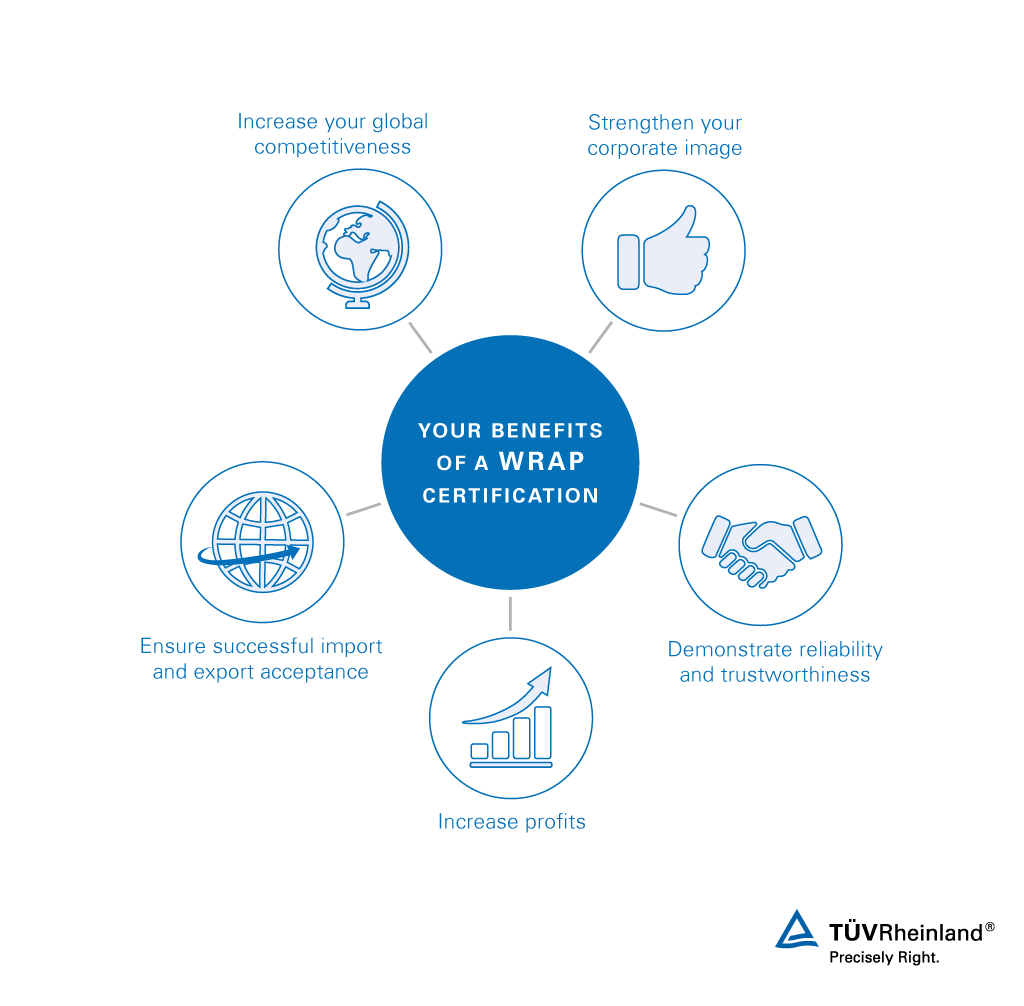 WRAP certification distinguishes you as a reliable and trustworthy industry partner. Our accredited auditing services help you to strengthen your corporate image, increase your competitiveness and ensure successful import/export acceptance with WRAP certification. Increase profits with goods certified according to WRAP ethical manufacturing standards of excellence recognized by industry partners and consumers alike.
Our WRAP audit services for recognized certification
As an accredited WRAP monitor, we provide comprehensive services for WRAP Certification. Our highly trained employees have been exclusively selected to guide you through every step of the process. WRAP certification principles are based on generally accepted international standards, local laws and workplace regulations. These principles address human resources management, health and safety-practices, and effective environmental protection. WRAP also provides guidelines for compliance with legal requirements, import/export customs-regulations, and all relevant security standards.
After registering your facility online at http://www.wrapcompliance.org, the results and supporting documentation of your individual self-assessment are sent to our experts for internal review. We perform a WRAP certification audit in order to determine whether corrective actions are necessary. Facilities found to be eligible are recommended to WRAP for certification. If no other follow up audits are deemed necessary, certification is granted.
Our auditing teams and services help ensure your successful WRAP Certification.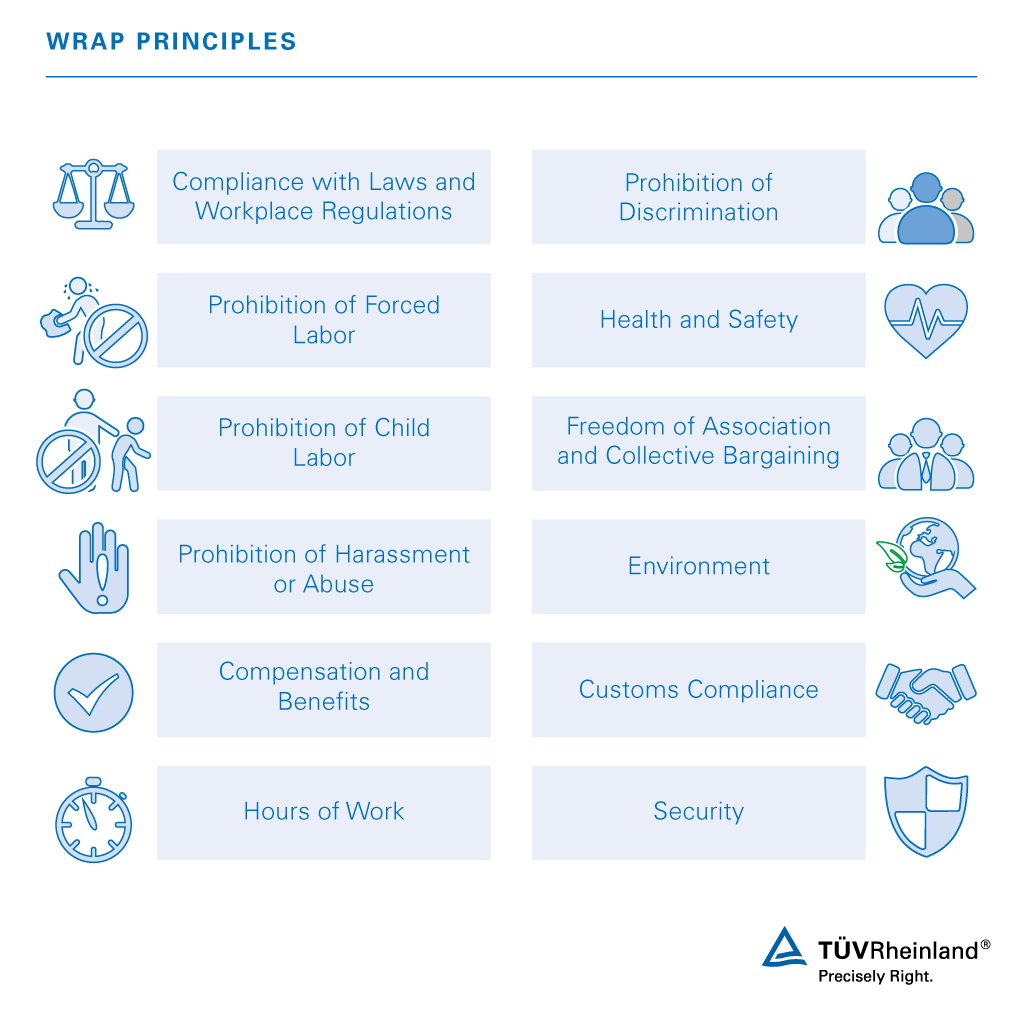 The WRAP principles are based on generally accepted international workplace standards, local laws and workplace regulations that encompasses human resources management, health and safety, environmental practices, legal compliance and also includes import/export customs compliance and security standards.
Your accredited partner for WRAP Certification
Our name has stood for safety, quality and efficiency for over 140 years. As society and technology continue to develop at record rates, social expectations and industrial processes are becoming more complex. In an ever faster-moving world, we continue our strong commitment to provide our customers with effective and profitable long-term solutions at the highest professional levels.
With accredited auditors in over 500 locations in more than 65 countries around the globe, we are fully prepared to support your WRAP monitoring needs. Our services are based on an in-depth understanding of local labor, workplace safety and environmental laws and regulations. Our expert staff is highly sensitive to cultural differences and traditions to ensure the best strategies tailored to your individual facility, employees, and surroundings.
Speak with our accredited WRAP certification auditors today for expert analysis and advice!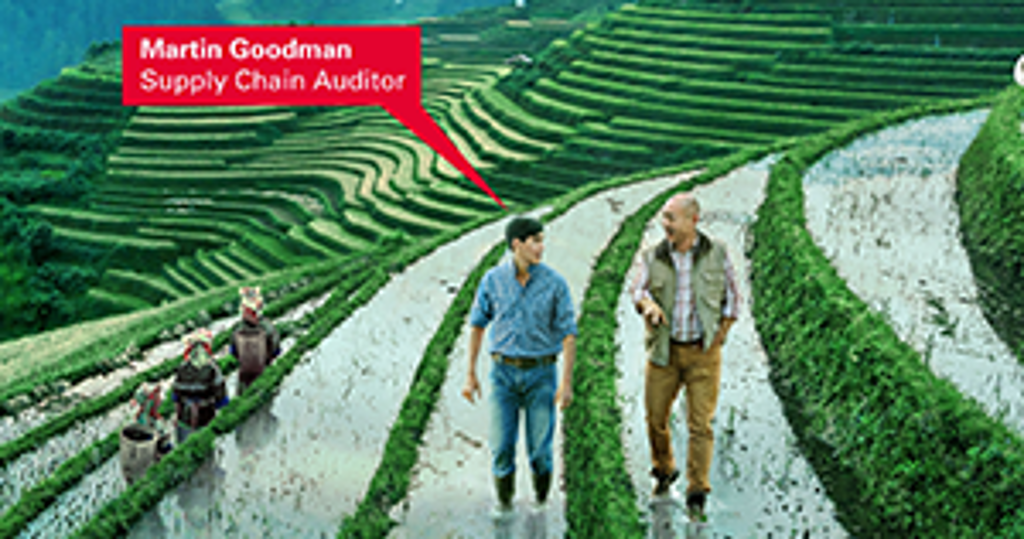 Supply Chain Audits
With our experienced experts we examine your supplier behaviour on the basis of relevant international standards and work together to create safe working conditions and responsible business practices.

Find out more.
Our Sustainability Initiatives
Nothing less than the future is at stake. Companies, institutions, public authorities and each and every one of us can play a positive role in shaping the path to tomorrow. We provide you with comprehensive support to ensure that you operate safely, sustainably and efficiently for many years to come.
This might also interest you
Last Visited Service Pages