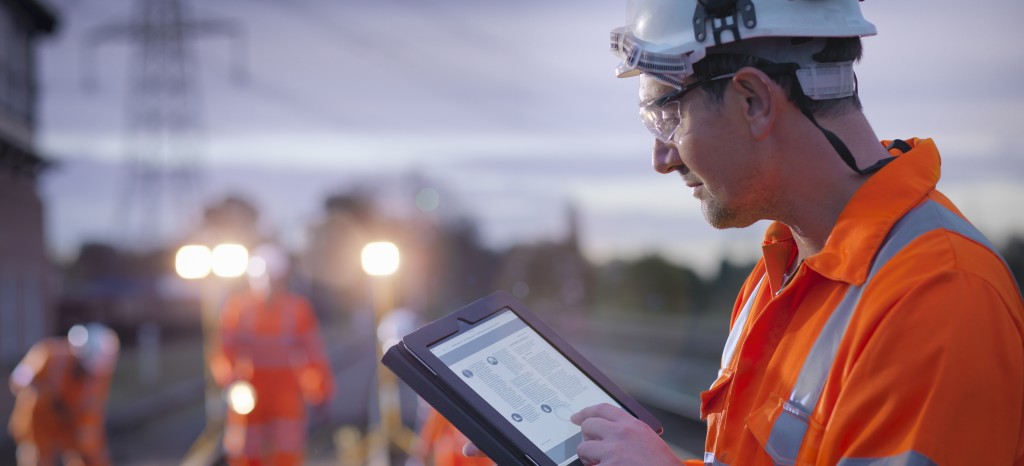 Ensure that equipment ordered conforms to specifications - with our pre-shipment inspection (PSI) services
In today's industry, success means the ability to offer the right products at the right time for a competitive price. To meet market demand, industrial manufacturers select their materials and suppliers from all over the world. With increasing globalization, the risk of products and materials not being delivered on time and/or lacking in the quality agreed upon also grows. Clients in different parts of the world have the common need for a guarantee that ordered components, materials and equipment align with given specifications.
An independent third party like TÜV Rheinland can help you with pre-shipment inspection in order to ensure that equipment, components and documentation conform to contractual requirements.
Our extensive experience gained in global supply chain projects makes us your preferred partner. You can benefit from our know-how and tailored solutions for your business.
Learn more about how pre-shipment inspection can benefit your project. At many locations worldwide.
Assure quality prior to shipment with the help of our industrial equipment specialists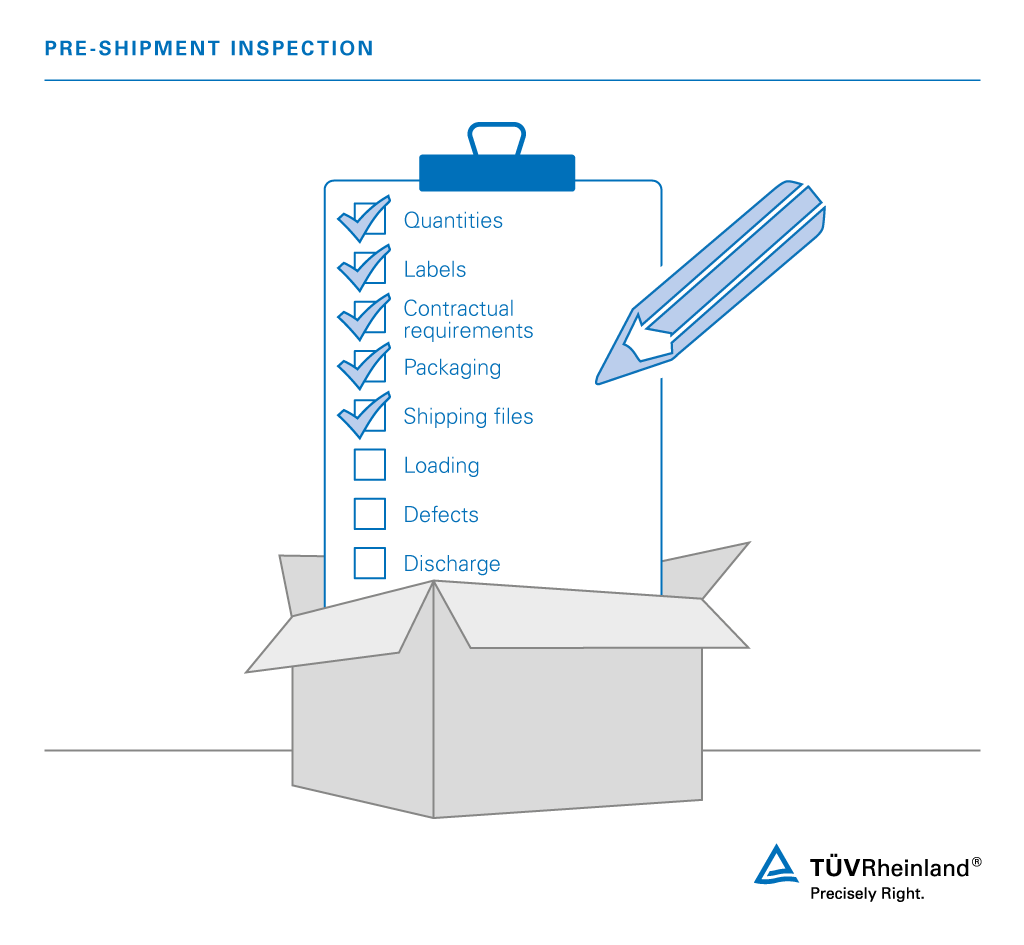 With the contribution of our PSI experts you can be sure that the equipment ordered corresponds with quantity and quality requirements, is packed to withstand adversities of transport and that shipping documentation is complete.
Our contribution to your success in your international supply chain
Our scope for pre-shipment inspection services includes, but is not limited to:
Packing check to make sure sufficient protection during transportation is provided and confirm it is in accordance with specified requirements
Loading inspection to ensure proper fixing of goods for transportation
Verification for correct installation of movement recorder devices
Verification of completeness of shipment documentation
Verification that all equipment is in agreed contractual conditions prior to shipment
Provision of pre-shipment inspection report
As a result, you receive a pre-shipment inspection report confirming that your goods are ready for transport in the ordered quality and quantity, and properly documented. Moreover, we safeguard your shipped goods during packaging and loading to reduce any risk of damage during transport.
One-stop-shop for international supply chain needs – your pre-shipment inspection specialist
No matter in which sector you operate or in which country, our multidisciplinary teams offer a large portfolio of services and expertise. We can cover all your needs along the supply chain.
For over half a century, we have been ensuring quality and timely delivery of industrial equipment, machinery and components. Today we serve global projects in over 65 countries. Our experts audit, inspect or verify according to your inspection test plans, your specifications or applicable international codes and standards.
Let us show how!
Our references in pre-shipment inspection
More about our pre-shipment inspection services
Morocco Verification of Conformity Program
Activate your business with TÜV Rheinland's smooth and reliable VoC services
To protect the consumers in Morocco from substandard products and to assure that safe and quality products enter the Moroccan market, the Moroccan Ministry of Industry, Trade, Green and Digital Economy (MICEVN) implemented a Verification of Conformity (VoC) Program with effect from 1st February 2020, in line with law 09-24 and decrees No. 212-02 and No. 13-3873. The VoC program requires that consignments falling under the list of regulated products are accompanied by a Certificate of Conformity to prove compliance to Morocco's national quality & safety regulations.
TÜV Rheinland is an authorized inspection body for the newly implemented Moroccan VoC program by MICEVN to issue Certificates of Conformity. We are a recognized partner accredited to provide you reliable services relating to VoC Certification which will help you confidently place your products in the Moroccan market.
The VoC Program is part of the Moroccan government's ongoing efforts to assure product conformity and quality through compliance with national technical standards and regulations to protect consumers against unsafe and non-compliant products.
Regulated Product Categories Under the Moroccan VoC Program:
Automotive Spare Parts
Furniture
Plastic Products
Construction Material
Electrical Products
Products in Contact with Food
Chemical Products
Leather, Textile & Clothing
Personal Protective Equipment
Children Toys
Oil & Gas Appliances
Regulated Product Categories Subject to Destination Inspection:
Automotive Spare Parts
Gas Appliances
Clothing
Construction Material
Electrical Products
Rugs, Carpets, Upholstery Fabrics
Wooden Panels
Wire Rod and Concrete Reinforcing Steel
Diapers
Our experts verify whether your products are compliant with MICEVN regulations and eligible for VoC certification. Successful certification provides you access to the Moroccan market, helps you avoid customs delays, and reduces your risk of potential losses due to the import of non-compliant products that will be prohibited for release to consumers. Our experts for Market Access Services help you meet the criteria for the VOC certification within a competitive timeframe.
Inspection of Goods in Morocco
Inspection of Goods in the Exporting Countries
Fees to be carried by
Importer
Exporter
Procedure
Control within Moroccan territory (local inspection) or Review of CoC (Certificate of Conformity) issued abroad

Verification of Conformity for goods in the exporting country
Fees*
350 Moroccan Dirhams

Percentage of the shipment's FOB value:
• Route A: 0.45% (Minimum USD 315 - Maximum USD 2,500)
• Route B: 0.40% (Minimum USD 300 USD - Maximum USD 2,500 USD)
• Route C: 0.25% (Minimum USD 280 USD - Maximum USD 2,400 USD)

Routes under the Moroccan scheme:
Route A: Any good or product by any trader
Route B (Registration): Goods that are already registered by TÜV Rheinland
Route C (Licensing): Goods that are already licensed by TÜV Rheinland
*Fees are excluding VAT
National Deviation and Markings of Morocco VoC Program:
Accepted plug type: C and E
Voltage 220 V and Frequency 50 Hz
Markings and labelling on products have to be Arabic
Marking CeMim is mandatory for Toys and Electrical products
The following documents are required to be submitted by the applicant to start the VoC process:
Complete and signed TÜV Rheinland application form
Product test reports
Invoice
Packing list
This might also interest you
Last Visited Service Pages