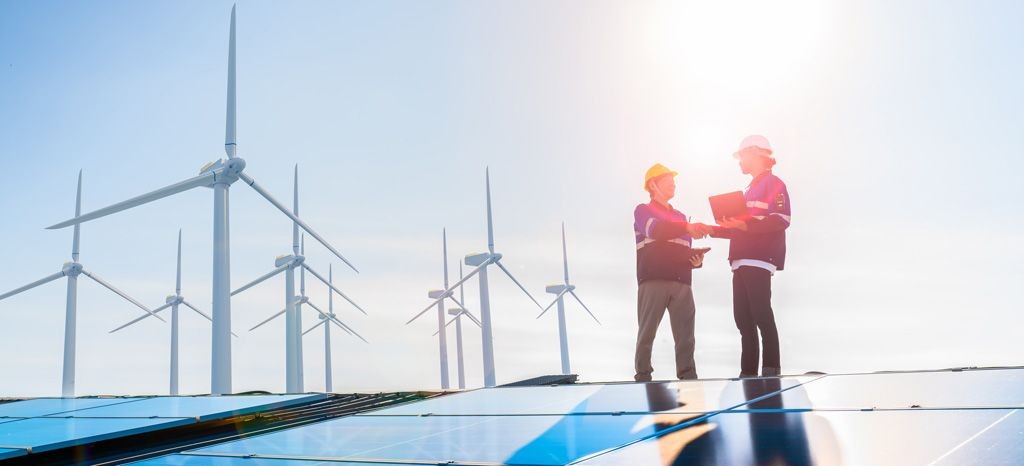 EN ISO 50001 - verhoog uw energieprestatie met de internationale norm voor energiemanagementsystemen
De internationale ISO 50001:2011-norm heeft de vereisten en richtlijnen vastgelegd voor organisaties om op succesvolle wijze een energiemanagementsysteem (EnMS) te ontwikkelen, implementeren, behouden en continu te verbeteren. Conformiteit aan deze norm zorgt ervoor dat de energieprestatie van uw organisatie continu verbetert, de energie-efficiëntie en het verbruik geoptimaliseerd worden en de kosten dalen. Onze certificering van uw EnMS in overeenkomst met ISO 50001 garandeert dat u tot duurzame verbetering van de energieprestatie van uw organisatie komt.
Onze experts helpen u graag als u nog vragen heeft. Neem gerust contact met ons op!
Publicatie van ISO 50003: Blijf op de hoogte van belangrijke ontwikkelingen
Wat moet u te weten? ISO 50003 werd gepubliceerd in oktober 2014 en heeft belangrijke wijzigingen aangebracht aan de beginselen van ISO 50001. De gewijzigde vereisten moeten voor 14 oktober 2017 te zijn doorgevoerd door de certificeringsinstanties. Aangezien deze wijzigingen ook gevolgen hebben voor organisaties waarvan de energiemanagementsystemen gecertificeerd zijn conform ISO 50001 of die organisaties die pogen certificering conform deze norm te verkrijgen, hebben wij de wijzigingen voor u samengevat in de volgende publicaties:
Verbeter de energieprestatie van uw organisatie en verlaag de energiekosten met ISO 50001
Met een ISO 50001 gecertificeerd energiemanagementsysteem, verbetert uw organisatie haar energiebalans en de CO2 -uitstoot verlagen. Dit leidt tot een verhoogde winstgevendheid en verbeterde concurrentievoordelen door middel van lagere energiekosten. Door het identificeren van optimalisatiemogelijkheden wordt het succes van uw organisatie gemaximaliseerd dankzij de introductie van nieuwe, energie-efficiënte technologieën.
ISO 50001-certificering verhoogt het bewustzijn en de motivatie van uw werknemers voor een efficiënter gebruik van energie, uw inspanningen voor verbetering van uw energieprestatie vastleggen en een positieve uitwerking hebben op de goede naam van uw organisatie.
Bespaar tijd en kosten met ISO 50001-certificering in combinatie met ISO 14001 en ISO 9001
Wij combineren en certificeren managementsystemen op effectieve wijze. Dit levert tijdsbesparing op. Energie-, milieu- of kwaliteitsmanagementsystemen - u kunt de perfecte combinatie samenstellen voor uw organisatie en er zo voor zorgen dat u nog succesvoller wordt. Kom meer te weten over onze combinatie-certificering.
Neem contact met ons op om meer te weten te komen over onze gecombineerde certificering!
Stadia van uw ISO 50001-certificering
Voorlopige audit (optioneel): Het uitvoeren van een eerste beoordeling en het identificeren en elimineren van mogelijke zwakke plekken in het managementsysteem
Certificeringsaudit: Het controleren van uw documentatie en praktische toepassing van uw energiemanagementsysteem
Het uitgeven van een certificaat en het vermelden van uw organisatie in onze online certificatendatabase Certipedia
Controle-audit: Jaarlijkse controle van de continue optimalisatie van uw processen en energiemanagementsysteem
Hercertificering binnen drie jaar na de initiële audit.
Het verloop van uw ISO 50001 certificering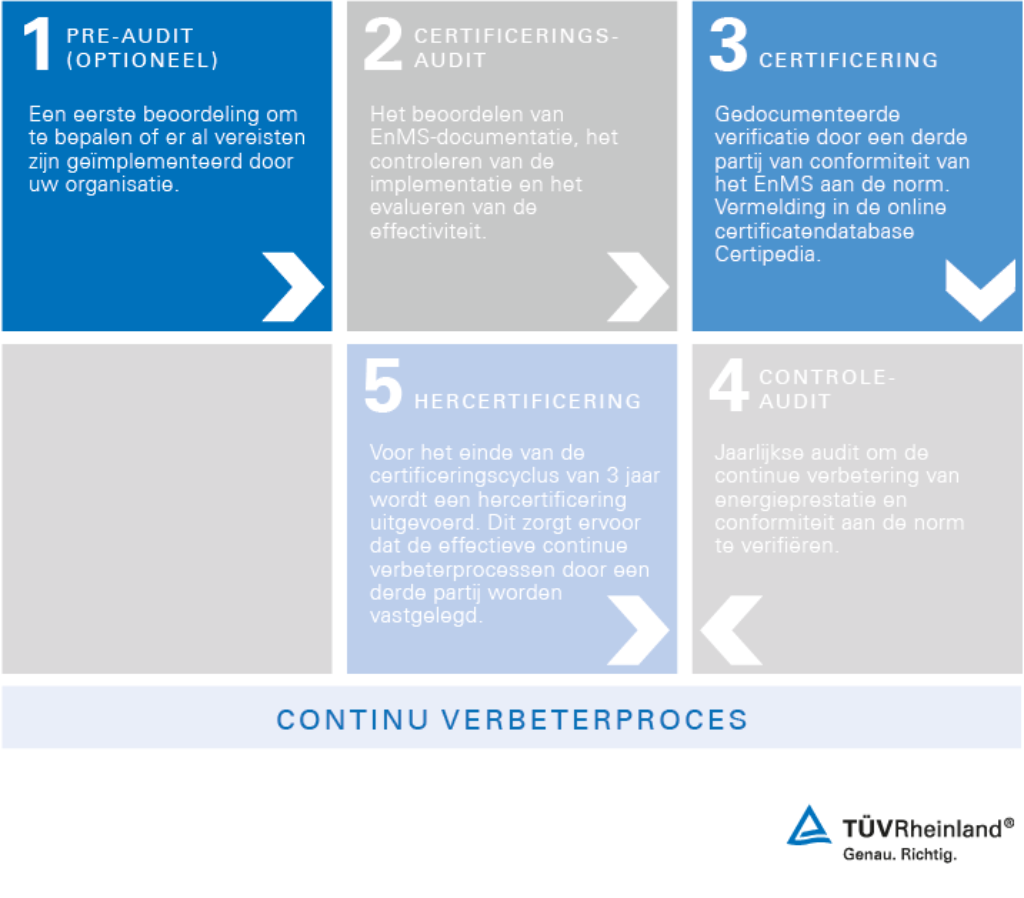 Het volgende zou u ook kunnen interesseren
Dit is wellicht ook interessant voor u
Laatst bezochte servicepagina's